Compact sizing machines
'Compact Size' – KARL MAYER's new short warp sizing machine
Obertshausen

, (PresseBox) -
The sizing machines produced by the KARL MAYER Group have been firm favourites on the market for many years now. They have achieved top marks for their user friendliness and process control systems. They also ensure that the yarn is handled extremely gently. Warp beams that can guarantee maximum efficiency during weaving are produced by rapid drying of the sizing agent without damaging the yarn, short yarn paths, and optimally controlled processing sequences. These performance features can now be used for producing short production warps.

Rapidly changing fashion trends and the demand for more extensive collections have made it increasingly necessary to produce fabrics in short runs - and thus to produce warp beams with short running lengths. The demands made of the warp quality are also increasing.

KARL MAYER has completely reoriented and reorganised its development operations and machine programme to enable it to meet the requirements of the market. This resulted first of all in the development of the Gir-O-Matic for sample warping and the Nov-O-Matic for automatic sectional warping - machines that have enabled KARL MAYER to set the trend in the textile industry.

With the takeover of Sucker and the warp preparation operations of Benninger, this innovative manufacturer has extended its areas of expertise and expanded its capacity to enable it to systematically pursue its product strategy, which is based on the concept of flexible production. The result of KARL MAYER's most recent development work is the 'Compact Size', a machine that is based on the principle of sizing short warps (Fig. 1).

The advantages of the short warp sizing machine

The short warp sizing machine can be used for economically sizing warp beams having short running lengths for use in sampling or production. More specifically, this new innovation from KARL MAYER offers a high degree of flexibility, reduced waste and a space-saving design. The tried-and-tested process control system also guarantees an exceptional product quality and first-class operating reliability.

The design of the 'Compact Size'

This sizing machine for processing short warps has a compact, two-level layout (Fig. 2). The take-off device, sizing system and beaming machine are arranged in a line at floor level. The components which extend from the take-off device to the ladder used for climbing up to the second level are located in a space that is just 8.1 m long - the principles of this compact arrangement are also continued into the second, higher level. An IR air dryer with subsequent cylinder dryer and a vertical sub-drying zone having a total height of 4.3 m are housed here, and they are also arranged in a line one after the other. The capacity of this 'Compact Size' machine is 15 m with the drying system and 6 m without the drying system. The compact design of the sizing machine enables it to operate with reduced sizing agent, stop marks and waste yarn.

The warp can be moved backwards to the optimum starting point after it has been drawn-in to reduce waste.

The flexible sizing system

There are two ways of applying the sizing agent to the warp yarn in the sizing system: conventional hot size application by spray impregnating the material instead of conventional immersion, and the cold size application technique. When sizing yarns without using heat, i.e. tangential sizing, the textile chemicals are applied by means of double kiss rollers (Fig. 3). A separate unit with its own circulation system and different heat-supply concepts is available for each of the two application systems. Whereas hot sizing operates with direct and indirect heating, cold sizing only uses indirect heating.

If required, it is possible to change between hot sizing and cold sizing easily and without changing the yarn drawing-in arrangement - an innovation that guarantees maximum flexibility when using the 'Compact Size'.

Combined air/infrared drying for perfect drying

Optimum drying results are obtained by combining air/infrared drying and by using the contact cylinder dryers of the residual dryer (Fig. 4). The drying zone is one metre long, contains a gas heater with a maximum output of 240 kW, and has a drying performance of 40-50% at a processing speed of 60 m /min - a level of efficiency that is particular significant in view of current energy costs. The 'Compact Size' offers a number of advantages over similar systems, thanks to its compact layout and the fact that the risk of over-drying has been minimised. This is because the system cools down quickly after the machine has been switched off.

Residual dryer offers additional benefits The residual dryer consists of a cylinder dryin g system which guarantees smooth yarns and perfect yarn-tension setting in the wet and dry zones (Fig. 5). An individual motor drive system at each cylinder prevents the yarn from being overstretched.

To optimise process control, the 'Compact Size' is also equipped with a steam jet pump, which is responsible for recirculating the cylinder steam. The positive benefits of this are increased heat transfer and a higher drying efficiency. Recirculation of the heat-transfer medium guarantees uniform temperatures, constant temperature control, and the smallest amount of condensate in the cylinders.

Applications

By introducing the 'Compact Size' short warp sizing machine KARL MAYER is also assuring the continuing success of the Gir-O-Matic sample warping machine. The performance features of this weaving preparation concept, which is based on the principles of maximum flexibility and efficiency, is in keeping with the continuing trend for shorter and shorter warps, which can be seen on the high-fashion markets of Europe.

The 'Compact Size' was successfully launched onto the Italian market, the centre of the fashion world, in the spring of this year, and a large number of machines have already been sold. KARL MAYER's customers are extremely pleased with this latest development. 'Textile companies can use our short warp sizing machine to try out and examine new samples easily and efficiently, and small orders can also be produced economically,' explained Enzo Paoli, the managing director of KARL MAYER Rotal. The head of KARL MAYER's Italian subsidiary also went on to say, 'What is more, the 'Compact Size' produces much less waste compared to other systems available until now, and a warp of usable quality is produced right from the very first metre - competitive advantages which the European textile industry in particular values.'

Once this new short warp sizing machine has successfully been launched onto the Italian market, it will set new standards, particularly in the production of sample and short warps from staple-fibre yarns, especially wool yarns - and this success will quickly be transferred to the rest of Europe.
Press releases you might also be interested in
Weitere Informationen zum Thema "Maschinenbau":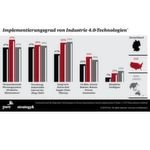 Digitale Transformation hat in Deutschland noch langen Weg vor sich
Ei­ne PwC St­ra­te­gy& Stu­die zeigt: Nur ein Pro­zent der deut­schen Un­ter­neh­men sind di­gi­tal be­son­ders her­aus­ra­gend. Un­ter­neh­men in Asi­en und Ame­ri­ka hän­gen Deut­sch­land bei der Im­p­le­men­tie­rung neu­er Tech­no­lo­gi­en und di­gi­ta­ler Öko­sys­te­me ab. Im­mer­hin soll der Um­satz­an­teil di­gi­ta­ler so­wie di­gi­tal er­wei­ter­ter Pro­duk­te in Deut­sch­land laut der Stu­die von ak­tu­ell 16 Pro­zent auf 22 Pro­zent im Jahr 2023 stei­gen.
Weiterlesen