Multi-function Boundary-scan Testers Cover All Bases
Eindhoven, the Netherlands

, (PresseBox) -
JTAG Technologies is proud to announce the latest in its highly regarded range of boundary-scan controller hardware for PCB assembly and system testing- the versatile JT 5705 series. This completely new design concept incorporates both JTAG/boundary-scan controller functions and mixed-signal I/O channels. Extensive input protection is provided to ensure high levels of in-service reliability and low maintenance. Connection to the tester is via a USB interface.

The first in the series - JT 5705/USB - is supplied as desk-top instrument, primarily aimed at hardware validation applications in design, small-scale production test and in some cases field service and repair. The JT 5705/USB features two 15 MHz TAPs and 64 I/O's available through 0.1" IDC connectors. 56 of the I/O channels are always digital, 16 of which also feature a frequency function. The remaining 8 channels can be used as either digital I/O or analog I/O. The unit also contains a user programmable FPGA facilitating application specific digital I/O options. Via the built-in 'Multi-Sync' feature several JT 5705/USBs can be combined into a single JTAG controller providing multiple TAPs and hundreds of I/Os.

The second model in this new range is the larger JT 5705/RMI, a 1U high 19" rack-mountable instrument for use in systems or as a bench-top tester. This unit features four 15 MHz TAPs and 4 groups of 64 mixed-signal I/O channels providing a total of 256 I/O's available through 0.1" IDC connectors. As before, within each 64 channels group, 56 channels are permanently digital with 16 available as frequency inputs. The other 8 channels of each group can be individually programmed as digital I/O or analog I/O channel. Furthermore the JT 5705/RMI features a total of 4 user programmable FPGA's for creating application specific digital I/O options.

The I/O capabilities as provided by the JT 5705/USB are also available in a separate I/O module, the JT 5112 Mixed-signal I/O scan module, or MIOS. The MIOS module can be used in combination with existing JTAG Technologies boundary-scan controllers such as JT 3705, JT 3710 and JT 37x7 adding analog I/O capabilities to those controllers.

Peter van den Eijnden, MD states: 'We received quite some market feedback on how the next generation of JTAG/boundary-scan testers should look and increasingly we have been asked to provide analog stimulus and measurements alongside more traditional digital I/O systems. The new JT 5705s provides all this and more in really convenient and low-cost package'.

Mixed signal

As the boundary-scan market expands beyond the traditional high-density digital targets seen in Mil/Aero and Telecoms applications, so the test equipment must evolve to match. As well as supporting multiple JTAG (IEEE 1149.x) compatible TAPs with programmable thresholds the units have extensive mixed-signal I/O capability with a programmable measure and stimulus range of ±16V or 0-32V for the analog channels.

'The Automotive electronics sector is one area where we expect to see a high demand for this type of product. A great many ECUs require an analog/sensor stimulus which registers back to a microprocessor where the values can be checked using boundary-scan or JTAG emulative test methods - as supported by JTAG Technologies CoreCommander tools' added van den Eijnden.

Customisable

Use of the FPGA kernel allows user to develop their own digital I/O options such as CAN bus, counter/timer or high-speed memory access. IP code from sharing sites such as Open Cores can be implemented in the FPGA fabric and accessed via JTAG Technologies' own CoreCommander FPGA translator module.

For further details of the JT 5705 series contact www.jtag.com
JTAG Technologies BV
JTAG Technologies is a market leader and technology innovator of boundary-scan software and hardware products and services. The company was the first to bring to the market such important advances as automated test generation, automated fault coverage analysis, automated flash and PLD programming via boundary-scan, and visualized boundary-scan analysis. Its customers include world leaders in electronics design and manufacturing such as Ericsson, Flextronics, Honeywell, Medtronic, Motorola, Nokia, Philips, Raytheon, Rockwell-Collins, Samsung, and Sony. Its innovative boundary-scan products provide test preparation, test execution, test result analysis and in-system programming applications. With an installed base of over 6500 systems worldwide, JTAG Technologies serves the communications, medical electronics, avionics, defence, automotive, and consumer industries with offices throughout North America, Europe and Asia. JTAG Technologies headquarters are located in Eindhoven, The Netherlands. For more information please visit www.jtag.com

Follow us !

JTAG Technologies and JTAG Live are on Twitter, Facebook, Google+,LinkedIn and YouTube. Follow us to keep up to date of all the latest news!
Press releases you might also be interested in
Weitere Informationen zum Thema "Hardware":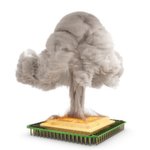 Kernschmelze der CPU-Sicherheit
Bis­lang sind zwar kei­ne kon­k­re­ten Fäl­le nach­ge­wie­sen, bei de­nen die Schwach­s­tel­len au­ßer­halb der for­schen­den Com­muni­ty aus­ge­nutzt wur­den, aber die be­kannt ge­wor­de­nen CPU-Si­cher­heits­lü­cken ver­un­si­chern ei­ne gan­ze Bran­che. So wie es aus­sieht, ist ein Pra­xis­nach­weis gar nicht mög­lich.
Weiterlesen