JDSU Introduces New Additions to WaveReadyTM Family of CWDM/DWDM Optical Network Systems and Modules
Milpitas, Calif.

, (PresseBox) -
JDSU today announced the release of new additions to its WaveReadyTM product line of scalable optical transport solutions designed for access and metro optical networks. Added to the portfolio are a 10 Gb/s tunable transponder with forward error correction (FEC), a power balancing system, and a 40-channel universal multiplexer/de-multiplexer. The new WaveReady products will be on display at CeBIT 2009 in Hannover, Germany, March 3-8 (Hall 13, stand B20).

Leveraging JDSU's market-leading optical technology, the WaveReady system provides a compact solution for tunable optical networks providing automated optical gain equalization that ensures maximum network availability and reduces the need for costly maintenance.

"The demand for multichannel and reconfigurable 10 GigE transport is growing extremely fast due to the widespread deployment of broadband and the emergence of new bandwidth-intensive business and network applications," said Michael McCallen, JDSU director of the WaveReady product line. "Service Providers require flexible, reliable and easy-to-deploy 10 Gb/s transport solutions like those offered by WaveReady, and combined with other products in the WaveReady family, the new additions provide a complete solution that is very attractive for service providers who are looking to rapidly increase their network capacity with maximum flexibility."

Introduced at CeBIT:

- The WaveReady WRT-852, a compact C-Band or L-Band tunable transponder with Forward Error Correction (FEC) designed for reliable and cost effective transport of 10 Gb/s services. The WRT-852 supports the transport of multiple services, including OTN, SONET/SDH, Ethernet, and Fibre Channel. The WRT-852 dramatically improves the transmission performance of 10 Gb/s services with Forward Error Correction (FEC) and provides statistics on SONET/SDH and Ethernet traffic;
- The WaveReady WRS-05AD1C00B, providing per-channel power balancing capabilities for tunable, amplified networks; and
- The WaveReady 40-channel Universal Multiplexer, featuring high isolation and low insertion loss in a compact platform compatible with point-to-point or OADM deployments.

About the JDSU WaveReady product line

The JDSU WaveReady product line is a scalable Wavelength Division Multiplexing (WDM) optical transport solution designed for metro, access and enterprise optical networks. WaveReady optical network systems offer a wide variety of transport solutions giving services providers and network operators a simple and cost effective platform to address their diverse optical networking needs. The WaveReady platform offers compact and flexible CWDM and DWDM optical transponders, muxponders and regenerators capable of transporting any services (including OTN, SONET, Ethernet, and Fibre Channel) at any rate between 125 Mb/s and 11.1 Gb/s. The platform also includes single-channel and multi-channel (DWDM) optical amplifiers, CWDM and DWDM optical multiplexers/demultiplexers, optical add/drop/mux (OADM) modules, dispersion compensation modules, and optical protection and network monitoring solutions. The platform is a robust plug-and-play solution that is simple to operate and easy to manage using the WaveReady Node Manager graphical user interface. The capability, flexibility, density and compact size of the WaveReady platform makes it an ideal optical transport solution. For more details on the WaveReady products see http://www.jdsu.com/waveready
JDSU Deutschland GmbH
JDSU (NASDAQ: JDSU; and TSX: JDU) enables broadband and optical innovation in the communications, commercial and consumer markets. JDSU is the leading provider of communications test and measurement solutions and optical products for telecommunications service providers, cable operators, and network equipment manufacturers. JDSU is also a leading provider of innovative optical solutions for medical/environmental instrumentation, semiconductor processing, display, brand authentication, aerospace and defense, and decorative applications. More information is available at www.jdsu.com.
Press releases you might also be interested in
Weitere Informationen zum Thema "Netzwerke":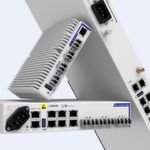 Netzabschluss mit sicherem Zero Touch Provisioning
AD­VA hat sei­ne FSP-150-ProNID-Ge­rä­te mit dem Leis­tungs­merk­mal Ze­ro Touch Pro­vi­sio­ning er­wei­tert. Dies ve­r­ein­fa­che für Com­mu­ni­ca­ti­on Ser­vice Pro­vi­der (CSP) die Kon­fi­gu­ra­ti­on am Netz­ab­schluss. Zu­dem sei die Tech­no­lo­gie dank be­währ­ter kryp­to­gra­fi­scher Ver­fah­ren sehr si­cher.
Weiterlesen