The press service for journalists and influencers in the technological sector
INTERNATIONAL SUPERCOMPUTING CONFERENCE

BoxId: 106230 – Burton J. Smith on Reinventing Computing
Press release BoxID: 106230 (INTERNATIONAL SUPERCOMPUTING CONFERENCE)
INTERNATIONAL SUPERCOMPUTING CONFERENCE
CCH - Congess Center Hamburg - Am Dammtor
20355 Hamburg
http://www.isc-events.com/isc12/
Contact person
Christiane Edelmann-Mohr
+49 (6203) 9562-415
Recommend Burton J. Smith on Reinventing Computing press release
QrCode
What its a QR code?
Three steps: Scanning of a QR code: Find your way to a press release without typing. Use the QR code on the print version of a press release to get redirected to the corresponding page on PresseBox.
How does scanning a QR code work? Just follow these simple steps.
Everything you need is an internet-enabled mobile phone or smartphone with a built-in camera and a QR code reading software.
QR stands for Quick Response - with one step you can quickly reach a website. QR codes work like bar codes, which you can find on your milk carton, for example. A software decrypts the QR code and directs you to a web page - so you do not even need to know the web address to reach it.
Download and print your digital press kit now
Please send the following information to my email address:
*) Please confirm your email address to get daily information about new releases with PresseMail.
Burton J. Smith on Reinventing Computing
A preview of his ISC '07 keynote address
INTERNATIONAL SUPERCOMPUTING CONFERENCE
Die ISC, die dieses Jahr ihren 23. Geburtstag feiert, ist bekannt für die hohe Qualität der wissenschaftlichen und technischen Beiträge, in denen die neuesten Entwicklungen auf dem Gebiet des Supercomputing vorgestellt werden. Die Konferenz ist ein idealer Platz zum Erfahrungs- und Ideenaustausch. Die ISC ist die größte Veranstaltung ihrer Art in Europa.

Rund 90 führende Hardware-, Software- und Dienstleistungsanbieter der IT-Branche gestalten die begleitende Ausstellung. Ausführliche Informationen zur ISC'08 sind unter http://www.isc08.org/ zu finden.
You may also be interested in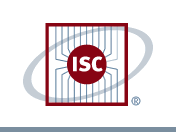 Company address
INTERNATIONAL SUPERCOMPUTING CONFERENCE

CCH - Congess Center Hamburg - Am Dammtor

D

-

20355

Hamburg