Ingenico Group now owns 100% of Mobile Payments Leader ROAM
ROAM's mobile commerce expertise to join Ingenico Mobile Solutions
Berlin

, (PresseBox) -
Ingenico Group (Euronext: FR0000125346-ING), the global leader in seamless payment, announced today that it now owns 100% of ROAM. ROAM and its mcommerce platform - consisting of secure mobile card readers, mobile Point-of-Sale (mPOS) applications, an innovative mobile payments engine and professional services - are now part of Ingenico Mobile Solutions, Ingenico Group's mobile-focused brand, which will continue to be headquartered in Boston.

"ROAM is a key part of the Ingenico Group worldwide portfolio as mobile commerce growth surges," said Jacques Guérin, EVP Smart terminals and Mobile solutions, Ingenico Group. "With 100% of ROAM, we will accelerate the deployment of a global and integrated mobile offer, enabling merchants to increasingly engage with their customers. This is a great opportunity to take Ingenico Mobile Solutions through its next phase of growth."

In that context, Ingenico Group has strengthened Ingenico Mobile Solutions' management team with the appointment of a new Chief Operating Officer, David Szczepanski to manage the deployment of a global and integrated offer.

On the US market, ROAM's sales team has been integrated within Ingenico Group North America to provide both retailers and merchant acquirers with seamless payment solutions whatever the channel: in store or mobile.

"The rapid evolution of payment technology over the last few years has presented Ingenico Group with a unique opportunity to earn a greater share of the North American market and demonstrate our innovation," said Thierry Denis, President of Ingenico Group - North America. "From being first to incorporate EMV capabilities within our technology solutions, to supporting Apple Pay from the first day it launched, and the appointment of Chris Dismukes as Senior Vice President of mobile U.S. Sales, we are uniquely poised to take the company to the next level."

Ingenico Group streamlined and simplified its branding for customers: ROAM product names will remain, but the company name will be subsumed by Ingenico Mobile Solutions.

David Szczepanski, Chief Operating Officer, Ingenico Mobile Solutions
An 11-year-veteran of parent company Ingenico Group, Szczepanski is responsible for ensuring that Ingenico Mobile Solutions has the proper infrastructure and processes in place to support its swift growth. Szczepanski filled a similar role at Ingenico Group North America, where as VP Operations he implemented initiatives such as new field services capabilities in order to help support Ingenico Group's strong growth in the region. Prior to joining Ingenico Group, he was a Project Manager and Supplier Base Manager at Philips and a Technical Operations Manager at Sagem.

Chris Dismukes, Senior Vice President of mobile U.S. Sales, Ingenico Group North America
Chris Dismukes joins Ingenico Mobile Solutions after nine years with Equinox Payments, where he was most recently Head of Sales. With more than 25 years of payment experience, both in acquiring and hardware manufacturing, Dismukes brings a mix of technical aptitude, account management expertise and sales leadership. As Ingenico Mobile Solutions' new SVP of U.S. Sales, Dismukes will be tasked with leading and supporting the company's sales associates in meeting their sales goals and helping the company further expand its market share in the dynamic mobile payments space. He will also work directly with Ingenico customers to help them expand their multi-channel payments solutions into the mPOS realm.

About Ingenico Mobile Solutions
Ingenico Mobile Solutions is the global reference in mobile payment acceptance, providing secure, enterprise-level mobile Point of Sale solutions to more than 100,000 merchants worldwide. Our end-to-end mobile commerce platform enables merchants of all sizes to boost sales by deploying out-of-store payment solutions in addition to existing in-store solutions. Ingenico Mobile Solutions is part of the Ingenico Group, the global leader in seamless payment. Learn more at www.ingenico.com or twitter.com/ingenico.
Ingenico GmbH
Ingenico Group (Euronext: FR0000125346 - ING) is the global leader in seamless payment, providing smart, trusted and secure solutions to empower commerce across all channels, in-store, online and mobile. With the world's largest payment acceptance network, we deliver secure payment solutions with a local, national and international scope. We are the trusted world-class partner for financial institutions and retailers, from small merchants to several of the world's best known global brands. Our solutions enable merchants to simplify payment and deliver their brand promise. Learn more at www.ingenico.com or twitter.com/ingenico.


Press releases you might also be interested in
Weitere Informationen zum Thema "Consumer-Electronics":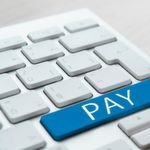 Mittelstand entdeckt den Online-Vertrieb
Je­des fünf­te mit­tel­stän­di­sche Un­ter­neh­men in Deut­sch­land nutzt in­zwi­schen On­li­ne-Ver­triebs­we­ge. Nach ei­ner Stu­die der staat­li­chen För­der­bank KfW bo­ten zu­letzt rund 780.000 klei­ne­re und mitt­le­re Fir­men ih­re Pro­duk­te und Di­enst­leis­tun­gen auf di­gi­ta­lem Weg an.
Weiterlesen