Latest eight-colour inca spyder 320-8 printer to demonstrate wilder colour gamut performance at fespa digital 08
Cambridge

, (PresseBox) -
Inca Digital will demonstrate stunning results produced by its latest eight-colour Spyder 320-8 printer at Fespa Digital in April. The large format, digital flatbed UV printer will be demonstrated by distributor Fujifilm Sericol featuring the new Uvijet Ultratone enhanced colour set plus white ink.

The Spyder 320-8 Series gives printers a greater choice of ink colours including white, as well as being able to match a wider range of special colours. With eight ink modules, each consisting of four inkjet heads, the Spyder 320-8 Series maximises the colour gamut achievable from any UV inkjet printer available today. Users have the flexibility to choose the normal four process colour inks (CMYK), plus when required the ability to reproduce achieve far more accurate spot colours. Different combinations of the Ultratone colour set (patent pending) allow the ink system to be tailored to the specific end-users needs.

In essence, colour has three characteristics: lightness, chroma and hue. The addition of the Ultratone ink system will produce an improved colour gamut; however, customer beta-testing has confirmed the biggest differences are seen with darker colours, oranges, reds and greens.

"The continued progress of inkjet technology is as reliant on the development of ink as it is on machine innovations," explains Bill Baxter, MD of Inca Digital. "Fujifilm Sericol has created a fantastic range of inks, and the addition of The Ultratone colours has improved colour reproduction and has dramatically improved the colour gamut for printing spot colours."

The Inca Spyder 320 is in a class of its own with its mix of speed, quality and price. Its colour management flexibility and outstanding registration, easy file set-up with the Wasatch RIP, and exceptional white ink opacity make it a highly adaptable system for the display printer producing a range of close viewing POS, external displays, backlit/frontlit displays and graphics.

The Spyder 320 system uses an Inca print module jetting small 28 picolitre drops to provide crisp print quality. Its impressive productivity rate, printing in excess of 60 sq m/hr (645 sq ft /hr), delivers optimum production performance at 55 sq m/hr (592 sq ft/hr). A variety of configurations are available: a four-colour, a six-colour and an entry level model, as well as a white version for added flexibility. The modular approach of the Spyder range allows users to modify the specification of their Inca Spyder printer to suit changing business needs or growth and opens up new markets in additional applications.

Aimed at the mid-range market and competitively priced, the Spyder 320-8 Series continues to deliver Inca's proven performance and outstanding print quality. This machine features the characteristic small Spyder footprint, moving print carriage and a full-size 3.2 x 1.6m (126-inch x 63-inch) static vacuum bed with highly accurate pin registration, sharp image resolution and crisp text.

The Fujifilm Sericol Uvijet Ultratone ink system is designed to print onto almost anything from paper and board to a wide range of plastics using Inca's proven technology to control droplet formation and accuracy.

At FESPA Digital there will also be the opportunity to view (via DVD) and discuss the Onset delivering a throughput up to 500 sq m/hr (5382 sq ft), equivalent to over 100 full bed sheets per hour. With the option of gloss or satin finish the Onset which was launched last year has already been installed in the UK, USA, Canada and Europe.


About Fujifilm Sericol

Fujifilm Sericol is focused on the formulation, development, manufacture and supply of innovative inkjet inks for the rapidly developing digital printing industry. A leader in the development of UV inks, Fujifilm Sericol's "More than Ink…Solutions" is a commitment to provide its customers with the latest in technology, technical support, training and business consulting programs.
Inca Digital Printers Limited
Inca Digital is one of the world's leading manufacturers of inkjet printing technology, today employing more than 160 people at its HQ in Cambridge, England. Highly innovative, the company developed the world's first large format flatbed inkjet printer in 2000 and is known for its market-leading Eagle, Spyder, and Columbia and high-speed Columbia Turbo printers. The world's fastest flat-bed printer, the Inca Onset, was launched in 2007. www.incadigital.com

As well as revolutionising the printing and packaging industry, inkjet technology has immense potential for cost effective product decoration for a wide range of applications, such as ceramic tiles, interior decorating, architecture, automotive, furniture design, sports equipment, etc. See some of these high impact industrial applications in more detail on www.whynotinkjet.com
Press releases you might also be interested in
Weitere Informationen zum Thema "Hardware":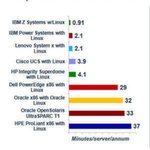 Höchste Zuverlässigkeit bei IBM und Lenovo, schlechteste Werte bei Oracle und HPE
All­jähr­lich be­fragt In­for­ma­ti­on Tech­no­lo­gy In­tel­li­gen­ce Con­sul­ting Corp. (ITIC) 800 Or­ga­ni­sa­tio­nen welt­weit zur Zu­ver­läs­sig­keit ih­rer Ser­ver und Ser­ver-Be­triebs­sys­te­me. Um mög­lichst un­vor­ein­ge­nom­me­ne Er­geb­nis­se zu prä­sen­tie­ren zu kön­nen, ak­zep­tiert das Un­ter­neh­men kein Spon­so­ring von An­bie­tern. Auch im Re­port 2017/2018 lie­gen IBM und Le­no­vo vor­ne – zum zehn­ten Mal hin­te­r­ein­an­der – Or­a­c­le und "HPE Pro­li­an­t" nicht.
Weiterlesen