Imec unveils innovative technology for an ECG patch, combining an ultralow-power ECG SoC with Bluetooth Low Energy
San Diego, USA/Leuven, Belgium

, (PresseBox) -
Imec and Holst Centre announce an innovative body patch that integrates an ultra-low power electrocardiogram (ECG) chip and a Bluetooth Low Energy (BLE) radio. This unique combination fuses power-efficient electronics and standardized communication, opening new perspectives for long-term monitoring in health, wellness and medical applications. The system integrates components from imec and Holst Centre's Human++ R&D program. It is designed in collaboration with DELTA and integrated in DELTA's ePatch platform.

The ECG patch measures up to 3 lead ECG signals, tissue-contact impedance and includes a 3D-accelerometer for physical activity monitoring. The data are processed and analyzed locally, and relevant events and information are transmitted through Bluetooth Low Energy. The patch is capable of monitoring, processing and communication on a minimal energy budget. When computing and transmitting the heart rate, the entire system consumes a mere 280µA at 2.1V, running continuously for one month on a 200mAh Li-Po battery. When transmitting accelerometer data (at 32Hz) on top of the heart rate, the power consumption remains below 1mA in continuous operation, giving about 1 week of autonomy.

The BLE link adds a standardized plug-and-play communication gateway to mobile devices such as smartphones and tablets. Smartphones and tablets enabled with Bluetooth 4.0 have been announced for next year; these will be your gateway to the world, bringing your heart parameters to wellness applications, to your network of friends, or to your doctor.

At the heart of the patch is an ECG System-On-Chip (SoC), a mixed signal ASIC. It is custom designed to provide ECG monitoring and high processing power at an extremely low energy consumption. Next to monitoring 1- to 3-lead ECG, the ECG SoC also monitors the contact impedance, providing real-time information on the electrode contact quality. This can be used to evaluate the quality of the ECG measurement and to filter motion artifacts. The ECG SoC has been designed to run algorithms for motion artifact reduction (based on adaptive filtering or principal component analysis) and beat-to-beat heart rate computation (based on discrete or continuous wavelet transforms). It has additional computation power to run application-specific algorithms such as epileptic seizure detection, energy expenditure estimation or arrhythmia monitoring. The built-in 12-bit ADC is capable of adaptive

sampling - sampling QRS waves at high frequency, and the other waves at a lower frequency - achieving a compression ratio of up to 5.

Within the Human++ program, imec and Holst Centre develop intelligent wearable sensing solutions addressing the needs for a better and more efficient healthcare. A prime example is the wearable ECG patch combining imec's ultra low power electronics with DELTA's ePatch technology. This first-of-a-kind demonstrator opens up new opportunities for companies active in wireless health.

About Holst Centre

Holst Centre is an independent open-innovation R&D centre that develops generic technologies for Wireless Autonomous Transducer Solutions and for Systems-in-Foil. A key feature of Holst Centre is its partnership model with industry and academia around shared roadmaps and programs. It is this kind of cross-fertilization that enables Holst Centre to tune its scientific strategy to industrial needs.Holst Centre was set up in 2005 by imec (Flanders, Belgium) and TNO (The Netherlands) with support from the Dutch Ministry of Economic Affairs and the Government of Flanders. It is named after Gilles Holst, a Dutch pioneer in Research and Development and first director of Philips Research. Located on High Tech Campus Eindhoven, Holst Centre benefits from the state-of-the-art on-site facilities. Holst Centre has over 150 employees from around 25 nationalities and a commitment from more than 30 industrial partners.
Visit us at www.holstcentre.com

About DELTA

DELTA - Danish Electronics, Light & Acoustics is an independent technology service organization for private enterprises and public authorities. DELTA's mission is to help businesses and society in general create value through innovative use of new technology in products, processes and environment. DELTA is among Europe's leading international test, design, service, consulting and education organisations within electronics, microelectronics, software technology, light, optics, acoustics and vibration. Further information on DELTA can be found at http://www.madebydelta.com/
imec
Imec performs world-leading research in nanoelectronics. Imec leverages its scientific knowledge with the innovative power of its global partnerships in ICT, healthcare and energy. Imec delivers industry-relevant technology solutions. In a unique high-tech environment, its international top talent is committed to providing the building blocks for a better life in a sustainable society. Imec is headquartered in Leuven, Belgium, and has offices in Belgium, the Netherlands, Taiwan, US, China, India and Japan. Its staff of about 1,900 people includes more than 500 industrial residents and guest researchers. In 2010, imec's revenue (P&L) was 285 million euro. Further information on imec can be found at www.imec.be.

Imec is a registered trademark for the activities of IMEC International (a legal entity set up under Belgian law as a "stichting van openbaar nut"), imec Belgium (IMEC vzw supported by the Flemish Government), imec the Netherlands (Stichting IMEC Nederland, part of Holst Centre which is supported by the Dutch Government), imec Taiwan (IMEC Taiwan Co.) and imec China (IMEC Microelectronics (Shangai) Co. Ltd.) and imec India (Imec India Private Limited).


Press releases you might also be interested in
Weitere Informationen zum Thema "Hardware":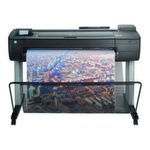 Markt für Großformat-Drucker dümpelt so dahin
Die Nach­fra­ge ist da, aber die Um­sät­ze stag­nie­ren. Die Markt­for­scher von IDC er­ken­nen für die An­bie­ter kei­ne Hoff­nungs­zei­chen auf bes­se­re Ge­schäf­te. An­wen­der aber kön­nen auf güns­ti­ge­re Prei­se set­zen.
Weiterlesen