Imec reports smallest fully-functional HfO2-based Resistive RAM cell
Embargoed until December 7, 2011 5pm EST (Washington) or 11pm CET
Washington, USA/Leuven, Belgium

, (PresseBox) -
At today's 2011 IEEE International Electron Devices Meeting (IEDM), imec presents the world's smallest, fully-functional HfO2-based Resistive RAM (RRAM) cell, with an area of less than 10x10nm². The new cell shows potential to meet the major requirements for future device-level nonvolatile memory. RRAM is an emerging technology for nonvolatile memory, a candidate to replace NAND Flash technology in the scaling race to sub-10nm memories.

Current charge storage based Flash memory technologies are believed to face scaling limitations beyond 18nm. To overcome these, a variety of innovative cell and memory concepts are investigated worldwide. One of the most promising memory concepts is the resistive RAM or RRAM. It is based on the electronic switching of a resistor element material between two stable (low/high) resistive states. The major strengths of RRAM technology are its potential density and speed.

Imec's RRAM cell features a novel Hf/HfOx resistive element stack. It couples a cell area of less than 10x10nm² with an excellent reliability (endurance of more than 109cycles). The cell has fast nanosecond-range on/off switching times at low-voltages. It has a large resistive window (>50) and shows no closure of the on/off window after functioning at 200°C for 30 hours. The device even remained operating failure-free functioning for 30 hours with a thermal stress of 250°C. The switching energy per bit is below 0.1pJ, and AC operating voltages are well below 3V. With these characteristics, imec's cell meets the major requirements for device-level nonvolatile memory.

In addition, imec has also further clarified the impact of film crystallinity on the operation of RRAM cells, especially with a view on further scaling. It also sheds light on the role of the cap layer and on the switching mechanisms.

These results were obtained in cooperation with imec's key partners in its core CMOS programs Globalfoundries, INTEL, Micron, Panasonic, Samsung, TSMC, Elpida, Hynix, Fujitsu and Sony.
imec
Imec performs world-leading research in nanoelectronics. Imec leverages its scientific knowledge with the innovative power of its global partnerships in ICT, healthcare and energy. Imec delivers industry-relevant technology solutions. In a unique high-tech environment, its international top talent is committed to providing the building blocks for a better life in a sustainable society. Imec is headquartered in Leuven, Belgium, and has offices in Belgium, the Netherlands, Taiwan, US, China, India and Japan. Its staff of about 1,900 people includes more than 500 industrial residents and guest researchers. In 2010, imec's revenue (P&L) was 285 million euro. Further information on imec can be found at www.imec.be.

Imec is a registered trademark for the activities of IMEC International (a legal entity set up under Belgian law as a "stichting van openbaar nut"), imec Belgium (IMEC vzw supported by the Flemish Government), imec the Netherlands (Stichting IMEC Nederland, part of Holst Centre which is supported by the Dutch Government), imec Taiwan (IMEC Taiwan Co.) and imec China (IMEC Microelectronics (Shangai) Co. Ltd.) and imec India (Imec India Private Limited).

Press releases you might also be interested in
Weitere Informationen zum Thema "Hardware":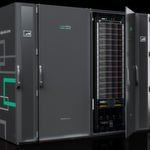 Ein mikro-modulares Datacenter von Rittal, ABB und HPE
ABB, Hew­lett-Pa­c­kard En­ter­pri­se (HPE) und Rit­tal wer­den auf der Han­no­ver Mes­se das "Se­cu­re Ed­ge Da­ta­cen­ter" (SEDC) für in­du­s­tri­el­le Um­ge­bun­gen und Te­le­kom­mu­ni­ka­ti­on vor­s­tel­len. Da­mit kön­nen Un­ter­neh­men ih­re leis­tungs­star­ken IT-Sys­te­me in un­mit­tel­ba­re Nähe zu ih­ren Ma­schi­nen und An­la­gen be­t­rei­ben, um ge­rin­ge­re La­tenz­zei­ten so­wie si­che­re und zu­ver­läs­si­ge di­gi­ta­le Pro­zes­se zu er­mög­li­chen.
Weiterlesen