Imec produces high-quality EUV sensors for ASML's next-generation lithography tools
Leuven

, (PresseBox) -
Imec announces that it has successfully qualified a chipset consisting of custom high-quality EUV sensor dies. These are now being integrated in ASML's NXE:3100 EUV lithography tools in the field, improving the tools' overlay and critical dimension (CD) tool performance. With this milestone achievement, imec confirms that its CMORE business line is ready to provide its partners with custom specialty chip solutions.

The sensors were processed according to ASML's custom designs and specifications, with focus on superior lifetime and sensitivity to direct and high EUV irradiation doses. Two of the sensors are designed to calibrate, align, and focus tool's lens systems. They have been integrated in functional sensor modules, and are being integrated in the NXE:3100 machines in the field. A third sensor is designed to monitor the NXE:3300's EUV dose. The next milestone in progress is to build and qualify the different sensors for the NXE:3300 by the end of 2011.

Via its CMORE initiative, imec offers companies all the services needed to turn innovative ideas into smart packaged microsystem products. The CMORE toolbox contains a wide variety of device technologies on 200mm (e.g. CMOS, Si-photonics, MEMS, image sensors, packaging ...) as well as design, testing and reliability. Next to these EUV sensors, imec CMORE is developing several other customer chip solutions. They include technology from all imec's strategic areas such as bio-sensing, energy- and power management, and high-end specialty imaging, photolithography among others.

Imec's services range from feasibility studies over design and technology development to prototyping and low-volume manufacturing. And through its alliances, imec can also offer a path to transfer the technology to a foundry for volume production.
imec
Imec performs world-leading research in nanoelectronics. Imec leverages its scientific knowledge with the innovative power of its global partnerships in ICT, healthcare and energy. Imec delivers industry-relevant technology solutions. In a unique high-tech environment, its international top talent is committed to providing the building blocks for a better life in a sustainable society. Imec is headquartered in Leuven, Belgium, and has offices in Belgium, the Netherlands, Taiwan, US, China, India and Japan. Its staff of about 1,900 people includes more than 500 industrial residents and guest researchers. In 2010, imec's revenue (P&L) was 285 million euro. Further information on imec can be found at www.imec.be.

Imec is a registered trademark for the activities of IMEC International (a legal entity set up under Belgian law as a "stichting van openbaar nut"), imec Belgium (IMEC vzw supported by the Flemish Government), imec the Netherlands (Stichting IMEC Nederland, part of Holst Centre which is supported by the Dutch Government), imec Taiwan (IMEC Taiwan Co.) and imec China (IMEC Microelectronics (Shangai) Co. Ltd.) and imec India (Imec India Private Limited).

Press releases you might also be interested in
Weitere Informationen zum Thema "Hardware":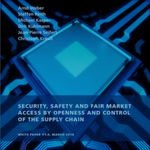 Open-Source auch für Hardware?
Ein Whi­te­pa­per emp­fiehlt, die Ent­wick­lung von Open-Sour­ce-Hard­wa­re zu be­sch­leu­ni­gen. Die Au­to­ren kom­men aus For­schungs­in­sti­tu­ten, aus de­nen ei­nen so weit­ge­hen­de For­de­rung eher nicht zu er­war­ten war.
Weiterlesen