Imec demonstrates extremely high-speed heterojunction bipolar transistors
The devices open new avenues in wireless communications and imaging
Leuven

, (PresseBox) -
Imec realized a fT/fMAX 245GHz/450GHz SiGe:C heterojunction bipolar transistor (HBT) device, a key enabler for future high-volume millimeter-wave low-power circuits to be used in automotive radar applications. These HBT devices also pave the way to silicon-based millimeter wave circuits penetrating the so-called THz gap, enabling enhanced imaging systems for security, medical and scientific applications

The extremely high-speed devices have a fully self-aligned architecture by self-alignment of the emitter, base and collector region, and implement an optimized collector doping profile. Compared to III-V HBT devices, SiGe:C HBTs combine high-density and low-cost integration, making them suitable for consumer applications. Such high-speed devices can open up new application areas, working at very high frequencies with lower power dissipation, or applications which require a reduced impact of process, voltage and temperature variations at lower frequencies for better circuit reliability.

To achieve the ultra high-speed requirements, state-of-the-art SiGe:C HBTs need further up-scaling of the device performance. Thin sub-collector doping profiles are generally believed to be mandatory for this up-scaling. Usually, the collector dopants are introduced in the beginning of the processing and thus exposed to the complete thermal budget of the process flow. This complicates the accurate positioning of the buried collector. By in-situ arsenic doping during the simultaneous growth of the sub-collector pedestal and the SiGe:C base, imec introduced both a thin, well controlled, lowly doped collector region close to the base and a sharp transition to the highly doped collector without further complicating the process. This resulted in a considerable increase of the overall HBT device performance: Peak fMAX values above 450GHz are obtained on devices with a high early voltage, a BVCEO of 1.7V and a sharp transition from the saturation to the active region in the IC-VCE output curve. Despite the aggressive scaling of the sub-collector doping profile, the collector-base capacitance values did not increase much. Moreover, the current gain is well defined, with an average around 400 and the emitter-base tunnel current, visible at low VBE values, is limited as well.

News release can be downloaded at http://www2.imec.be/be_en/press/imec-news/imecdotfive.html
imec
Imec performs world-leading research in nanoelectronics. Imec leverages its scientific knowledge with the innovative power of its global partnerships in ICT, healthcare and energy. Imec delivers industry-relevant technology solutions. In a unique high-tech environment, its international top talent is committed to providing the building blocks for a better life in a sustainable society. Imec is headquartered in Leuven, Belgium, and has offices in Belgium, the Netherlands, Taiwan, US, China, India and Japan. Its staff of about 1,900 people includes more than 500 industrial residents and guest researchers. In 2010, imec's revenue (P&L) was 285 million euro. Further information on imec can be found at www.imec.be.

Imec is a registered trademark for the activities of IMEC International (a legal entity set up under Belgian law as a "stichting van openbaar nut"), imec Belgium (IMEC vzw supported by the Flemish Government), imec the Netherlands (Stichting IMEC Nederland, part of Holst Centre which is supported by the Dutch Government), imec Taiwan (IMEC Taiwan Co.) and imec China (IMEC Microelectronics (Shangai) Co. Ltd.) and imec India (Imec India Private Limited).

Press releases you might also be interested in
Weitere Informationen zum Thema "Hardware":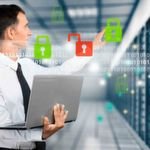 Die fünf wichtigsten Kriterien für ein Next Generation Datacenter
Un­ter­neh­men müs­sen ein­mal mehr neue We­ge fin­den, wie sie Kun­den für sich ge­win­nen. Die Ge­schäfts­ent­wick­lung er­folgt heu­te nicht mehr li­near. Statt­des­sen kön­nen sich Chan­cen je­der­zeit aus al­len Rich­tun­gen auf­tun. Mit ei­nem tra­di­tio­nel­len Re­chen­zen­trum kann die be­nö­t­ig­te Fle­xi­bi­li­tät nicht her­ge­s­tellt wer­den. Ein Mi­kro­re­chen­zen­trum ist der Aus­weg.
Weiterlesen