Imec and Meco present high efficiency and cost-effective copper technology for i-PERC-type Silicon Solar Cells
New large area cells (156x156mm2) achieve 20.5% average efficiency using Nickel/Copper plating on p-type Czochralski Silicon (Cz-Si) material
Leuven (Belgium)

, (PresseBox) -
At this week's European Photovoltaic Solar Energy Conference and Exhibition (EUPVSEC in Paris), imec, a nanoelectronics research center based in Belgium, and Meco, a supplier of plating equipment for semiconductor and solar industry, present large area (156x156mm2) i-PERC-type silicon solar cells with industry-applicable Nickel/Copper (Ni/Cu) plating for the front contacts. Together, the companies achieved an excellent average efficiency of 20.5% on more than 100 cells, and a maximum efficiency of 20.7% (confirmed by ISE callab).

"Not only do these results show a considerable performance improvement compared to state-of-the-art screen-printed PERC cells, but our Cost-of-Ownership analysis also indicates a clear advantage on the financial level," stated Jozef Szlufcik, Department director silicon photovoltaics at imec. "Our results show that Ni/Cu plating is one of the few new technologies that can simultaneously improve the efficiency of PERC solar cells, while reducing processing cost."

The cells were processed on imec's solar cell pilot line using Meco's inline plating tool to deposit the Ni/Cu front contacts. The metallization process of the Ni/Cu stack included Ultraviolet (UV) laser ablation, sequential in-line plating of the metal layers and contact annealing. The resulting i-PERC solar cell achieved an average efficiency of 20.5% on more than 100 cells with a very low standard deviation of only 0.1percent and an average fill factor of 80 percent, validating the high quality of the front contacts We now have the advantage of using Meco's industrial plating techniques and tools that were not available to earlier Ni/Cu adopters," stated Richard Russell, Metallization module leader at imec. "This gives us the opportunity to develop a more robust and cheaper process than was previously possible."

"We are elated to have achieved these excellent results in the framework of imec's industrial affiliation program on advanced silicon photovoltaics aiming at a reduction of the cost/Watt-peak (Wp)", stated Martijn Zwegers, Product manager solar at Meco. "Collaborating within imec's industrial ecosystem enables us to accommodate our advanced plating tools to industrial processing."

About Meco

Meco Equipment Engineers is a world-leading supplier of plating equipment (with an installed base of 700 systems in 34 countries) for the semiconductor, solar, connector and film & foil industry. Over the years, these systems have established an international reputation for high performance, outstanding reliability, top quality and unbeatable economy. Meco is a subsidiary of BE Semiconductor Industries (BESI), with facilities in The Netherlands, Switzerland, Austria, US, Korea, China, Taiwan, Philippines, Malaysia and Singapore. BESI has a staff of nearly 1,500 people and a revenue (2012) of € 274 million. Further information on BESI and Meco can be found at www.besi.com
imec
Imec performs world-leading research in nanoelectronics. Imec leverages its scientific knowledge with the innovative power of its global partnerships in ICT, healthcare and energy. Imec delivers industry-relevant technology solutions. In a unique high-tech environment, its international top talent is committed to providing the building blocks for a better life in a sustainable society. Imec is headquartered in Leuven, Belgium, and has offices in Belgium, the Netherlands, Taiwan, US, China, India and Japan. Its staff of more than 2,000 people includes more than 650 industrial residents and guest researchers. In 2012, imec's revenue (P&L) totaled 320 million euro. Further information on imec can be found at www.imec.be.
Press releases you might also be interested in
Weitere Informationen zum Thema "Hardware":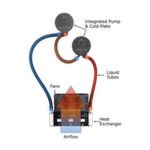 Asetek und Intel kühlen gemeinsam
Ase­tek ar­bei­tet ab so­fort mit In­tel zu­sam­men, um Re­chen­zen­t­ren und Ser­ver mit Was­ser zu küh­len. Dem­nächst soll die Vor­stel­lung ei­nes ers­ten ge­mein­sa­men Pro­duk­tes fol­gen.
Weiterlesen