European collaboration towards efficient, low-cost tandem organic solar cells
Leuven

, (PresseBox) -
Imec and its 16 project partners announce that they have launched the European FP7 project X10D, a project aiming at developing tandem organic solar cells with an increased conversion efficiency and lifetime, and a decreased production cost. The ultimate goal of the X10D project is to bring organic photovoltaic technologies (OPV) towards introduction into the competitive thin-film PV market.

Organic solar cells hold the promise of low-cost production and high throughput, both essential parameters for the uptake of a new technology by the PV industry. However, current OPV technologies are unstable when exposed to the ambient environment, and their power conversion efficiencies are not sufficient to be viable alternatives to the current dominating silicon photovoltaic technologies. By applying new designs and architectures, materials and manufacturing technologies, the X10D project aims at increasing the power conversion efficiency to achieve at least a 12% on cell level (1cm²), and 9% on module level (100 cm²). Moreover, the X10D project has set its goal to guarantee a minimum of 20 years lifetime for OPV modules on glass, and 10 years on foil, and to decrease the cost below 0.70 €/Watt-peak.

X10D gathers the available OPV knowledge and expertise from leading universities, research institutes, and companies in Europe. Furthermore, X10D brings together a complete and unique OPV research and development consortium covering both solution-processed as well as small molecule-based OPV expertise. Each segment of the value chain is represented in the project: materials development and up-scaling, device development and up-scaling, large-area deposition equipment and processes, novel transparent conductors, laser scribing equipment and processes, encapsulation technologies, energy, life-cycle, and cost analysis and finally end-users.

Within the framework of the X10D project, imec as project coordinator, collaborates with the Commissariat à l'Energie Atomique et aux Energies Alternatives - CEA (France), Stichting Energieonderzoek Centrum Nederland - ECN (The Netherlands), Bayerisches Zentrum für Angewandteenergieforschung - ZAE EV (Germany), Heliatek GMBH (Germany), IKERLAN S.COOP. (Spain), Imperial College of Science, Technology and Medicine (UK), Universidad Autonoma de Madrid (Spain), Technische Universiteit Eindhoven (The Netherlands), Nederlandse Organisatie voor Toegepast Natuurwetenschappelijk Onderzoek - TNO (The Netherlands), The Solar Press UK Limited (UK), Stork Prints B.V. (The Netherlands), SOLVAY SA (Belgium), VDI/VDE Innovation + Technik GMBH (Germany), AGFA-Gevaert N.V. (Belgium), 3D-Micromac AG (Germany), and Arkema France SA (France). The X10D project is partly funded by the European Commission (FP7/2007-2013). More information on the project is available on the web http://www.x10d-project.eu/public
imec
Imec performs world-leading research in nanoelectronics. Imec leverages its scientific knowledge with the innovative power of its global partnerships in ICT, healthcare and energy. Imec delivers industry-relevant technology solutions. In a unique high-tech environment, its international top talent is committed to providing the building blocks for a better life in a sustainable society. Imec is headquartered in Leuven, Belgium, and has offices in Belgium, the Netherlands, Taiwan, US, China, India and Japan. Its staff of about 1,900 people includes more than 500 industrial residents and guest researchers. In 2010, imec's revenue (P&L) was 285 million euro. Further information on imec can be found at www.imec.be.

Imec is a registered trademark for the activities of IMEC International (a legal entity set up under Belgian law as a "stichting van openbaar nut"), imec Belgium (IMEC vzw supported by the Flemish Government), imec the Netherlands (Stichting IMEC Nederland, part of Holst Centre which is supported by the Dutch Government), imec Taiwan (IMEC Taiwan Co.) and imec China (IMEC Microelectronics (Shangai) Co. Ltd.) and imec India (Imec India Private Limited).

Press releases you might also be interested in
Weitere Informationen zum Thema "Energie- / Umwelttechnik":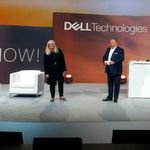 Digitalisierung erfordert nahtlose Kommunikation
Dells Ta­ges­ver­an­stal­tung The Next Now! In Mün­chen woll­te Hil­fe­stel­lung leis­ten auf dem Weg zur Di­gi­ta­li­sie­rung der Un­ter­neh­men in Deut­sch­land. Wel­che St­ra­te­gi­en und Rah­men­be­din­gun­gen er­wei­sen sich als güns­tig, was soll ver­mie­den wer­den?
Weiterlesen