Ikanos Enables Highly Integrated Multi-mode VDSL2/ADSL2+ Triple Play Residential Gateways with Single-Chip Integrated Front End (IFE)
DSL Forum Compliant Solution Integrates xDSL Line Driver to Support / Cost Effective, Low Power Designs
Fremont

, (PresseBox) -
Ikanos Communications, Inc. (NASDAQ: IKAN), a leading developer and provider of Fiber Fast broadband solutions, today announced the availability of the FXS60IF1, the industry s first single-chip Integrated Front End (IFE) that enables cost effective, low power, multi-mode VDSL2/ADSL2+ triple play residential gateways. The FXS60IF1 is designed to allow gateways to deliver Ikanos market-leading VDSL2 performance and simultaneously meet DSL Forum s stringent ADSL2+ and ADSL performance specifications (TR-100 and TR-067 respectively). By integrating the xDSL line driver, the FXS60IF1 reduces external components and power consumption compared to existing solutions in the market.

"Carriers that are upgrading their networks for deployment of triple play services over VDSL2 would benefit from a single residential gateway (RG) platform that offers multi-mode VDSL2/ADSL2+ capabilities. This RG can be used in ADSL2+ or ADSL mode to support today s subscribers, and can be upgraded through software to support subscriber migration to triple play services over VDSL2, eliminating future truck rolls and equipment upgrades," said Aileen Arcilla, senior semiconductor analyst at IDC. "Such a multi-mode VDSL2/ADSL2+ RG potentially can reduce the carrier s capex and recurring operating expenses."

The FXS60IF1, in conjunction with a residential gateway processor such as the Fusiv® Vx180, delivers a best-in-class solution for a multi-mode triple play residential gateway. This solution meets the ITU-T standards for VDSL2, ADSL2+, ADSL2 and ADSL. It also offers Ikanos superior physical layer technology features - such as high levels of impulse noise protection, Rapid Rate Adaptation (RRA), on-chip quality of service (QoS) and wire-speed network processor performance - to improve consumers triple play experience.

"Ikanos has a long history of providing the cutting-edge technology that serves as the foundation of our broadband access devices," said Jorson Tsai, chief technology officer of Gemtek Technology Co. Ltd. "The availability of a high performance multi-mode residential gateway solution with the FXS60IF1, which supports both VDSL2 and ADSL2+, will enable us to develop a single design that can effectively meet the majority of our customers needs. More importantly, the technology s compliance with DSL Forum standards will ease the qualification process with many of our largest carrier customers."

"By combining advanced capabilities into a single, low power solution with a small footprint, Ikanos is leading the market in terms of performance and integration for multi-mode xDSL residential gateways," said Michael A. Ricci, president and CEO of Ikanos. "Ikanos is meeting the needs of service providers today by delivering the industry s first multi-mode VDSL2/ADSL2+ residential gateway solution that offers high performance VDSL2 and meets DSL Forum s requirements for ADSL2+/ADSL."
Ikanos Communications
Ikanos Communications, Inc. (NASDAQ: IKAN) develops chipsets that enable carriers to offer Fiber Fast™ bandwidth and Gigabit network processing for enhanced triple play services. Ikanos' multi-mode VDSL2/ADSLx and network processor solutions power access infrastructure and customer premises equipment for many of the world's leading network equipment manufacturers. Ikanos' solutions enable fast and cost-effective carrier rollouts of interactive broadband services, including IPTV. For more information, visit visit www.ikanos.com.
Press releases you might also be interested in
Weitere Informationen zum Thema "Hardware":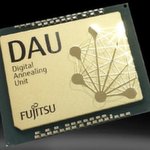 Fujitsu bringt den Akzelerator-Chip Digital Annealer 2018 heraus
Fu­jit­su will mit dem "Di­gi­tal An­nea­ler" in der ers­ten Jah­res­hälf­te 2018 ei­nen Chip ver­füg­bar ma­chen, der nach dem Vor­bild der Quan­ten­com­pu­ter ar­bei­tet. Die Soft­wa­re kommt von 1Q­Bit In­for­ma­ti­on Tech­no­lo­gies. Die Ver­ar­bei­tungs­leis­tung des Ak­ze­le­ra­tors soll kom­bi­na­to­ri­sche Opti­mie­rungs­pro­b­le­me in Che­mie, En­er­gie-Er­zeu­gung, Lo­gis­tik und Ver­mö­gens­ver­wal­tung um ein Viel­fa­ches sch­nel­ler lö­sen als her­kömm­li­che Pro­zes­so­ren.
Weiterlesen