The press service for journalists and influencers in the technological sector
IDEA AG

BoxId: 106591 – IDEA AG submits marketing application for its innovative targeted analgesic, Diractin®, to EMEA
Press release BoxID: 106591 (IDEA AG)
IDEA AG
Frankfurter Ring 193a
80807 München
http://www.idea-ag.de
Contact person
Gregor Cevc.
+49(0)89 32463310
Recommend IDEA AG submits marketing application for its innovative targeted analgesic, Diractin®, to EMEA press release
QrCode
What its a QR code?
Three steps: Scanning of a QR code: Find your way to a press release without typing. Use the QR code on the print version of a press release to get redirected to the corresponding page on PresseBox.
How does scanning a QR code work? Just follow these simple steps.
Everything you need is an internet-enabled mobile phone or smartphone with a built-in camera and a QR code reading software.
QR stands for Quick Response - with one step you can quickly reach a website. QR codes work like bar codes, which you can find on your milk carton, for example. A software decrypts the QR code and directs you to a web page - so you do not even need to know the web address to reach it.
Download and print your digital press kit now
Please send the following information to my email address:
*) Please confirm your email address to get daily information about new releases with PresseMail.
IDEA AG submits marketing application for its innovative targeted analgesic, Diractin®, to EMEA
IDEA AG
IDEA is a privately held biopharmaceutical company with headquarters in Munich, Germany. IDEA develops and commercialises non-invasive, targeted therapeutics, applied through the skin. The proprietary carriers are typically applied on skin and can be engineered to achieve high drug concentration at or near the site of application, diminish local or systemic adverse side effects, and often increase drug potency. In total, close to 60 patents from 9 patent families are currently protecting the core technology. The Company's leading products are in the area of dermatology and pain. IDEA-033, with blockbuster potential in the peripheral pain market, is approaching the end of its Phase III clinical development programme in Europe. Regulatory submission to EMEA is currently expected in Q1 2007 and possibly within the following 12 months in USA.. IDEA's in-house capabilities range from formulation and small-scale (GMP) manufacturing work to clinical testing. For further information see IDEA's website at www.idea-ag.de.
You may also be interested in
Additional information on the topic of "Medical Technology"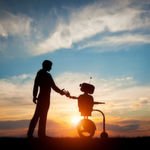 Künstliche Intelligenz – Segen und Fluch?
Künstliche Intelligenz (KI) und Maschine Learning (ML) gehören zu den Megatrends. Es ist sogar die Rede davon, dass sie die Welt revolutionieren und die gesamte Art, wie wir arbeiten und interagieren, verändern werden.
Read more

Company address
IDEA AG

Frankfurter Ring 193a

D

-

80807

München