New reports focus on Telecom - TV - Internet: 2025
Digital innovations shaking up the telecom and TV industries are paving the way for new revenue streams
London

, (PresseBox) -
Changes at work in the telecom and television sectors are explored in new key IDATE reports and at the upcoming DigiWorld Summit 2013 (19 to 21 November 2013). IDATE continues to publish its series of outlook reports devoted to the issues and challenges that the TV, telecom and internet industries will be tackling over the next 10 years. "Digital gold mines", the theme of this year's summit, will endeavour to shake off some of the gloom of today's environment and discuss instead the likely sources of future prosperity in the digital economy.

Future Telecom: 2025
A European market that will not regain its 2010 levels... in 2020!

For several decades, the telecommunications sector has been in the throes of profound upheavals. What started with the overwhelming popularity of mobiles and later the internet, has led to today's environment: the era of IP everywhere, cloud computing and big data. This created an environment with no shortage of challenges for telcos hoping to continue to grow.

Telecommunications companies face:

- the demand for growth outlets to offset the inexorable decline of now mature sections of their business (voice calling in particular);
- the requirement to invest in fixed (fibre) and mobile (4G LTE) new generation access (NGA) systems to handle the explosion in traffic; and
- the need to find their place in increasingly open value chains and an ecosystem populated by fast-rising new and ultra dynamic players, including OTT providers, device suppliers, etc.

In Europe, these challenges are further exacerbated by the grim economic climate, which is testing the limits of the telecom sector's traditional resilience. Very stiff competition only underscores how fragmented the European market is.

Consumers are spending more and more time on their phones and computers, using increasingly bandwidth-hungry applications (enhanced content, a lot of video, using multiple devices at once, etc.). But any extra money spent on digital pastimes is tending to be on hardware, as customers are leaning more and more towards low-cost plans for their connection needs.

According to Didier Pouillot, the head of IDATE Telecom Strategies Business Unit, in charge of this report, "...this explosion in consumption and the traffic it generates can also prove an opportunity for telcos, if they can find the right way to monetize it. For them, this is the biggest challenge that lies ahead."

What is next?

IDATE has defined three different scenarios for the market's future development, factoring in six key parameters from both the supply and demand side of the equation.

- "Evolution", can be seen as the middle path, although not built solely on current and short-term revenue trends stretching out into the future. It is characterized by market growth (calculated here for the top five European markets, or EU-5) that has been shrinking since 2008, and expected to dip further still in 2013 (-4%). Growth will continue to decrease in the coming years, with a gradual upswing starting in 2016. This means that in 2015 the market will not have reached its 2009-2010 levels... in nominal value!

The three telecom Services market scenarios, 2008-2025 (EU-5, million EUR)

The other two scenarios describe more "extreme" situations, and help sketch out the perimeters of what the future might hold:

- "Doldrums", with pressure still high across the board, the mobile market is experiencing the same cycle that fixed services have for the past 10 years - i.e. the drop in calling revenue not being offset by data revenue;
- "Renaissance", there is a revival of the retail market (revenue being generated by the sale of access thanks to successful tiering policies), and the monetization of new business areas, services and/or platforms.

Worth noting in the "doldrums" scenario is that the market in 2025 will have shrunk by 24% compared to 2010, while under the "renaissance" scenario it will have grown by 28% - up by 40% compared to 2013, which translates into an average annual growth rate of close to 3%.

Growth of Telecoms service revenue - fixed and mobile (EU-5, million EUR)

Need for new operator models

If telcos can, and have begun working on monetizing access - e.g. via tiered pricing and device sharing - they can also engage in a two-sided strategy, and position themselves as preferred intermediaries between content and application providers (residential, business, M2M) and their customers. The most ambitious approaches to vertical integration are no doubt the purview of only the world's largest telcos, those able to deploy their model internationally.

A number of factors are pushing telcos towards more or less integrated strategies. There is a possibility of more radical changes to:

- the Netco (network company) model that has network management as the centrepiece of its strategy, aimed largely at a wholesale clientele through agreements with OTT providers and the top device suppliers;
- and, to the Servco (service company) model that does away with the network to focus instead on marketing and selling service packages, going more or less head to head with OTT vendors.

Four Trends Influencing Europe's Telecoms:

When looking at the generic components that make up the business models, there are four trends that will influence the way Europe's telecom service industry is organized in the future:
- the sharp drop in European operators' income and their shrinking margins will result in a period of both direct mergers and large-scale infrastructure-sharing deals, first at the national level and subsequently to revived cross-border strategies;
- the decrease in European group's share prices is opening the doors to foreign investment which will inevitably reshape the sector;
- the momentum of superfast mobile and microcells is spurring the convergence of fixed-mobile infrastructures (backhauling/backboning) and the rise of quadruple play bundles;
- the developments in networking technologies, and particularly those that fall under the heading of SDN (Software Defined Network) and cloud architectures integration. It still too early to tell how they will affect telcos' relationship with suppliers and OTT companies.

New Reports
Future TV: 2025 (Report available now)
How many channels will fall by the wayside?

Disruption scenarios and their impact on markets and the industry: this report analyses outstanding developments, trends and disruptions in the TV and video sector, and delivers IDATE's snapshots of the market in 2025.It analyses changes in viewer behaviour and changes at work in the industry's very structure, followed by a description of what roles each of the different players will have in the long term. It provides readers with market figures for the United States, Japan, Germany, Spain, France, Italy and the UK in 2013, along with three quantified market outlook scenarios up to 2025: Music industry syndrome, Business as usual and Best of both worlds.

Future Internet: 2025 (Report available in December 2013)

This report explores the outstanding developments, trends and disruptions that are shaping the fixed and mobile internet, and delivers IDATE's outlook on the market's organization and structure over the next 10 years. The scenarios developed are based on market figures for the top European markets and the United States, from 2013 onwards.
IDATE
Founded in 1977, IDATE has gained a reputation as a leader in tracking telecom, internet and media markets, thanks to the skills of our teams of specialized analysts. Now, with the support of close to 40 member companies - which include many of the digital economy's most influential players - the newly rebranded DigiWorld Institute has entered into a new stage of its development, structured around three main areas of activity:

- IDATE Research - An independent observatory whose task is to keep a close and continual watch on digital world industries, collect relevant data and provide benchmark analyses on market developments and innovations in the telecom, internet and media sectors - through its comprehensive collection of market reports and market watch services.
- IDATE Consulting, time-tested analysis and consultancy solutions. Our teams of economists and engineers have established their credibility and independence through the hundreds of research and consulting assignments they perform every year, on behalf of top industry players and public authorities.
- DigiWorld Institute - A European forum open on the world. The Digiworld Institute will take existing IDATE initiatives, such as DigiWorld Summit, and the monthly clubs in Paris, London and Brussels, to the next level. Members have the opportunity to participate in think tanks on the core issues that will shape the industry's future, drawing on the knowledge of outside experts and the Institute's own teams.

Find out more about us and what we do at: www.idate.org

Follow us on Twitter: @DigiworldIDATE


Press releases you might also be interested in
Weitere Informationen zum Thema "Kommunikation":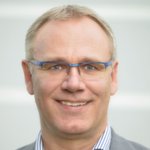 Wachstumsfaktor All-IP und digitaler Arbeitsplatz
UC- und TK-Her­s­tel­ler bli­cken vol­ler Vor­f­reu­de auf das Jahr 2018. All-IP und die Di­gi­ta­li­sie­rung von Ar­beits­plät­zen sch­rei­ten voran. Die Cloud, UCC-Lö­sun­gen und ein Ver­sch­mel­zen von IT und TK sind dann nicht mehr weg­zu­den­ken. Da­von ist auch Uni­fy-Chef Dr. Bernd Wag­ner über­zeugt.
Weiterlesen