IceWarp Discovery: Google Translate Flaw Can Hit Users with Unwanted Fees
IceWarp's Google-powered multilingual business chat offering is fully protected
Springfield

, (PresseBox) -
IceWarp has uncovered vulnerabilities in Google Translate API v2 that allow hackers to easily hijack the solution and expose unsuspecting users to unwanted fees, the global messaging and collaborations solutions provider announced today. IceWarp licensed the Google product to power LiveWebAssist, its hosted business-grade multilingual business chat service, and discovered the flaw while working on the integration issues. The company immediately took steps eliminate the security lapse.

"Google Translate is an outstanding product, and we are proud to be in the first batch of its paying customers," says Ladislav Goc, IceWarp President. "We were really surprised to find out that virtually anyone with basic hacking skills can steal a customer code. It is relatively easy, since Google Translate is typically using JavaScript. The code is visible to everybody directly in the HTML code of the page."

EXAMPLE TAKEN FROM GOOGLE TRANSLATE v2 DEVELOPER'S GUIDE (28th. November 2011)

(http://code.google.com/intl/cs/apis/language/translate/v2/getting_started.html)

var source = 'https://www.googleapis.com/language/translate/v2?key=INSERT-YOUR-KEY&source=en&target=de&callback=translateText&q=' + sourceText;newScript.src = source;

Notice variable: key=INSERT-YOUR-KEY

This is ID of the paid customer of Google Translate V2.

"If someone will open a web site with implemented Google translate V2 and will "view code" the key=INSERT-YOUR-KEY is fully visible and can be used on another web site resulting "free" translation , because the charges will go to the regular paying customer of Google Translator," continues Mr. Goc. "Risk of such situations is substantial. Free Google translation service will be terminated at the end of 2011, leaving a huge amount of developers and users utilizing it now in a limbo. Significant number of these users is likely to be very upset and start looking for both "revenge and free service."

"For LiveWebAssist Google-translated web chat, we solved this problem by creating our own PHP objects which call Google Translate from the server side," explains Mr. Goc. "Thus the key is not exposed at all and cannot be stolen and misused."

LiveWebAssist, is a powerful multilingual Customer Relationship Management (CRM) product that allows companies to better monetize website traffic by interacting live with website visitors in all Google Translator-supported languages, from any location, through any device - desktop, laptop, smartphone or tablet. Based on the proven IceWarp engine, it can support organizations of all sizes: from a single-man operation to a global enterprise.

Already recognized as a leading email solutions provider and a viable Microsoft Exchange alternative, IceWarp (formerly Merak Mail Server) is deployed in more than 20,000 organizations and supports over 50 million users worldwide. The company disrupts the messaging category by delivering all email, mobile synchronization, SMS, chat, voice and video capabilities in one integrated, extremely secure and easy-to-deploy solution. Its customers include such market leaders as Marriott International, Inc., Verizon Communications, Inc., Russian Space Agency, as well as small to midsized firms.

For more information, please visit IceWarp (www.icewarp.com) on Twitter and Facebook.
IceWarp, Inc
IceWarp is an emerging provider of comprehensive messaging solutions for every business class, size and niche. Building upon a decade of enterprise e-mail platforms experience, IceWarp offers organizations an all-in-one highly secure solution that enables their mobile workforce to communicate through any platform, be it e-mail, mobile synchronization, chat, SMS, voice or video. The highly scalable product can easily be used by organizations of all sizes, from SMBs to large corporations, delivering ease of deployment, exceptional reliability and scalability. IceWarp's solutions are available in over 40 countries through a comprehensive network of distributors.

Press releases you might also be interested in
Weitere Informationen zum Thema "Sicherheit":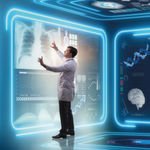 Safety, Security und Privacy in der Medizintechnik
Di­gi­ta­li­sie­rung ist der nächs­te gro­ße Trend im Ge­sund­heits­we­sen. Ver­netz­te Me­di­zin­ge­rä­te müs­sen da­bei den­noch si­cher blei­ben, vor Da­ten­klau und Ma­ni­pu­la­ti­on. Ex­per­ten sind sich ei­nig: Un­ter­neh­men müs­sen deut­lich mehr Zeit und Geld in den Schutz der Sys­te­me und der Pa­ti­en­ten­da­ten in­ves­tie­ren um Da­ten­si­cher­heit und DSG­VO-Com­p­li­an­ce si­cher­s­tel­len zu kön­nen.
Weiterlesen