Willich

, (PresseBox) -
Yesterday, the topic was HR Analytics and the various possible approaches to the subject. Today, we're going to focus on the operation of HumanConcepts basic offering.

You may not be aware of the fact that the company sold its SMB unit (OrgPlus) to Administaff. Unlike most of the players in the HR Industry, HumanConcepts understands that you can not effectively deploy in both the Enterprise and small to medium markets at the same time. Administaff, who serve the SMB market, are a logical choice. Even the largest companies in our niche have trouble straddling both the SMB and Enterprise market. Sales cycles, implementation requirements, marketing, account management, and a host of other business aspects are way different in one setting than they are in the other.

Putting the SMB functions in the hands of someone with that sort of expertise gives HumanConcepts the ability to focus

The flagship HumanConcepts offering facilitates rapid creation, management and communication of detailed organizational charts. In addition, OrgPlus provides a framework that facilitates detailed workforce analysis by bringing together data from accounting, HR, sales, performance management and other business systems into a dynamic and intuitive visual display. By creating this visual context, management, human resources professionals (HR), and employees better understand their organizational structure, increase productivity and are able to more easily plan for change.

If that sounded too much like gobbledygook, let me refine the main points:

-The HumanConcepts tool looks and behaves like an organization chart application
-One of the many clever things you can do is use the org chart as a way of viewing data about the organization
-The HumanConcepts team is really good at data integration
-The org chart displays information with a foundation in business rules. So when the data says X, you can make the box red, highlight it, add a badge and so on.
-This gives you the ability to see the organization's data as you's use it: to make decisions about subsets of the operation.

One really big retail client looks at 130 pieces of information per employee.

Imagine what you could do with a tool that allowed you to visualize variations in retention, financial performance, performance management data, span of control across hundreds of departments or stores.

When I first saw the product, I thought of it as "George Clooney in a box".

With the tool, you can design and redesign the organization (for growth, shrinkage or realignment). Start with the organization as it is. Make the changes. Get the right buy ins and approvals. Push the button.

The HumanConcepts product:

-Begins with a goal ie. I need to eliminate an office, what should I do? -
-Creates Evaluation Criteria that can be used to make staffing decisions -
-Helps make decisions and exceptions.
-Tells you the implications of decisions for regulatory purposes. -
-Enables management of people movements at scale.
-Increases agility.

It's been a real hit through the downturn and is now proving its worth as companies begin to grow.

One of the strengths of the HumanConcepts approach is that it doesn't focus on the repetition of best practices. Rather, it offers a relatively blank slate from which you can ask and answer questions that actually matter to your organization. Instead of offering abstract wisdom to a closeted group of workforce planners, the tool works best when there are real problems to be solved rooted in the organization's actual performance data.

It seems like a harbinger of things to come.
Press releases you might also be interested in
Weitere Informationen zum Thema "Software":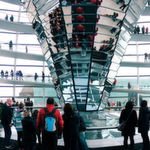 Nextcloud gewinnt ITZBund-Ausschreibung
Das In­for­ma­ti­ons­tech­nik­zen­trum Bund wird nach an­de­ren Open-Sour­ce-Lö­sun­gen nun auch Next­c­loud als Lö­sung für Syn­chro­ni­sa­ti­on und Aus­tausch von Da­tei­en ein­füh­ren. Gleich­zei­tig ste­hen Bun­des­mi­nis­te­ri­en in der Kri­tik, Mil­lio­nen für Mi­cro­soft aus­zu­ge­ben.
Weiterlesen