NeuroSky Unleashes Brain Control Interface Technology to Europe
NeuroSky introduces the MindWave brainwave sensing/interpreting headset, to the European Market
San Jose, CA, USA, European Union, and Hanover, Germany

, (PresseBox) -
NeuroSky Inc, the leader in mass-market Brain-Computer Interface technology, is announcing the availability of their new product, the NeuroSky MindWave headset, to the European market. NeuroSky will be demonstrating the MindWave for the first time at CeBIT, the largest computer trade show in the world, in Hanover Germany March 1st - 5th in their show booth in hall 17 stand D70 which is part of the ICT Infrastructure sector - Booth #7.

The lightweight, easy to use MindWave headset includes a bundle of 12 custom games. It is available on PC and MAC at a reasonable retail price of 99 Euros at NeuroSky.com. Additional games and applications can be downloaded from NeuroSky.com. The MindWave includes NeuroSky's ThinkGear technology, which uses EEG (Electroencephalography) from a single sensor to record brainwaves and outputs the data as proprietary algorithms (for focus and relaxation), power spectrum bands using FFT distribution (alpha, beta, theta, delta and gamma) and the raw brainwave (including muscle movement such as blinks). NeuroSky's remarkable ThinkGear technology is available in a wide variety of form factors and sensor configurations to meet the needs of a number of applications.

ThinkGear was the basis for both the NeuroSky MindSet Multimedia Headset and the hugely popular Mattel Mindflex toy. The Mindflex was recently awarded TIME Magazines "All Time Best Toys", and the NEW Mindflex Dual won the "Best of 2012" Popular Science Award. NeuroSky works with over 150 universities worldwide in many disciplines, including cognitive psychology, engineering, health, computer science, game development, cognitive research, etc. In addition to the ThinkGear technology being used in consumer products, this technology can also help to feasibly extend research budgets and provide flexibility in data collection.

"The EU has a vibrant and cutting edge Brain-Computer technology research community. We are excited to be introducing the mass-market version of this technology, which will bring the public awareness into this fascinating industry through the promulgation of consumer devices, as well as widen the scope of possibilities for R&D in universities, health and business," states James Sullivan, Vice President of World Wide Partner Sales, who will be attending CeBit. "The MindWave is our response to the markets demand for a cost effective and easily usable device that makes this phenomenally beneficial technology more accessible to every industry, benefiting both people and the bottom line. We work with the leaders in a number of industries to make great ideas, great realities"

For more information on CeBit or to obtain press credentials, please visit http://www.cebit.de/.
home-of-attention Ltd.
NeuroSky, Inc. is the leader in Brain-Computer Interface technologies for consumer applications application. Founded in 2004 and headquartered in San Jose, CA, NeuroSky works with industry partners, developers, and with academic and research institutions, to provide innovative products and solutions.

Grounded in over 60 years of medical research, NeuroSky's technology has taken proven medical EEG (electroencephalograph) technology, and evolved it for application to the mass market by making it more user-friendly and cost-effective. Technological innovations include significant advancements in electrical noise reduction, dry-sensor development (rather than requiring a wet conductive gel), substantial "cost engineering" (reducing the price), and enabling the wearer to use it outside of a lab (without the assistance of a doctor).


Press releases you might also be interested in
Weitere Informationen zum Thema "Hardware":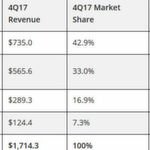 Umsatz konvergenter Systeme legt weltweit zu
Nach An­ga­ben der In­ter­na­tio­nal Da­ta Cor­po­ra­ti­on (IDC) ver­mel­de­te der "World­wi­de Quar­t­er­ly Con­ver­ged Sys­tems Tra­cker" für das vier­te Quar­tal 2017 ei­nen welt­wei­ten An­s­tieg der Um­sät­ze im Be­reich des kon­ver­gen­ten System­mark­tes um 9,1 Pro­zent. Hy­per­kon­ver­gen­te Sys­te­me out­per­for­men, an­de­re Teil­seg­men­te er­leb­ten Rück­gän­ge.
Weiterlesen