High Density Devices introduces the [hiddn](TM) Plug & Protect portfolio
Norway

, (PresseBox) -
.
Affordable encryption to anyone!

The [hiddn](TM) Plug & Protect portfolio introduces cost-effective, easy to use and robust commercial products for full-disk encryption in one-two-three!

Mobility and increased data production leads to data breaches escalating. Through media the general public are increasingly made aware of major breaches and the severe consequences of such data loss and theft. Despite this raised awareness, protection of endpoints and external storage media continues to be neglected and ignored by end-users. It has become a well-known fact that memory sticks are lost, that storage media are stolen and computers subject to crime. Naive and over-confident users daily cause data breaches and anyone could end up becoming an innocent victim.

With [hiddn](TM) Plug & Protect (P&P), complex, expensive and demanding crypto systems can now be avoided. [hiddn](TM) P&P provides users with user-friendly, robust, cost-effective and hassle-free, out-of-the-box full-disk encryption! The portfolio ranges from the award-winning [hiddn](TM) Crypto Adapter P&P for encryption of any capacity USB-storage media, including memory sticks, and the bootable external encrypted [hiddn] (TM) eSATA P&P, to the [hiddn](TM) Desktop P&P and [hiddn](TM) SATA Adapter P&P for encryption of workstations, multi-functional printers, copiers and servers. [hiddn](TM) P&P - no longer allowing for unprotected storage of data, anywhere!

[hiddn](TM) offers a new dimension to data protection, re-building the bad image of encryption as synonymous with "slow computers", "expensive implementations", and "hassle". With [hiddn](TM) P&P all data is protected by transparent and rigid AES256 encryption, where all keys are stored on an external smart card. Organisational data protection management regains its productivity as users cannot manage or disable encryption - data stays protected, at all times. [hiddn](TM) P&P centres on ease-of-use, robustness and affordability - all factors contributing to ease the minds of security- and information managers and IT-staff.

"People fall victim to data breaches and unauthorized disclosure of data often due to user-perceived obstacles with encryption. Protection of data and data loss prevention does not have to come at the expense of efficiency, productivity, and IT spending budgets; the [hiddn](TM) Plug & Protect portfolio is here to prove that", states Chief Marketing Officer at High Density Devices, Mr. Tormod Fjellgaard, continuing "We are concerned that, by finding loopholes and circumventing security policies and procedures, users impose great risk on innocent people's data - every day. That is why we want to raise attention to the fact that robust data protection can be hassle-free and affordable; simply "Plug & Protect!"

Meeting users' ever-increasing need for mobility and flexibility, the exclusive [hiddn](TM) eSATA P&P encrypted external disk storage unit exemplifies the concept "Plug & Protect"; simply plug it to the PC's eSATA-port and authenticate for a bootable, fully encrypted, external storage media. Combining full-disk encryption with ease-of-use, the [hiddn](TM) eSATA P&P is fast and versatile! Incorporating the patented [hiddn](TM) Crypto Module, with all keys stored on an external smart card, the [hiddn](TM) eSATA P&P offers on-the-fly transparent full-disk encryption of the mobile office, at an affordable price!

Complementing the eSATA P&P, comes the unique and award-winning [hiddn](TM) Crypto Adapter P&P for protection of memory sticks and external USB-drives. It connects to the PC via USB, with two-factor authentication and all keys stored on a smart card for added protection. Incorporate the Crypto Adapter P&P into the organisational endpoint protection suite as the only source allowed for USB storage media, and rest assured that all media connected is encrypted and securely managed. The Crypto Adapter enables users, in 1-2-3, with full-disk encryption of any existing, low-cost, USB storage media; simply connect, authenticate and encrypt!

The [hiddn](TM) P&P portfolio further includes the complementary products [hiddn](TM) Desktop P&P for protection of office desktop computers; supporting up to two SATA drives simultaneously, and the [hiddn](TM) SATA Adapter P&P; for full-disk encryption of the often neglected and unprotected office multi-function printer, copy machine or workstation! Visit http://www.hiddn.no/productoverview for a complete overview of the added values and multiple areas of application introduced by the [hiddn](TM) Plug & Protect portfolio!

HDD is continuously seeking additional International Distributors and Resellers for the [hiddn](TM) portfolio of commercial-off-the-shelf encryption products.

Contact Details:
High Density Devices AS
High Density Devices AS (HDD) has developed and patented (US Patent # 7,434,069) a unique technology for highly creative, efficient, and secure encryption of data on storage media for laptops, desktops, and mobile storage units. The solutions are easily operated, independent of Operating System, do not require maintenance, and require no configuration prior to use. It has been patented in a number of countries, and the technology and product line is trademarked as [hiddn](TM). The company has also developed its proprietary "Key Management System" enabling larger organizations to administer and manage their own encryption keys.

[hiddn](TM) has been developed in multiple form factors; as an encryption module for implementation in other manufacturers' end products, as its own product line, as a component (ASIC) for implementation in other manufacturers' products, and as a licensing solution for implementation in other manufacturers' components and/or designs.

High Density Devices AS is owned by Incitia Ventures II AS, KLP, Tønnevold Venture & Invest AS, the Management Team, and a number of other financial and private investors. HDD has offices in Bergen and Oslo, Norway. For a more detailed description of the company, its products and technology, investors, or any other information, see the HDD web page www.hiddn.no. Follow [hiddn](TM) on Twitter; @hiddnhdd


Press releases you might also be interested in
Weitere Informationen zum Thema "Hardware":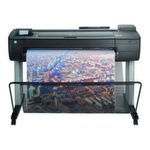 Markt für Großformat-Drucker dümpelt so dahin
Die Nach­fra­ge ist da, aber die Um­sät­ze stag­nie­ren. Die Markt­for­scher von IDC er­ken­nen für die An­bie­ter kei­ne Hoff­nungs­zei­chen auf bes­se­re Ge­schäf­te. An­wen­der aber kön­nen auf güns­ti­ge­re Prei­se set­zen.
Weiterlesen