TU Darmstadt and Heidelberg Set Up an Environment Portal for Ecological Product Development
Heidelberg

, (PresseBox) -
.
- Improved environmental protection for Heidelberg machines
- Developers work with integrated equipment and receive even better support
- Legal provisions and limit values are factored into product planning and design

In cooperation with the Technische Universität Darmstadt (TU Darmstadt), Heidelberger Druckmaschinen AG (Heidelberg) has set up an intranet-based environment portal that provides in-house developers with more support for ecological product development processes.

Customers receive useful information on Heidelberg products and their environmental compatibility. The project was unveiled at the closing symposium organized by Transfer Unit 55 of the TU Darmstadt on November 21 and 22, 2007. Representatives from various associations, industry and political circles spoke on the topic of "EcoDesign: From theory to practice". The five participating companies reported on the results of the three-year project funded by the Deutsche Forschungsgemeinschaft (German Research Foundation).

Over 1,500 Heidelberg employees, or around eight percent of the workforce, are employed in the research and development of future products and solutions. Around 950 of these specialize in sheetfed offset printing. Product Lifecycle Management (PLM) is split up into quality gates - from the product idea, business plan, technical design implementation and performance testing, to field tests, market launch, series production and discontinuation. Environmental protection plays a key role in all these processes. "The aim of the project with Heidelberg was to develop equipment to integrate environmental protection into Heidelberg's development process," explains Dirk Hanusch, Research Associate at the TU Darmstadt. Today, developers have access to an intranet-based environment portal that determines and checks environmental requirements automatically using the "House of Environment" and "EcoSpec" databases.

The project focused on the individual modular components in a press, such as the feeder, inking unit, dampening unit, dryer and delivery. When a developer is working on a new feeder for example, the environment portal provides him with the environmental requirements stored for the components. The portal also gives an overview of the components' environmental relevance, providing useful tips, additional explanations and background information. In this way, the developer is supported by the know-how in the environment portal and can use his limited resources to best suit the specific development. In the future, his experience and expertise will also be stored in the environment portal and other developers will be able to access the information in the medium term in the form of best practices.

Several users can access the environment portal simultaneously. The integrated equipment can also be used to evaluate possible environmental risks, thus augmenting risk and quality assessments. "We want to drive forward the concept of ecological product development and continue to maintain and expand the environment portal in the future," explains Ingrid Amon-Tran, Project Manager at Heidelberg. She continues: "We want to show our customers that print products manufactured in environmentally friendly processes using innovative solutions can go hand-in-hand with lower printing costs."

Heidelberg views sustainability as a corporate responsibility, which is why the company made environmental protection one of its corporate objectives back in 1992. The principle of sustainability aims at creating a balance between economics, ecology and social commitment. The current Sustainability Report for the 2006/2007 financial year documents how the company puts these principles into practice. Heidelberg has been publishing an Environmental Report since 1993, renaming it the Sustainability Report in 2000/2001. Seminars offered by the Print Media Academy and several brochures on the interplay between printing and the environment provide a broad range of information on the topic.
Press releases you might also be interested in
Weitere Informationen zum Thema "Internet":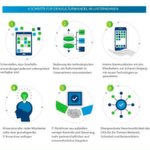 Wie mobile digitale Arbeitsplätze die Produktivität erhöhen
Mit­ar­bei­ter mit ei­nem mo­der­nen di­gi­ta­len Ar­beits­platz und ei­nem fle­xi­b­len mo­bi­len Zu­griff auf not­wen­di­ge An­wen­dun­gen stei­gern nicht nur die per­sön­li­che Pro­duk­ti­vi­tät, son­dern ver­wen­den auch we­ni­ger Zeit für die Er­le­di­gung ma­nu­el­ler Pro­zes­se, so zwei Kern­aus­sa­gen ei­ner welt­wei­ten Stu­die von For­bes In­sights im Auf­trag von VM­wa­re.
Weiterlesen