Print Media Academy Management Seminar in Moscow
Heidelberg

, (PresseBox) -
Specialists and managers from the print media industry meet in Moscow for further training and to exchange ideas

The Print Media Academy (PMA) of Heidelberger Druckmaschinen AG is organizing a three-day forum for managers in Moscow in the fall. Managers from the print media industry will be taking part in this three-day program from October 15-17, 2007, designed to provide them with further training and the opportunity to discuss the latest developments in the industry. "This forum is aimed in particular at customers from Eastern Europe but is also open to anyone interested," says Bernd Schopp, Head of the Print Media Academy, Heidelberg.

What role does marketing and technology play in competitiveness? How can modern management methods improve company performance? What is the value of KPIs for businesses? And how can offset print shops standardize their processes and ensure quality?

The answers to these questions are the focal point of lectures and discussions, to which the Print Media Academy has invited a range of high-profile speakers. As well as specialists from Heidelberg, these will also include international industry experts. All of them will be taking a practice-oriented approach in presenting their knowledge and experience.

The venue is the Novotel in the center of Moscow. The conference fee is 890 Euro plus VAT. Included in the price are lunch, beverages, all seminar materials, the "Handbook of Print Media" by Prof. H. Kipphan, and an admission ticket for the Poligrafinter trade show in Moscow. The seminar will be held in English and Russian with simultaneous interpreting provided.

Up-to-date seminar information is available on our website www.print-media-academy.com.

About the Print Media Academy
The Print Media Academy (PMA) of Heidelberger Druckmaschinen AG, Germany, is a center for training and communication in the print media industry. Last year alone, over 9,000 participants from all over the world attended the training programs of the PMA.
Heidelberger Druckmaschinen AG
Die Heidelberger Druckmaschinen AG ist mit rund 24.200 Mitarbeitern in mehr als 170 Ländern weltweit führender Lösungsanbieter für die Printmedien-Industrie. Mit Hauptsitz in Heidelberg, Deutschland, bietet das Unternehmen Produkte von der Druckvorstufe über die unterschiedlichsten Druckverfahren bis hin zur Weiterverarbeitung. So entwickelt und fertigt die Heidelberg Gruppe Software, elektronische Prepress-Produkte, Bogenoffset-, Rollenoffset- und digitale Druckmaschinen sowie Weiterverarbeitungssysteme. Das Unternehmen hat bei weitem das größte Service- und Vertriebsnetz der Branche. Mit 18 internationalen Standorten und 250 Vertriebsniederlassungen werden 240.000 Kunden weltweit optimal betreut. Heidelberg generiert seinen Umsatz zu 85 Prozent durch eigene Vertriebsgesellschaften. Im Geschäftsjahr 2002/2003 erreichte Heidelberg einen Umsatz von rund 4,1 Milliarden Euro.
Press releases you might also be interested in
Weitere Informationen zum Thema "Forschung und Entwicklung":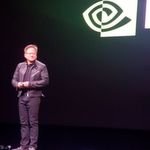 ARM und NVIDIA entwickeln gemeinsam KI-Chips
Um die Ent­wick­lung des ei­ge­nen KI-Pro­jekts Tril­li­um vor­an­zu­t­rei­ben, hat Pro­zes­sor­ent­wick­ler ARM ei­ne Part­ner­schaft mit dem GPU-Her­s­tel­ler NVI­DIA ge­sch­los­sen. Des­sen De­ep-Lear­ning-Ar­chi­tek­tur NVD­LA wird for­tan in die Tril­li­um-Platt­form in­te­griert.
Weiterlesen