New Issue of "Profi Tip": Coating, Drying and Powdering
Heidelberg

, (PresseBox) -
The Print Media Academy offers tips from professionals for professionals, providing all print shop staff with support in overcoming problems when printing and also help prevent potential printing problems before they occur.

The latest issue is all about coating, drying and powdering. You will learn about the advantages and disadvantages of oil-based varnishes and dispersion coatings as well as best suited applications for two-roller systems and chamber doctor blade systems. We will explain what kinds of problems can come up with dispersion coatings and how you can correct these. Further topics are infrared dryers and coating dryers, gloss measurement and the measurement of pile temperature. In addition, we will introduce you to the various spray powders and give you tips on how to choose the right type of powder and how to reduce amounts.

Issues entitled "Rollers in Inking and Dampening Systems", "Problem Cases in the Pressroom" and "Dampening Solutions in Offset Printing" have already been published in this series.

"Profi Tip" is a free guide by the Print Media Academy and can be ordered on www.print-media-academy.com
Heidelberger Druckmaschinen AG
Die Heidelberger Druckmaschinen AG ist mit rund 24.200 Mitarbeitern in mehr als 170 Ländern weltweit führender Lösungsanbieter für die Printmedien-Industrie. Mit Hauptsitz in Heidelberg, Deutschland, bietet das Unternehmen Produkte von der Druckvorstufe über die unterschiedlichsten Druckverfahren bis hin zur Weiterverarbeitung. So entwickelt und fertigt die Heidelberg Gruppe Software, elektronische Prepress-Produkte, Bogenoffset-, Rollenoffset- und digitale Druckmaschinen sowie Weiterverarbeitungssysteme. Das Unternehmen hat bei weitem das größte Service- und Vertriebsnetz der Branche. Mit 18 internationalen Standorten und 250 Vertriebsniederlassungen werden 240.000 Kunden weltweit optimal betreut. Heidelberg generiert seinen Umsatz zu 85 Prozent durch eigene Vertriebsgesellschaften. Im Geschäftsjahr 2002/2003 erreichte Heidelberg einen Umsatz von rund 4,1 Milliarden Euro.
Press releases you might also be interested in
Weitere Informationen zum Thema "Produktionstechnik":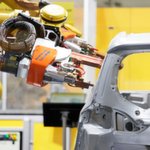 1,7 Millionen Industrie-Roboter erneuern Fabriken weltweit bis 2020
Bis 2020 wer­den mehr als 1,7 Mil­lio­nen neue In­du­s­trie-Ro­bo­ter in den Fa­bri­ken der Welt in­stal­liert. Die Ro­bo­tik-Bran­che in Asi­en ver­zeich­net da­bei ak­tu­ell das stärks­te Wachs­tum – an­ge­führt von Chi­na als Welt­markt­füh­rer. Im Jahr 2017 sind die Ro­bo­ter­in­stal­la­tio­nen in der Re­gi­on Asi­en-Aus­tra­li­en vor­aus­sicht­lich um 21 Pro­zent ge­s­tie­gen, in Nord- und Süda­me­ri­ka um 16 Pro­zent und in Eu­ro­pa um acht Pro­zent. Das sind Er­geb­nis­se aus dem World-Ro­botics-Re­port 2017, der von der In­ter­na­tio­nal Fe­de­ra­ti­on of Ro­botics (IFR) ver­öf­f­ent­licht wur­de.
Weiterlesen