Heidelberg Unveils Eurobind Pro with Book Production Line from Hunkeler
Adhesive binder offers exceptional flexibility by switching from digital to offset printing in inline operation / Cost-efficient production for all run sizes / Digital and offset combine to deliver top-quality products
Heidelberg

, (PresseBox) -
At the Postpress Commercial Information Days in Leipzig, Heidelberger Druckmaschinen AG (Heidelberg) will be unveiling an inline system combining a digital book production line from Hunkeler AG, Switzerland, and the Eurobind Pro adhesive binder. This makes it possible to switch between digital and offset print content on a single adhesive binder. The exceptional processing quality of print products on the Eurobind Pro ensures both production types deliver the same high quality in the end product. Thanks to the combination of minimum makeready times and high production speeds of 6,000 cycles per hour, only one adhesive binder is needed for the cost-effective production of short and very short runs and long industrial-scale runs comprising up to 50,000 copies. This exceptional flexibility is tailored to the needs of innovative print shops as well as specialist manufacturers and service providers focusing on digital printing, publishing, and document management. "This adhesive binder allows our customers to offer a broader range of products and boost their added value. The open interface of the Eurobind Pro and the modular design of the gathering machine will make it possible in the future to add a host of other creative postpress solutions," explains Thomas Krischke, Head of Postpress Commercial at Heidelberg.

Switch between conventional offset and digital printing at the touch of a button

In the face of ever-shorter print runs and increased deadline pressures, books must be produced as quickly as possible to ensure maximum cost-effectivenes. With the Eurobind Pro and the inline book production line from Hunkeler, customers can switch between the production of conventional offset signatures and digitally printed book blocks at the touch of a button. This flexibility broadens the application spectrum of the adhesive binder and also increases its capacity utilization - both prerequisites for the economic operation of such a system.

The range of applications for web-printed digital brochures stretches from operating instructions and scientific publications to conventional softcover brochures (e.g. paperbacks), which are printed decentrally and in run sizes that suit demand. Web-printed digital jobs are folded inline, gathered into book blocks, and fed into the adhesive binder, once again in an inline process. This eliminates the conventional steps such as cutting, folding, and gathering - either manually or using the gathering machine - and the resultant storage of intermediate products. A single roll can accommodate one or more jobs one after the other, which enables the cost-effective production of very short runs and medium-sized runs comprising up to approximately 5,000 digitally printed copies.

Thanks to its exceptional degree of automation for minimum makeready times, the Eurobind Pro is ideal for processing a variety of very short runs that are typical of digital printing. Essential adjustments, such as the book block and format settings, are completed fully automatically on the Eurobind Pro. What's more, the servo-driven feeder modules on the gathering machine enable parallel setup on the fly, so only the feeders actually required for the current production cycle are used. The other feeders meanwhile can be prepared for the next job.

Digital book production line from Hunkeler

Roll unwinding is the first step in the production line. The Hunkeler UW7 unwinder unwinds the digitally preprinted paper rolls with a web width of up to 762 mm (30 in). The subsequent PF7 Double Plow Folder is a double folding module designed specifically for book production. This unit enables the production of signatures with 1, 2 x 4 (double production), 6 or 8 pages. Depending on the paper grade and fold type, the PF7 double folding module can process substrates weighing up to 150 gsm. The following CS6 cross-cutting module cuts the folded paper web with a rotary action and the utmost precision.

However, the key to connecting the book production line to the adhesive binder in an inline configuration is the signature gluing process in the newly developed SD7 nonstop stacker. A starwheel delivery is used to gather the cross-cut folded sheets at a speed of up to 200 meters per minute and to create book blocks via the integrated signature gluing unit. These book blocks are then stabilized for safe transfer to the adhesive binder, where they are processed into the end product

About Hunkeler

Hunkeler AG has a workforce of 250 and produces advanced prepress and postpress solutions for digital high-performance print systems for print-on-demand, data centers, and direct mailings. The company has many years of experience in paper processing and finishing, and also develops highly customized engineering solutions.

Founded in 1922, the family business in Wikon near Lucerne, Switzerland, is owner-managed by Franz Hunkeler and Stefan Hunkeler (2nd and 3rd generation).

Further information: http://www.hunkeler.ch/
Heidelberger Druckmaschinen AG
Heidelberger Druckmaschinen AG (Heidelberg) is the world's leading solution provider in the print media industry. All over the world, the name Heidelberg is synonymous with state-of-the art technology, top quality, and closeness to the customer. The company's core business covers the whole value-added and process chain with equipment, services, and consumables for sheetfed offset printing and digital print solutions. In fiscal year 2010/2011 the company achieved sales of EUR 2.629 billion and had a global workforce of around 16,000.


Press releases you might also be interested in
Weitere Informationen zum Thema "Produktionstechnik":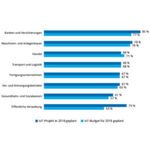 2018 könnte Jahr des IoT-Durchbruchs werden
Die Markt­for­scher von IDC ha­ben sich in der Stu­die "In­ter­net of Things in Deut­sch­land 2018" mit dem Stand der IoT-Im­p­le­men­tie­rung be­fasst. Es zeich­net sich dem­nach ab, dass sich das Jahr 2018 zum Wen­de­punkt für die Tech­nik ent­wi­ckeln könn­te.
Weiterlesen