Graph Expo in Chicago - Heidelberg Launches eCall, a New Web-Based Remote Service
Heidelberg

, (PresseBox) -
.
- Heidelberg is the first offset press manufacturer to offer this intelligent notification system with expert call back
- Service creates automatic preliminary diagnosis and solution
- Available in pilot markets from January 2008

Heidelberger Druckmaschinen AG (Heidelberg) unveiled its new web-based Remote Service - eCall - at Graph Expo, which is being held from September 9-12, 2007 in Chicago. Operators of presses equipped with this module can automatically send an error message generated by the press to the responsible Heidelberg service organization at the touch of a button.

If there is an impending service issue, the press notifies the operator with an eCall alert on the console screen. The operator then determines when, and if, to send the information to Heidelberg. In under a minute, the data required is sent and a preliminary diagnosis is produced electronically. Based on this diagnosis, the Heidelberg team of experts comes up with a proposed solution which is communicated to the user by phone. Customers no longer need to phone the Heidelberg Expert Support Team, give their contact details and explain the problem. The electronic notification sent by the press - once the user has given the go-ahead by pressing a button - provides the Heidelberg experts with all the information they need, enabling them to work out a solution for the customer quickly.

Compared to the conventional process, this can result in a time saving of up to 50 percent.

"With the launch of its web-based Remote Service solution at drupa 2004, Heidelberg set new technology standards within the print media industry and beyond, increasing machine availability for users and cutting service costs. With eCall, Heidelberg is now taking a further step in the development of intelligent service functions that dramatically cut response times for expert customer feedback," states Dr. Jürgen Rautert, CTO at Heidelberg, as he underlines the customer benefits. "The potential for web-based service functions in offset printing is far from exhausted, though. In the future, electronic diagnostic options will further improve to the point where presses report a prediction of a problem even before there is a stoppage," he adds.

Innovative and powerful diagnostic and analytical functions perform the fault analysis in the presses. The Prinect CP2000 Center provides the user with details of the fault on screen and asks for the go-ahead to forward the information to the Heidelberg service team. Once this go-ahead is given, the responsible experts receive the analysis as an electronic notification, enabling them to work out a proposed solution right away and get back to the customer.

The pilot markets for eCall are the U.S. and Germany, where the function will be available from the start of next year for all new press deliveries with Prinect CP 2000 as part of the systemservice 36plus program. A phased global market launch will follow on from drupa 2008.
Heidelberger Druckmaschinen AG
Die Heidelberger Druckmaschinen AG ist mit rund 24.200 Mitarbeitern in mehr als 170 Ländern weltweit führender Lösungsanbieter für die Printmedien-Industrie. Mit Hauptsitz in Heidelberg, Deutschland, bietet das Unternehmen Produkte von der Druckvorstufe über die unterschiedlichsten Druckverfahren bis hin zur Weiterverarbeitung. So entwickelt und fertigt die Heidelberg Gruppe Software, elektronische Prepress-Produkte, Bogenoffset-, Rollenoffset- und digitale Druckmaschinen sowie Weiterverarbeitungssysteme. Das Unternehmen hat bei weitem das größte Service- und Vertriebsnetz der Branche. Mit 18 internationalen Standorten und 250 Vertriebsniederlassungen werden 240.000 Kunden weltweit optimal betreut. Heidelberg generiert seinen Umsatz zu 85 Prozent durch eigene Vertriebsgesellschaften. Im Geschäftsjahr 2002/2003 erreichte Heidelberg einen Umsatz von rund 4,1 Milliarden Euro.
Press releases you might also be interested in
Weitere Informationen zum Thema "Netzwerke":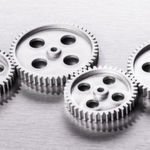 Warum reine Netz­au­to­ma­ti­sie­rung nicht reicht
Vie­le Netz­be­t­rei­ber st­re­ben nach der voll­kom­me­nen Au­to­ma­ti­sie­rung ih­rer Net­ze. Doch die au­to­no­me Netz­werk­werk­tech­no­lo­gie al­lei­ne reicht nicht aus, um den heu­ti­gen und künf­ti­gen An­for­de­run­gen an Band­b­rei­te, Sta­bi­li­tät und Fle­xi­bi­li­tät ge­recht zu wer­den. Viel­mehr ist die rich­ti­ge Mi­schung von Au­to­ma­ti­sie­rung, In­tel­li­genz und Ska­lier­bar­keit ent­schei­dend, um Netz­wer­ke an ein sich stän­dig än­dern­des Um­feld an­zu­pas­sen.
Weiterlesen