The « Google@HEC » Chair is launched
Jouy en Josas cedex

, (PresseBox) -
The creation of the "Google@HEC" Chair constitutes a worldwide first for Google, as until now it had never financed a Chair in a business school before. The Chair demonstrates Google's will to be an active partner in the development of e-business in France and Europe. For HEC Paris, this partnership reinforces its commitment to the development of knowledge and training in e-business.

Bernard Ramanantsoa, Dean of HEC Paris, Daniel Bernard, President of the HEC Foundation, Jean-Marc Tassetto, Managing Director of Google France and Jean-Paul Vermès, First Vice-President of the Paris Chamber of Commerce and Industry in charge of education, are all delighted to announce the creation of the "Google@HEC" Chair.

According to Daniel Bernard, "This partnership between Google and HEC Paris responds to the need to integrate e-business and Digital Business skills in the educational offer of our School. We are proud to welcome Google as a new partner to the HEC Foundation."

Bernard Ramanantsoa adds, "The launch of the 'Google@HEC' Chair illustrates HEC Paris' commitment to training the future leaders and entrepreneurs of Digital Business. This partnership offers us a unique opportunity to develop our e-business training. It will certainly promote Digital Entrepreneurship to our students and beyond."

"This partnership with HEC Paris was inspired by our ambition to share our knowledge in order to train the decision-makers of tomorrow and to therefore contribute to digital development of Digital Business in France," declared Jean-Marc Tassetto, Managing Director of Google France.

Starting from this year onwards, the « Google@HEC » Chair will include:

- "Google Track": Classes in e-business and Digital Economy for first- and second-year Masters students;
- "Google Creativity Talks": Regular meetings between students and creators (entrepreneurs, designers, artists etc.);
- "Google-HEC Initiative": Tools to accompany students with e-business projects;
- "Start-up Weekends" organized on the HEC campus and open to students from other management, engineering and design schools etc.

About Google

Google's innovative research allows daily access to information to millions of people all over the world. Founded in 1998 by PhD students at Stanford, Larry Page and Sergey Brin, today Google has become an Internet leader on all the big international markets. The publicity offer targeted by Google offers immeasurable results of all shapes and sizes, in response to the needs of internet browsers. Google, whose headquarters are situated in Silicon Valley, owns offices throughout Europe, America and Asia. For more information, visit the website www.google.com.
HEC Paris
Leader in Europe, specialized in education and research in management, HEC Paris offers a complete and unique range of educational programs for the leaders of tomorrow: Masters Programs, MBA (full-time and part-time), PhD, HEC Executive MBA and TRIUM Global Executive MBA.

Founded in 1881 by the Paris Chamber of Commerce and Industry, HEC Paris has a permanent faculty of 114 professors, more than 4, 000 students (37% of whom are non French) and more than 8, 500 managers and executives in training every year.

HEC Paris has been ranked #1 Business School in Europe by the Financial Times since 2006. www.hec.edu
Press releases you might also be interested in
Weitere Informationen zum Thema "Internet":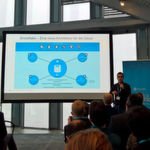 Renaissance der SQL-Datenanalyse, diesmal in der Cloud
Sno­wfla­ke, ein durch Ven­tu­re Ca­pi­tal fi­nan­zier­tes US-Start-up, ver­la­gert die Da­ten­ana­ly­se mit SQL in die Cloud. Der Reds­hift-Kon­kur­rent wur­de ei­gens für die­se Um­ge­bung ent­wi­ckelt und soll sich durch be­son­de­re Sch­nel­lig­keit und Fle­xi­bi­li­tät aus­zeich­nen.
Weiterlesen