Patient-friendly Reconstitution a Major Factor in the Growth of Biological Injectables
Safety and Compliance Driving Device Innovation for Protein Drugs according to Greystone Research Associates
Amherst, NH

, (PresseBox) -
Supplying drugs that must be administered as a liquid in solid form has been an approach used to improve drug stability since early in the last century. Lyophilized drugs for injection were traditionally sold in vials packaged with a diluent syringe, but as new proteins and peptides targeting chronic indications reach the market a growing number of these biological drugs are being supplied with devices designed to allow for reconstitution with minimal steps and handling.

The number of drugs supplied in lyophilized form has been growing at an increased rate over the past several years, mirroring the increase in the introduction of biological drugs. Because of stability and shelf life factors, therapeutic proteins must either be stored under special conditions or formulated to retain their efficacy from the time of manufacture until they are dispensed. Liquid protein drugs require refrigeration until dispensed - a distribution strategy referred to as the 'Cold Chain'. Alternatively, proteins can be formulated as powders. These lyophilized proteins must be reconstituted prior to injection.

For lyophilized drugs intended for self-administration, reconstitution must occur at the point of use. To address this requirement, a number of adaptive devices and systems have been designed to reconstitute lyophilized drugs immediately prior to delivery. Reconstitution time of powder for injection is affected by several parameters that must be precisely controlled to develop a product with short and reproducible reconstitution time, thus ensuring patient safety.

The first wave of devices aimed at easing the process of converting a lyophilized drug into an injectable solution focused on vial systems that incorporated a vial adapter or vial transfer device. More recently, dual chamber drug cartridges and syringes go a step further and allow reconstitution to take place within the device immediately prior to injection without the need for the patient to handle vials or diluent.

Currently only a small number of lyophilized drugs are packaged, or bundled, with reconstitution devices - most lyophilized drugs for injection are typically sold in vials packaged with a diluent syringe - but this number is expanding. The high cost-per-unit-dose drugs such as recombinant proteins can easily absorb the incremental cost of point-of-care reconstitution technology. Drug marketers have learned to embrace the added cost of reconstitution systems as a way to differentiate their products in an increasingly competitive pharmaceutical landscape.

Detailed analysis of components and systems for reconstituting drugs at the point-of-care is included in a new and comprehensive report. The report - Drug Reconstitution at the Point-of-Care: Therapeutic Markets, Technologies, Strategies and Prospects - includes assessments of therapeutic market segments, market factors, as well as profiles of market participants.

More information is available at http://www.greystoneassociates.org
Greystone Associates
Greystone Associates is a medical technology consulting firm focused on the areas of medical market strategy, product commercialization, venture development, and market research. We assist medical and healthcare market participants in achieving their business objectives through the creation of detailed development strategies, product commercialization programs, and comprehensive market and technology research and analysis. Our market research publications are designed, researched and written to provide timely and insightful information and data on focused market segments, with the aim of providing market participants with the essential knowledge to refine and execute their marketing plans and financial targets.
Press releases you might also be interested in
Weitere Informationen zum Thema "Medizintechnik":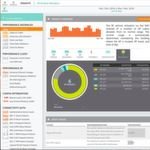 Analytics- und Assurance-Tool auf KI-Basis
Das HPE-Un­ter­neh­men Aru­ba er­wei­tert mit Ne­tIn­sight sei­ne Mo­bi­le-First-Ar­chi­tek­tur um Ana­lytics- und As­suran­ce-Funk­tio­nen. Die Lö­sung sei mit Hil­fe von künst­li­cher In­tel­li­genz (KI) und ma­schi­nel­lem Ler­nen in der La­ge, die Netz­werk­per­for­man­ce zu opti­mie­ren.
Weiterlesen