Green Glue Noiseproofing Compound receives UL Recognition for Fire Safety in North America
Highly-Respected UL Recognition Follows Rigorous Safety Testing
Granville, NY

, (PresseBox) -
The Green Glue Company today announced that Green Glue Noiseproofing Compound has been recognized by Underwriters Laboratories, and will henceforth bear the UL's mark for the United States, and ULC listing in Canada. The recognition follows extensive safety testing of the compound for surface burning characteristics in accordance with UL standards for building materials.

Underwriters Laboratories evaluated the surface burning characteristics of Green Glue Noiseproofing Compound when applied to inorganic reinforced cement board, analyzing both flame spread and smoke development characteristics. The results of testing concluded that the material complies with UL standards for surface burning characteristics for building materials (UL723), and is eligible to bear the UL's Mark. In a separate evaluation, the material was found eligible for Listing and Followup Service with the Underwriters' Laboratories of Canada (CAN/ULC-S102). Testing and evaluation took place earlier this year.

"The UL-Mark recognizes that Green Glue Noiseproofing Compound has been thoroughly evaluated for safety by one of the world's most respected independent testing organizations. We are extremely pleased to receive UL recognition and consider it an important milestone for this innovative new product," said Brian Ravnaas, Technical Innovation Manager, The Green Glue Company.

Submitting products and materials to Underwriters Laboratories is entirely voluntary, however numerous municipal codes and regulations require testing by a nationally recognized testing laboratory before products can be sold in their area. Underwriters Laboratories is the largest and oldest nationally recognized testing laboratory in the United States. It has been testing products since its founding in 1894. Green Glue Noiseproofing Compound is a viscoelastic compound that can quickly and easily be applied between two sheets of drywall, plywood or any commonly used building materials. It effectively eliminates up to 90 percent of noise transfer from one room to another and is a widelyused material for residential and commercial building and remodeling applications.

To learn more about The Green Glue Company and noiseproofing, visit www.greengluecompany.com

The Importance of Noiseproofing

- Noiseproofing shields homeowners from noisy traffic, it helps keep sound inside a media room or recording studio and it allows you to work uninterrupted in a home office without your conference calls disturbing everyone else.
- For architects and builders, residual noise issues may leave the impression of poor construction, even in perfectly welldesigned and constructed buildings. Noiseproofing hotels, hospitals and office buildings is important as noise can interrupt the experience of the inhabitants.
- The weak points in buildings where sound can be transmitted include: doors, electrical outlets, ductwork, and ceiling cracks.

The Basic Protection

- Traditional soundabsorbing material, like cotton, mineral fiber and fiberglass insulation batts, can be stuffed between joists and studs and then walled over. These materials provide a very basic level of soundproofing that dampens many sounds but tend to be less effective for lower bass tones. And their use depends on access to wall cavities, which exists only during new construction or extensive renovations.

The Green Glue Difference

- Green Glue Compound is one of the most effective means to eliminate the full spectrum of sound frequencies. A viscoelastic compound used in and between drywall, Green Glue Compound dissipates sound vibrations by converting them into tiny amounts of heat. The material comes in tubes that can be dispensed easily and applied with a second layer of drywall right over existing finishes and textures.
- Green Glue Noiseproofing Clips also reduce how vibrations pass through a wall. They separate two sides of the wall to reduce sound transmission by allowing one side to vibrate independently from the other. When used in tandem with Green Glue Compound, they can reduce 95% more noise compared to conventional construction techniques.
- Squeaking floors and the noise transmission from foot impact caused from subflooring rubbing on joists can be a huge headache. Green Glue Noiseproofing Joist Tape completely eliminates the noise caused by natural settling and reduces noise from foot traffic.
- Seal any cracks or gaps between floors and ceilings with Green Glue Noiseproofing Sealant. Small cracks may seem insignificant, but can be major contributors to noise transmission.

Green Glue Noiseproofing Compound

Green Glue Noiseproofing Compound is fast, easy to use, highly cost effective, and it works. Independent lab tests prove that just one layer of Green Glue Noiseproofing Compound between two layers of drywall or other similar building material dissipates up to 90 percent of noise. Unlike competitive soundproofing products, Green Glue Noiseproofing Compound cuts out the low frequency noises commonly produced by home entertainment and theater systems.

Application is as easy as 1-2-3.

- " 1. Cut the drywall to spec.
- " 2. Apply Green Glue Noiseproofing Compound with any standard quartsized calking gun.
- " 3. Screw into existing wall or new drywall and enjoy.

Starting at less than .50¢ per square foot, Green Glue Noiseproofing Compound delivers unbeatable value and performance. It's perfect for residential and commercial use and is just as easy to use in new construction as it is on existing walls or in renovation projects.

In addition, Green Glue Noiseproofing Compound has been validated for use in any fire rated assembly according to the International Building Code. It also does not contribute to mold growth, is low V.O.C., and has almost no odor. Green Glue Noiseproofing Compound can be easily cleaned up while still wet with soap and water.

Green Glue Noiseproofing Compound can be purchased by the case (containing 12 tubes) or by the 5 gallon pail. For tubes, coverage ranges from 1 - 3 tubes per 4' x 8' sheet of drywall depending on desired performance. The coverage of a pail of Green Glue is around 365 sq. feet. Applicator tubes are recommended for pails.

Green Glue Pricing

28 oz Tubes 12 tubes per case $175.00
Green Glue Pails 5 gallons $265.00
Applicator Tube Used for Pails $49.99

Green Glue Noiseproofing Sealant

No soundproofing job is complete without Green Glue Noiseproofing Sealant.

Cracks between walls, ceilings, and floors compromise the sound isolation of any room by allowing noise to penetrate into adjoining rooms. Simply adding Green Glue Noiseproofing Sealant to your soundproofing project can reduce noise transmission by 100 times or more.

Green Glue Noiseproofing Sealant can be applied as easily as any standard calking material. It fits into a quartsized calking gun and is applied along the edges and joints between floors and walls and ceilings and walls for maximum performance. Green Glue Noiseproofing Sealant can also be painted once dry.

Green Glue Noiseproofing Sealant exceeds LEED green building requirements, is low V.O.C., and is low odor. It can be easily cleaned while still wet with soap and water.

Green Glue Noiseproofing Sealant Pricing
28 oz Tubes 12 tubes per case $84.00

Green Glue Noiseproofing Clips

Mechanically separating two sides of a wall can improve sound transmission by allowing one side to vibrate independently from the other. That's the basic principle behind Green Glue Noiseproofing Clips and it works incredibly well. When used in combination with Green Glue Noiseproofing Compound, more than 95 percent more noise can be stopped than through conventional construction.

Green Glue Noiseproofing Clips were designed with maximum low frequency sound isolation in mind, so walls fortified with our clips will eliminate the bass sounds most commonly found with home entertainment and theater systems.

Green Glue Noiseproofing Clips are the highest performing sound clips on the market. With STC values in the 60's it is easy to see why Green Glue Noiseproofing Clips are the decoupling product of choice.

Green Glue Noiseproofing Clip Pricing
Noiseproofing Clips 1 clip / ~ 5 sq ft $5.25

Green Glue Noiseproofing Joist Tape

Loud footsteps and the squeaky noises they can cause on floorboards don't have to be a fact of life. Avoid this annoyance with Green Glue Noiseproofing Joist Tape.

Settling is an issue in any residential or commercial new construction project. Over time, subflooring and joists begin to rub together and cause noise. Using Green Glue Noiseproofing Joist Tape completely eliminates the noise caused by natural settling and reduces noise from foot traffic. Green Glue Noiseproofing Joist Tape also cuts out airborne noise that can leak through even the smallest gaps in flooring construction. Only 15 percent compression is required to create an airtight seal against sound flanking.

With Green Glue's patented tape roller, installation is easy. Roll the joist tape onto the joist, adhesive side down, and install the subfloor directly on top.

In addition to providing excellent sound isolation, Green Glue Noiseproofing Joist Tape's low thermal conductivity improves energy efficiency. Green Glue Noiseproofing Joist Tape conforms easily to irregular surfaces and does not break down or deteriorate from mild acids, alkalis and mildew.

Green Glue noiseproofing joisttape is available in 3 widths to fit the 3 most commonly engineered joists. Our professional grade Joist-Tape applicator is designed to work smoothly on the job site and makes application easier and more efficient than by hand.

Green Glue Noiseproofing Joist Tape Pricing

1 7/16" width 100ft / roll $19.00 / roll
2 1/4" width 100ft / roll $29.50 / roll
3" width 100 ft / roll $39 / roll

Joist-Tape Applicator
Green Glue
The Green Glue Company began with a home theater builder who went to great lengths to soundproof his room. His finished home theater used room within a room stud walls, double drywall, exotic soundproof doors, the works. Ultimately, however, he was disappointed in the results, particularly at low frequencies.

A research and development firm specializing in specialty coatings and viscoelastic materials was consulted to create a soundproofing material that would outperform current products especially at low frequencies. The result of this simple inquiry into the possible application of viscoelastic technology to improve sound isolation was named Green Glue. Today, Green Glue has become the best selling product of its kind worldwide, with millions of square feet used to soundproof walls, floors, and ceilings.

Press releases you might also be interested in
Weitere Informationen zum Thema "Hardware":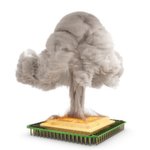 Kernschmelze der CPU-Sicherheit
Bis­lang sind zwar kei­ne kon­k­re­ten Fäl­le nach­ge­wie­sen, bei de­nen die Schwach­s­tel­len au­ßer­halb der for­schen­den Com­muni­ty aus­ge­nutzt wur­den, aber die be­kannt ge­wor­de­nen CPU-Si­cher­heits­lü­cken ver­un­si­chern ei­ne gan­ze Bran­che. So wie es aus­sieht, ist ein Pra­xis­nach­weis gar nicht mög­lich.
Weiterlesen