Newest, Free PDF/X Workflow Specifications v4 released by the Ghent Workgroup
Acrobat 9, including New Universal Preflight, is Supported
Ghent, Belgium

, (PresseBox) -
The world's graphic arts experts have come together to release v4 of the Ghent Workgroup specifications (http://www.gwg.org/GWGversion4.phtml) for automated workflow efficiency in the range of application and output environments. v4 of the specifications supports Adobe Acrobat 9 - which itself includes Universal Proof of Preflight developed by the Ghent Workgroup. Heading the list of additional enhancements to v4 is a check for missing glyphs, one of the leading causes of preflight and page production frustration.

GWG's specifications have become the international benchmark for PDF quality assurance. The free specifications are utilized by designers, prepress and printers all over the world.

"This is more than a minor update. It is a collection of feedback from the industry and associations over the last 3 years that was incorporated in the GWG v4 specs," says Peter Kleinheider, Documentation Officer for the GWG and Print Publishing Technologies Manager for callas Software. "The main interest was the reduction of unnecessary restrictions like the use of double byte fonts or to ignore elements completely outside the trimbox. On the other hand, the check for image resolution or line-width was adopted to reflect today's printing capabilities."

Other highlights of the v4 specification, according to Kleinheider, include:
- A response to the growing amount of font problems in pdfs. Now all font-related restrictions introduced by the PDF/A ISO Standard are mandatory.
- In response to the increasing use of standardized ICC Profiles, a set of recommended ICC-Profiles to be used for the various printing conditions of the market segments for which the GWG supplies specifications (http://www.gwg.org/colormanagement.phtml).

About Universal Proof of Preflight
In Acrobat 9, Adobe was the first to implement the Ghent PDF Workgroup "Universal Proof of Preflight". In supporting this specification, Acrobat 9 further improves communication between designers and production by offering a preflight audit trail. This provides information on whether a preflight has been carried out, which specification was used and what the outcome of the verification was for a specific PDF. In addition, the user can verify whether the file has been altered since the preflight was last executed. The process provides more transparent file exchange and avoids having to preflight files in different stages of the workflow.
GMG GmbH & Co. KG
The GWG, formed in June 2002, is an international assembly of industry associations and suppliers from across Europe and the United States. The GWG's objective is to establish and disseminate process specifications for best practices in graphic arts workflows.

Members are comprised of graphic arts associations including: AIDO (Spain), BPIF (UK), BVDM (Germany), CMBO (the Netherlands), DDPFF (Denmark), Digital AdLab UK, ERA (Germany), Febelgra (Belgium), FESPA (UK), FTA (USA), IDP Group (The Netherlands), IPA (USA), Idealliance (USA), Madrid Graphic Arts Cluster (Spain), Medibel+ (Belgium), Nederlands Uitgeversverbond (The Netherlands), PDFX-ready (Switzerland), PPA (UK), rotasjon (Norway), SICOGIF (France), TAGA Italia (Italy), VFG (Austria), VIGC (Belgium), and VSD (Switzerland).

Vendor members are: Adobe, Adstream, Agfa, Callas, CGS, Dalim Software, Enfocus, EskoArtwork, Global Graphics, GMG Color, Heidelberg, ICS, Kodak, OneVision, Quark, Screen Europe, and Specle.

Industry members are: Associated Newspapers, Bleuprocess, Four Pees, Hearst Publishing, Medit Consult, Sanoma Magazines Belgium, Screen Angel, Square and QuebecorWorld.

For more information about the GWG, including a full list of its members and objectives, visit ww.gwg.org.
Press releases you might also be interested in
Weitere Informationen zum Thema "Software":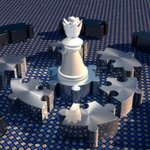 Cisco schafft eine Container-Plattform für Multi-Cloud Umgebungen
Auf der Haus­mes­se "Cis­co Li­ve", die kürz­lich in Bar­ce­lo­na statt­fand, hat der Kon­zern un­ter an­de­rem die "Cis­co Con­tai­ner Platt­for­m" vor­ge­s­tellt. Die schlüs­sel­fer­ti­ge, und laut An­bie­ter of­fe­ne, pro­duk­tiv ein­setz­ba­re Soft­wa­re-Con­tai­ner-Platt­form adres­siert Kun­den, die An­wen­dun­gen in glei­cher Wei­se im ei­ge­nen Re­chen­zen­trum und in Pu­b­lic Clouds lau­fen las­sen wol­len. Denn da­mit soll es sch­nel­ler ge­hen.
Weiterlesen