New version 4.6 of GMG ColorServer and GMGInkOptimizer at Print 09
The easy-to-use GMG color management solutions for standardization and ink optimization of printing data perfectly fit their users' needs.
Tübingen

, (PresseBox) -
GMG, supplier of high-end color management and proofing solutions, is showing version 4.6 of both GMG ColorServer and GMG InkOptimizer for the first time at Print 09 in Chicago from September 11-16. Version 4.6 represents a major upgrade of these two highly successful and popular products of GMG's portfolio. GMG ColorServer color management software provides fully automatic color space transformations while GMG InkOptimizer allows fully automatic ink reduction.

The new versions of both products will be demonstrated on GMG's booth and will be available within the next 60 days. In addition to providing the tried-and-tested functions of the previous GMG ColorServer and GMG InkOptimizer, the major new features of version 4.6 focus on maximum production reliability and increased productivity.

INTEGRATION OF THE ADOBE® PDF LIBRARY

Today, nearly every application can create PDF files, resulting in a wide variety of PDFs with different versions and color spaces being delivered to print houses, repro and prepress businesses, advertising agencies and publishers. Checking and normalizing these files manually is a very time-consuming process. The processing of PDFs is now based on the Adobe® PDF Library, guaranteeing the correct handling of PDF files and therefore full productivity. PDF files can now be flattened, and transparent and overprinting elements yield identical results as in the Adobe Acrobat® reference software. PDF levels with language versions, varnish or die-cutting formes can be specifically excluded from processing.

CONVERSION OF SPOT COLORS TO CMYK

Many designers use spot colors with no thought as to how they are to be realized on the press. Spot colors can now be converted automatically to the CMYK values of the respective output color space, which is a great advantage in terms of time. GMG ColorServer replaces every spot color with the best possible match in the CMYK color space. Conversion is performed using the GMG SpotColor database, exploiting the maximum gamut of the selected color space.

PROFILEEDITOR WITH IMPROVED GAMUT MAPPING FUNCTION

New Gamut Mapping algorithms ensure that colors are optimally converted between different color spaces, e.g. when color needs to be converted from a wide color space to a smaller one. Manual retouching of files is reduced dramatically.

NO EXPERT KNOWLEDGE NEEDED FOR SETUP

Besides the intuitive, clearly structured, new user interface, GMG ColorServer 4.6 is shipped with preconfigured hot folders for standard printing conditions. Configurations for all leading printing standards can be imported immediately after installation, meaning GMG ColorServer 4.6 is instantly up and running. The GMG-tested hot folders guarantee every user the best possible color conversions, avoiding errors from the outset and therefore benefiting production reliability.

NORMALIZING TO A COLOR SPACE AND INK REDUCTION IN ONE STEP

In version 4.6, GMG ColorServer and GMG InkOptimizer can be seamlessly integrated and configured together in one hot folder. For customers who work both with GMG ColorServer and with GMG InkOptimizer, this means increased productivity, because normalizing and processing in GMG InkOptimizer can take place in a single process step. This reduces the configuration effort, facilitates integration and boosts the processing speed.

SIGNIFICANT TIME SAVINGS

Compared to the previous version, the processing speed has been increased drastically. For example, the speed of PDF conversions is doubled and PDF files are color-managed and ink-optimized within seconds.

"GMG ColorServer and GMG InkOptimizer 4.6 implement features urgently required by the graphic arts industry. The new version enables users to keep color under control, regardless of the printing conditions or media that need to be considered for the creation of printing data," explains Paul Willems, CEO of GMG GmbH & Co. KG. "We are convinced that, in these uncertain economic times, GMG ColorServer and GMG InkOptimizer perfectly fit the needs of the whole industry sector regarding time and cost savings, maximum production reliability and productivity."
GMG GmbH & Co. KG
The software company founded in 1984 and located in Tuebingen, near Stuttgart, Germany, has a worldwide distribution network with local presence in France, Spain, Benelux, Nordic, the UK, Asia and the Americas. GMG has specialized in high-end color management for the entire graphic arts industry. Today, more than 9,000 systems have been sold across the industry spectrum from ad agencies, prepress houses and offset printers to newspapers, flexo converters and international gravure printing plants. In fact, the GMG ColorProof system has become the de-facto standard of Europe's extensive gravure printing industry.

About the GMG family of products: GMG ColorProof, a color management software system, provides the most accurate way of calibrating digital inkjet proofing engines to produce digital contract color proofs, precisely matched to the printing press. GMG DotProof® enables users to generate contract quality halftone proofs, using the original bitmap data of the output RIP. Specifically tailored to the needs of the packaging industry is GMG FlexoProof, which supports specific flexo file formats and includes a complete Pantone® spot color library, along with other functions. GMG ColorServer is a tool for automatic color conversions - CMYK-to-CMYK, RGB-to-CMYK and RGB-to-RGB - for more efficient workflows. GMG InkOptimizer automatically reduces chromatic colors, thus providing cost savings by reducing unnecessary ink usage, along with better print stability on press. GMG ProofControl is the ideal solution for instant, color-accurate verification of proofs. GMG PrintControl is one single software for standardizing the press from start to finish. GMG RapidCheck is a verification tool to control the printing process at a click of the mouse. GMG Media is a range of proofing-specific papers and films for the most popular inkjet printers. They are manufactured to high tolerances for color critical applications, available in a range of sizes.

Press releases you might also be interested in
Weitere Informationen zum Thema "Software":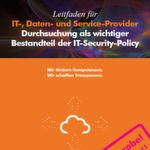 Eco-Leitfaden unterstützt Provider im Umgang mit Ermittlungsbeamten
Es pas­siert zwar nicht oft, aber im­mer un­ver­hofft: Staats­an­walt­li­che Er­mitt­lun­gen kön­nen je­den IT-, Da­ten- und Ser­vice-Pro­vi­der tref­fen. Für die­se, so teilt der Bran­chen­ver­band Eu­ro­c­loud Deut­sch­land_eco e. V. mit, ist es ein Ba­lan­ce­akt zwi­schen Ko­ope­ra­ti­on und Verpf­lich­tun­gen ge­gen­über den Kun­den. Ge­mein­sam mit der So­zie­tät Der­ra, Mey­er & Part­ner Rechts­an­wäl­te hat er da­zu ei­nen Leitfa­den her­aus­ge­ge­ben.
Weiterlesen