GMG expands its presence at ipex with strategic partnerships
Tübingen

, (PresseBox) -
GMG, developer and supplier of highend color management and proofing solutions, is teaming up with a number of specialist partners around the Ipex arena, as well as demonstrating its products on its own stand (Hall 9-E322).

Under the banner of 'There's a little bit of GMG everywhere', these partnerships will show how the GMG portfolio has a wide range of solutions that can be incorporated in many applications and enhance thirdparty proofing, printing and packaging production systems.

"GMG will be demonstrating a range of tools to standardize quality and reduce costs," says Paul Willems, CEO of GMG GmbH & Co. KG. "Visitors have the added advantage of seeing those products deployed in a variety of applications around Ipex, showcasing the quality, versatility and flexibility of GMG solutions."

WHAT TO SEE AND WHERE

GMG - Hall 9-E322
GMG will demonstrate color management solutions for digital and large format printing, packaging printing and offset/commercial printing. Mockup production, packaging contone and halftone proofing as well as GMG color management workflow integration.

Canon - Hall 10-CDEF270
Contone and halftone proofing will be demonstrated on the Canon iPF 8300 using GMG ColorProof and FlexoProof/DotProof.

Enfocus - Hall 12-C150
The combination of GMG FlowConnect and Enfocus Switch will show GMG color management workflow integration.

Epson - Hall 10-C260
Visitors can see packaging proofing on the Epson Stylus Pro WT7900 using GMG ColorProof and FlexoProof/DotProof as well as mockup production and contone and halftone proofing on the Epson Stylus Pro 7900.

HP - Hall 12-AB150
GMG color management solutions GMG ColorServer/SmartProfiler for digital printing, enabling the calibration and profiling of different output devices.

Mimaki Europe BV - Hall 12-C120
Mimaki UJF 706 UV printer and GMG color management solutions ColorServer/SmartProfiler demonstrate mockup production and packaging proofing.

Roland DG (UK) - Hall 12-C140
Roland will demonstrate how GMG ColorProof and GMG FlexoProof/DotProof for the LEC-330 can improve mockup production and packaging proofing.
GMG GmbH & Co. KG
The software company founded in 1984 and located in Tuebingen, near Stuttgart, Germany, has a worldwide distribution network with local presence in France, Spain, Benelux, Nordic, the UK, Asia and the Americas. GMG has specialized in highend color management for the entire graphic arts industry. Today, more than 10,000 systems have been sold across the industry spectrum from ad agencies, prepress houses and offset printers to newspapers, flexo converters and international gravure printing plants. In fact, the GMG ColorProof system has become the defacto standard of Europe's extensive gravure printing industry.

About the GMG family of products: About the GMG family of products: GMG ColorProof, a color management software system, provides the most accurate way of calibrating digital inkjet proofing engines to produce digital contract color proofs, precisely matched to the printing press. GMG DotProof® enables users to generate contract quality halftone proofs, using the original bitmap data of the output RIP. Specifically tailored to the needs of the packaging industry is GMG FlexoProof, which supports specific flexo file formats and includes a complete Pantone® spot color library, along with other functions. GMG ColorServer is a tool for automatic color conversions - CMYKto-CMYK, RGBto-CMYK and RGBto-RGB - for more efficient workflows. The GMG SmartProfiler wizard allows the profiling and calibration of different output devices, such as digital presses or large format systems, easily and quickly. GMG InkOptimizer automatically reduces chromatic colors, thus providing cost savings by reducing unnecessary ink usage, along with better print stability on press. GMG ProofControl is the ideal solution for instant, coloraccurate verification of proofs. GMG PrintControl is one single software for standardizing the press from start to finish. GMG RapidCheck is a verification tool to control the printing process at a click of the mouse. GMG Media is a range of proofingspecific papers and films for the most popular inkjet printers. They are manufactured to high tolerances for color critical applications, available in a range of sizes.

© 2010 GMG GmbH & Co. KG. The GMG product names mentioned in this document are trademarks or service marks of GMG GmbH & Co. KG and may be registered in certain jurisdictions. Other company, brand, product and service names are for identification purposes only and may be trademarks or registered trademarks of their respective holders. Data is subject to change without notice.

For more information see www.gmgcolor.com
Press releases you might also be interested in
Weitere Informationen zum Thema "Software":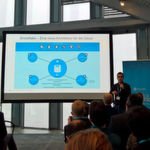 Renaissance der SQL-Datenanalyse, diesmal in der Cloud
Sno­wfla­ke, ein durch Ven­tu­re Ca­pi­tal fi­nan­zier­tes US-Start-up, ver­la­gert die Da­ten­ana­ly­se mit SQL in die Cloud. Der Reds­hift-Kon­kur­rent wur­de ei­gens für die­se Um­ge­bung ent­wi­ckelt und soll sich durch be­son­de­re Sch­nel­lig­keit und Fle­xi­bi­li­tät aus­zeich­nen.
Weiterlesen