Global Solar Energy exhibits CIGS Technology at Intersolar 2009
Berlin

, (PresseBox) -
What: Global Solar Energy, a leading manufacturer of Copper Indium Gallium diSelenide (CIGS) thin-film solar cells, will exhibit its lightweight, flexible solar technology and products at Intersolar 2009. Executives will be present to discuss company developments, Global Solar new product applications and answer questions. The booth will display FLEX portable solar chargers, Generation 2 thin film CIGS solar strings and its Generation 2 CIGS thin film material which is enabling new products for the rapidly emerging building integrated photovoltaic (BIPV) market. For a demonstration and briefing with a Global Solar executive, please contact Ludwig Achenbach under the following number: +49 (170) 81 725 81.

Where: Hall A1, Stand 240
Intersolar 2009 New Trade Fair Centre
Munich, Germany

When: Wednesday, May 27 through Friday, May 29, 2009

Who: Ronald Erdmann, Co-Managing Director, Global Solar Energy Deutschland
Tim Teich, Vice President, Sales & Marketing
Charles Gambill, Director, Corporate Products

Why: Global Solar is the only manufacturer in full-scale production of CIGS (Copper Indium Gallium diSelenide) PV cells on a flexible substrate. The Company is dedicated to constantly improving the efficiency of its solar cells and overall manufacturing process. Global Solar achieved 10% average solar cell efficiency - the first CIGS company to reach this milestone in a production environment.

Global Solar deposits CIGS on flexible, stainless-steel substrate via a roll-toroll process. The Company's advanced machinery design decreases manufacturing costs by streamlining CIGS production, increasing throughput and improving material utilization.

Global Solar's recent company milestones include:

- Global Solar is currently managing two new manufacturing plants. The first plant, at the Company's headquarters in Tucson, Arizona, USA opened in March of 2008 has full production capacity of 40 megawatts (MW). The second plant is located in Berlin Adlershof Technology Park and was opened in fall of 2008 with a production capacity of 35 MW. Together, these plants set industry records for CIGS production capacity and efficiency.
- Deploying the world's largest solar array using its CIGS thin film photovoltaic technology: Located at Global Solar Energy's manufacturing facility in Tucson, Arizona, the 750-kilowatt (kW) system is the first commercial-scale array using the company's highly efficient CIGS technology.
- Partnering with leading U.S. manufacturers under the US Department of Energy Solar America Initiative, the company has taken the clear lead to enabling the creation of innovative building integrated photovoltaic (BIPV) products in the form of a flexible solar roof shingle.
Global Solar Energy Deutschland GmbH
Global Solar Energy is a solar industry leader that manufactures highly-efficient Copper Indium Gallium diSelenide (CIGS) thin film solar cells in a roll-to-roll process on a flexible substrate. In addition to its use in traditional glass modules, Global Solar Energy's photovoltaic material is lightweight, flexible and transportable, making it well suited for applications such as foldable mobile device chargers, standard glass power modules and especially for innovative new building integrated photovoltaic (BIPV) products. Founded in 1996, Global Solar is the only CIGS manufacturer in full-scale production on a flexible substrate. The Company has also achieved a record 10 percent average solar cell efficiency in its full production process. For more information, please visit www.globalsolar.com.
Press releases you might also be interested in
Weitere Informationen zum Thema "Energie- / Umwelttechnik":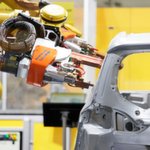 1,7 Millionen Industrie-Roboter erneuern Fabriken weltweit bis 2020
Bis 2020 wer­den mehr als 1,7 Mil­lio­nen neue In­du­s­trie-Ro­bo­ter in den Fa­bri­ken der Welt in­stal­liert. Die Ro­bo­tik-Bran­che in Asi­en ver­zeich­net da­bei ak­tu­ell das stärks­te Wachs­tum – an­ge­führt von Chi­na als Welt­markt­füh­rer. Im Jahr 2017 sind die Ro­bo­ter­in­stal­la­tio­nen in der Re­gi­on Asi­en-Aus­tra­li­en vor­aus­sicht­lich um 21 Pro­zent ge­s­tie­gen, in Nord- und Süda­me­ri­ka um 16 Pro­zent und in Eu­ro­pa um acht Pro­zent. Das sind Er­geb­nis­se aus dem World-Ro­botics-Re­port 2017, der von der In­ter­na­tio­nal Fe­de­ra­ti­on of Ro­botics (IFR) ver­öf­f­ent­licht wur­de.
Weiterlesen