VxWorks, Linux, ENEA OSE, OK1-M and QNX - all deployable on one multicore AMC by N.A.T.
Sankt Augustin

, (PresseBox) -
N.A.T. announces the availability of 5 Board Support Packages for the leading Operating Systems (OS): VxWorks, Linux, OSE, OK1-M and QNX as well as hypervisors for its Communication Processor AMCs such as the NAMC-QorIQ-Family.

Today's applications take advantage from the deliberate choice of software and hardware platforms to realize an effective adoption and optimization of virtualization on multicore AMCs. Hypervisors leverage embedded virtualization using multiple OS, real-time operating system (RTOS) and general purpose OS, cooperatively. Embedded Systems can be consolidated by replacing multiple boards with a single one. The aim is to improve scalability and reliability by benefitting of the BSPs supporting multi-core technologies such as symmetric multi-processing (SMP), asymmetric multi-processing (AMP), or a mixture of both. SMP is the best choice expecting effective load-balance of parallel workloads and suitable for applications needing to share large amount of data with low latency. AMP is considered for redundant systems needing high availability.

N.A.T.'s BSP selection gives customers the flexibility to choose their appropriate RTOS/OS based on e.g. resource-, interrupt-, task schedule, time-, data-management or application area. VxWorks could be suitable for solutions in areas such as Digital Living, Embedded Virtualization and Mobile Network Infrastructure. OSE is optimized for complex distributed systems that require the utmost in availability and reliability as often required in the telecommunication market. Embedded systems implemented in the Automotive, Industrial, Medical, Security and Defense market benefit e.g. from QNX as full-featured and robust RTOS. Depending on the system requirements N.A.T.'s own OS, OK1-M, can be an alternative. If security, reliability without license fee and real-time supply matters, N.A.T. supports Linux.

Nonetheless which RTOS or OS is preferred, N.A.T.'s multicore experts support customers in choosing and implementing the best combination of VxWorks, Linux, OSE, OK1-M and QNX on a Processor AMC e.g. out of the NAMC-QorIQ-family.

For example the NAMC-QorIQ-P40 AMCs are equipped with eight e500mc cores operating at frequencies with up to 1.5 GHz and feature embedded hypervisor technology. One hardware choice to apply the processing flexibility is the NAMC-QorIQ-P40-ECO which is ideally suited for price sensitive applications requiring strong processor capacity, low power consumption with limited need of memory. The NAMC-QorIQ-P40 targets telecommunication applications requiring ITDM support realized via the on-board Lattice FPGA. Additionally, the NAMC-QorIQ-P4080-V6 offers a Xilinx's Virtex-6 FPGA with 95% free FPGA capacity for advanced communication applications such as digital signal processing, control, data transfer requiring customized on-board information. All three boards are now available as single-width, mid- or full-size AMCs. Talk to us...we care.
Gesellschaft für Netzwerk- und Automatisierungs-Technologie mbH (N.A.T.)
N.A.T. offers a wide product range in data and telecommunication for industrial bus-standards and systems as AMC, µTCA, VMEbus, CompactPCI, PMC, PCI, PCI Express and many others. This product offering is completed by various software protocol stack solutions in the area of telecommunication and networking which are adapted to the different hardware platforms.
Press releases you might also be interested in
Weitere Informationen zum Thema "Hardware":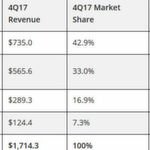 Umsatz konvergenter Systeme legt weltweit zu
Nach An­ga­ben der In­ter­na­tio­nal Da­ta Cor­po­ra­ti­on (IDC) ver­mel­de­te der "World­wi­de Quar­t­er­ly Con­ver­ged Sys­tems Tra­cker" für das vier­te Quar­tal 2017 ei­nen welt­wei­ten An­s­tieg der Um­sät­ze im Be­reich des kon­ver­gen­ten System­mark­tes um 9,1 Pro­zent. Hy­per­kon­ver­gen­te Sys­te­me out­per­for­men, an­de­re Teil­seg­men­te er­leb­ten Rück­gän­ge.
Weiterlesen