G-POWER is celebrating 30 years of "first class performance" - new "RR" version for the BMW M5/M6 Bi-Kompressor-System with 820 hp - the fastest station wagon in the world based on a BMW M5 E61 Touring is provided by G-POWER again
Aresing/ Ot. Autenzell

, (PresseBox) -
It is not the first time that G-POWER is improving its own record. Already in 2010 a G-POWER M5 HURRICANE (sedan) improved its record of 367,4 km/h for the world's fastest sedan - established two years before - to 372,1 km/h.

G-POWER M5 HURRICANE RR Touring

- 820 hp / 603 kW at 7.500 rpm (+ 313 hp / 230 kW)
- 790 Nm at 5.000 U/min (+ 270 Nm)
- V-max: 362 km/h (limited)
- 0-100 km/h: 4,4s
- 0-200 km/h: 9,5s
- 0-300 km/h: 25,6s

Currently the modified Bi-Kompressor-System for the BMW M5/M6 E6X series - featuring the legendary high-rev V10 engine - enables the G-POWER M5 HURRICANE RR Touring to a new top speed of 362 km/h making it, in spite of the electronically limitation, the fastest station wagon in the world. Of course the G-POWER HURRICANE RR Touring sets new performance standards not just for top speed. With sprint times of less than 4.4 seconds from standstill to 100 km/h, 9.5 seconds to 200 km/h and 25,6 seconds to 300 km/h the two-ton station wagon is at the head of the pack in these categories as well.

But that's not all. Next to the spectacular power output enhancement for the 5.0l V10 BMW engine to impressive 820 hp/790 Nm, the price for the G-POWER M5/M6 V10 Bi-Kompressor-System during the "GP Edition 30 Years" promotion might be a surprise, too. With the "GP Edition 30 Years" special edition, the ticket to the world of G-POWER M5/M6 V10 supercharger systems starts as low as € 7.300,-- excl. VAT. With this basic system, the customer receives - next to the power output enhancement from 507 hp to 560 hp - a high-quality supercharger system that is being serially produced in large quantities and that can be customized with several options accordingly to the individual needs of the customer. The G-POWER Mono-Kompressor system, based on a single ASA T1-724 supercharger, is available in configurations with 600 hp, 620 hp, 640 hp and last but not least 700 hp, as well. Still the maximum power output enhancement of 820 hp is reserved for the G-POWER Bi-Kompressor-System - based on two ASA T1-316 superchargers- that has been reduced in price for the "GP Edition 30 Years" promotion, too.

The secret behind the unrivalled price of the G-POWER supercharger systems is founded in constant evolution process of the system that allows in its current state use of state-of-the-art production processes and that fore the methods of serial production. The supercharger mounting plates for the two powerful ASA T1-316 superchargers and the complete air ducting, for example, are made from lightweight cast aluminium. Based on the world wide unique serial production of aftermarket supercharger systems with large numbers, along with the experience gained from more than 150 installed M3 V10 Bi-Kompressor-Systems after its introduction 6 years ago and the continuously product development, it is possible to constantly offer high level quality at this unrivalled low price.

But now back to the technical highlights of the G-POWER M5 HURRICANE RR Touring. A two-tonne vehicle weight and a top speed of 362 km/h (limited) set extreme demands on the tyres, which is why the G-POWER M5 HURRICANE RR Touring runs on 20-inch G-POWER SILVERSTONE RS wheels with MICHELIN Pilot Sport tyres measuring 255/35 ZR 20 and 285/30 ZR 20. Handling is also enhanced by the G-POWER G5-RS coil-over suspension with nine-way adjustability for compression and rebound plus infinitely variable height adjustment. A further factor contributing to the high-speed capabilities of the HURRICANE RR Touring is the G-POWER brake system front and rear. With a disc diameter of 396 mm on the front and 380 mm on the rear, combined with 6 and 4-pot callipers respectively, deceleration forces upwards of 1g are perfectly conceivable. Also worthy of consideration is the optional G-POWER ceramic brake set, which delivers a reduction in unsprung masses of around 50%.

The G-POWER M5 HURRICANE RR Touring does not only set benchmarks in performance, but also when it comes to individuality and exclusivity. The interior of the M5 Touring, upholstered by G-POWER in premium leather and Alcantara offers an impressive proof of what is possible above and beyond "BMW Individual" equipment. The painstaking work carried out by hand by G-POWER craftsmen goes far beyond simply upholstering virtually every surface with the finest grades of leather and Alcantara. In contrast to many leather workshops, G-POWER takes the time to reshape the original BMW seat cushions. Only thanks to this unique technology can the distinctive look created by G-POWER be achieved in combination with an optimum synthesis of comfort and lateral grip.

The visual highlight of the G-POWER full leather upholstery is the perfectly executed stitching covering almost every surface, like for example the front seats, rear seats and the door panels - even the floor mats and the trunk cover has been made from premium leather and covered with stitching. G-POWER logos in the front seats and the headlining set tasteful accents in this sophisticated composition of Carbon, leather and Alcantara.

The modification of the M5 HURRICANE RR Touring interior by G-POWER is completed by an exclusive multimedia entertainment system that leaves nothing to be desired. Next to a powerful audio system, electric powered iPads in the rear of the front seats, a lowerable main monitor from the headlining and an Apple iMac incl. Apple TV enable leisure time or productive work according to the desires of the car's owner. The special highlight of the G-POWER multimedia entertainment system is the centered control of each component, like for example the interior lights or all electrical powered elements (iPads, main monitor and Carbon folding tables) through the G-POWER app, exclusively developed for this purpose.

With the 820 hp strong G-POWER M5 HURRICANE RR Touring G-POWER presents the absolute climax of the BMW M5 series with the legendary V10 engine. As a complete vehicle, the BMW M5 HURRICANE RR Touring costs € 242,016,-- without VAT and includes the 20" wheel set, suspension, brake system and the power increase to 820 hp, as well as the G-POWER full-leather upholstery to the level illustrated.
G-POWER® by infinitas GmbH
Since the company's founding in 1983, it has focused solely on the tuning of BMW cars and the production of exclusive, handcrafted vehicles. In 2008, G-POWER was integrated into Group ASA, a year in which both brands celebrated their 25th anniversary. G-POWER is now one of the few globally active and highly reputable suppliers of exclusive cars. In cooperation with development partner ASA, G-POWER has developed unique versions of BMW's most important models, and the world's most powerful versions of each, which clearly sets us apart from our competitors. G-POWER holds five world records:

- Fastest BMW sedan with 730hp G-POWER M5 HURRICANE and a top speed of 360 km/h

- Fastest LPG-powered car with the 660hp G-POWER M5 HURRICANE GS and a top speed of 333 km/h

- Fastest Sedan with the 750hp G-POWER M5 HURRICANE RS on the ATP high-speed oval in Papenburg with a measured top speed of 367.4 km/h. G-POWER exceeded its own record with the 800hp G-POWER M5 HURRICANE RR with a top speed of 372 km/h

- Fastest 4-seater coupe with the 750hp G-POWER M6 HURRICANE CS and a top speed of 370 km/h

- Fastest station wagon with the 820hp G-POWER M5 Touring HURRICANE RR and a top speed of over 362 km/h (governed)

- Fastest BMW 1 Series with the 600hp G1 V8 HURRICANE RS and a top speed of over 330 km/h

- Fastest BMW M3 V8 with the 580hp G-POWER M3 SK II and a top speed of over 333 km/h

Press releases you might also be interested in
Weitere Informationen zum Thema "Fahrzeugbau / Automotive":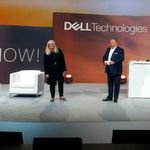 Digitalisierung erfordert nahtlose Kommunikation
Dells Ta­ges­ver­an­stal­tung The Next Now! In Mün­chen woll­te Hil­fe­stel­lung leis­ten auf dem Weg zur Di­gi­ta­li­sie­rung der Un­ter­neh­men in Deut­sch­land. Wel­che St­ra­te­gi­en und Rah­men­be­din­gun­gen er­wei­sen sich als güns­tig, was soll ver­mie­den wer­den?
Weiterlesen