G-POWER M3 SK II CS "HURRICANE 337 Edition"
G-POWER breaks own record for fastest BMW M3 V8 with a top speed of 337,6 km/h and presents a "HURRICANE 337 Edition" called special edition of the G-POWER M3 V8 supercharger systems limited to 30 systems in order to honor the world record
Aresing/ Ot. Autenzell

, (PresseBox) -
.
- 615 hp / 452 kW at 8.100 rpm (+ 195 hp / 143 kW)
- 595 Nm at 5.900 rpm (+ 195 Nm)
- V-max: > 337 km/h
- 0-200 km/h: 12,2s
- G-POWER Supercharger System M3 V8 SK II CS "HURRICANE 337 Edition"
- G-POWER G3M CLUBSPORT coilover suspension
- G-POWER Breaking System for front and rear axle
- 20'' G-POWER wheel set SILVERSTONE DIAMOND

The high-speed test track in Nardo in southern Italy is the ultimate challenge for all vehicle manufacturers. High temperatures and the fastest automobile race track in the world that knows only one load condition: full throttle. The 12.3 km-long route is basically a circle with a diameter of 4 km and an elevated roadway that is reminiscent of a steep curve. In practice, this results in an infinite straight line for miles of continuous full load driving, an operating condition that puts utmost load on the engine. Add uncomfortably high ambient temperatures and it simply doesn't get any more challenging.

Already for the 4th time G-POWER is meeting the challenge of Nardo and in the meantime has established its very own philosophy. While all other teams send there, for this event especially prepared, cars on a trailer to test track, it has become a G-POWER tradition to drive the participating car the complete one-way distance of 1.500 km to Nardo on its own wheels in a "stock" G-POWER M3 that basically all customers can order in this configuration.

The set goal for this year's participation in the event has been to break the G-POWER record for the world's fastest BMW M3 established 2 years ago. At that time a G-POWER M3 with 570 hp SK II supercharger system achieved a top speed of 333,1 km/h. Consequently G-POWER opted this year for the stronger SK II CS version of the G-POWER M3 supercharger system.

But G-POWER's intention is not just collecting world records per se, but to demonstrate the impressive, real-world performance of the G-POWER supercharger systems and showcase the unrestricted reliability of the engines supercharged by G-POWER. Since Nardo's abusive environment naturally separates automotive wheat from the chaff, only those tuners who have carefully shepherded their design from development to production will survive the extreme loads in the "AUTO BILD SPORTSCARS" High-Performance-Event with no major engine damage. In addition, pushing the system to the top-speed limits in the real-world provides merciless feedback on the achieved performance improvements. Many tuners instead post performance numbers based solely on short-term dynomometer testing which are subject to many variables, and thus opens the door to abuse. It is certainly difficult to determine whether performance gains will hold up in the real world if such tests are the only ones performed.

Unfortunately it has not (yet) been possible to already improve G-POWER's record for the fastest BMW M3 at the High-Performance-Event from AUTO BILD SPORTSCARS. A broken part worth a few cents has prevented a better result than the measured 326,2 km/h, still within the limit of the old record.

But for everybody how knows the G-POWER team and their eagerness to succeed, it goes without saying that they wouldn't leave this business unfinished. So it is no big surprise that only two days later G-POWER M3 V8 SK II CS showed its true potential in the course of a follow-up test drive to the Nardo event. In the end the display of the GPS gauge showed an impressive 337,6 km/h (have a look at the video here: http://youtu.be/R8nQefEuwZY) - thus G-POWER has improved its own record out of 2011 from 333,1 km/h to 337,6 km/h.

In order to honor this world record for the fastest BMW M3 V8, G-POWER has now introduced a special edition of the M3 V8 SK I, SK II and SK II CS supercharger systems called "HURRICANE 337 Edition". Carbon add-ons and a unique "HURRICANE 337 Edition" graphic design for the air box underline the exclusive character of this, in compliance to the 30 years anniversary of "first class performance", limited special edition of 30 systems.

Core of the M3 V8 supercharger systems is the powerful ASA T1-523 radial supercharger. A High-Flow air intake incl. large racing air filter, a large volumetric intercooler system made from cast aluminium and a cast aluminium air box, set the necessary background to enable the max. boost of 0,5 bar relative, of its strongest version the SK II CS, to produce an power output of 615 hp and 595 Nm of torque. In order to keep the output enchantment weight neutral, G-POWER uses a full titanium exhaust system including a set of racing catalytic converters, which saves 26 kg compared to the factory exhaust system.

The silver BMW M3 Coupé displayed in the press pictures is the first car equipped with a G-POWER M3 V8 SK II CS "HURRICANE 337 Edition" supercharger system that has been delivered to a customer. In addition to the power output enhancement the customer has added to his order the G-POWER G3M CLUBSPOT coilover suspension, the G-POWER breaking system featuring huge 396 mm respectively 380 mm break discs for front and rear axle, and last but not least the 20 inch SILVERSTONE DIAMOND wheel set wrapped with Michelin Pilot Sport tires.

The price for the G-POWER M3 V8 SK II CS "HURRICANE 337 Edition" is starting from 9.856,78 € plus installation. The G-POWER Titanium exhaust system that is mandatory for the SK II CS stage of the G-POWER M3 V8 SK II CS system is 4.542,00 € plus installation. The G-POWER GM3 CLUBSPORT coilover suspension is 2.445,00 € plus installation, the G-POWER braking system is 8.034,00 € for the front and 5.634,00 € plus installation for the rear axle and the price for the 20'' G-POWER wheel set incl. Michelin Pilot Sport tyres is 4.474,00 €.
G-POWER® by infinitas GmbH
Since the company's founding in 1983, it has focused solely on the tuning of BMW cars and the production of exclusive, handcrafted vehicles. In 2008, G-POWER was integrated into Group ASA, a year in which both brands celebrated their 25th anniversary. G-POWER is now one of the few globally active and highly reputable suppliers of exclusive cars. In cooperation with development partner ASA, G-POWER has developed unique versions of BMW's most important models, and the world's most powerful versions of each, which clearly sets us apart from our competitors. G-POWER holds five world records:

- Fastest BMW sedan with 730hp G-POWER M5 HURRICANE and a top speed of 360 km/h
- Fastest LPG-powered car with the 660hp G-POWER M5 HURRCANE GS and a top speed of 333 km/h
- Fastest Sedan with the 750hp G-POWER M5 HURRICANE RS on the ATP high-speed oval in Papenburg with a measured top speed of 367.4 km/h. G-POWER exceeded its own record with the 800hp G-POWER M5 HURRICANE RR with a top speed of 372 km/h
- Fastest 4-seater coupe with the 750 hp G-POWER M6 HURRCANE CS and a top speed of 370 km/h
- Fastest SUV with the 750hp G-POWER M5 Touring HURRCANE RS and a top speed of over 360 km/h (governed)
- Fastest BMW 1 Series with the 600hp G1 V8 HURRICANE RS and a top speed of ver 330 km/h
- Fastest BMW M3 with the 610hp G-POWER M3 SK II CS and a top speed of 337,6 km/h

Press releases you might also be interested in
Weitere Informationen zum Thema "Fahrzeugbau / Automotive":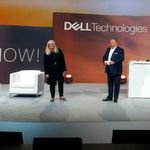 Digitalisierung erfordert nahtlose Kommunikation
Dells Ta­ges­ver­an­stal­tung The Next Now! In Mün­chen woll­te Hil­fe­stel­lung leis­ten auf dem Weg zur Di­gi­ta­li­sie­rung der Un­ter­neh­men in Deut­sch­land. Wel­che St­ra­te­gi­en und Rah­men­be­din­gun­gen er­wei­sen sich als güns­tig, was soll ver­mie­den wer­den?
Weiterlesen