Fujitsu Extends PRIMERGY Dynamic Cube Portfolio for All-in-One Server Flexibility
Expanded Range Includes First Quad-Socket x86 Blade for Scalability and High-Performance
Regensdorf

, (PresseBox) -
Fujitsu today announces the global availability of three new server blades for its flagship PRIMERGY BX900 Dynamic Cube x86 blade system. The new additions, including a quadsocket blade, all combine the efficient hardware, service offerings and solutions of Fujitsu Dynamic Infrastructures with the latest Intel Xeon processor technology.

What's new:

New four-socket PRIMERGY BX960 S1, further extending the suitability of the blade system for resource-hungry processing and applications
Second-generation PRIMERGY BX920 S2 for disk-intensive operations
PRIMERGY BX924 S2 as the perfect virtualization platform
Processor refresh for the mid-range PRIMERGY BX600 blade system, with PRIMERGY BX620 S6 blades

The latest blade modules and refreshes help provide customers with an evenmoreversatile system that is also able to drive down costs - and is able to flexibly span the complete range of potential usage scenarios for blade servers, from web server or terminal server farms with lower performance demands, all the way to high performance database and resourcehungry application server configurations.

Early independent performance benchmarks for the nextgeneration Dynamic Cube blade servers have been excellent. The new quadsocket PRIMERGY BX960 S1 achieves outstanding results in the VMware VMmark benchmark, with first place positions in both the 24core category (with 52.27@35 tiles1) and the 16core category with 4socket servers (32.82@22 Tiles2). The PRIMERGY BX922 S2 had previously secured the secondbest ever VMware VMmark result in the 8core, achieving 27.99@18 tiles.3 Driving the computing performance and speed of connectivity of Fujitsu's new quadsocket server blade is an innovative glueless design, where a single system board is manufactured with all the necessary components for all four CPUs, therefore providing the shortest route between processors, memory modules and I/O hubs. More often, vendors simply glue together two dualsocket server blades, which can lead to I/O bottlenecks.

Says Jens-Peter Seick, Senior Vice-President x86 Server Product Unit at Fujitsu Technology Solutions: «To ensure flexibility and investment protection for our customers, we continually expand our offering of server blades for the PRIMERGY BX900. Now with the availability of dual- and quadsocket blades, in combination with high capacities of configurable memory and I/O enhancements by providing 10 Gbit Ethernet on board, the Dynamic Cube offers endtoend reliable, balanced performance, enabling optimal virtual machine deployment without bottlenecks.»

PRIMERGY BX900 S1 - The Dynamic Cube

Known as the Dynamic Cube for its futureproof and flexible design, the PRIMERGY BX900 S1 is a single chassis incorporating a complete dynamic server infrastructure, with up to 18 server blades. The Dynamic Cube increases business agility through dynamic power and cooling, high availability, scalability, and virtualization, while reducing operational-, energy- and management IT costs.

Offering new dimensions of scalability and highperformance computing in a single server blade for more demanding database and application server configurations, including resourceintensive fat virtual machines, a key addition to the range is the quadsocket PRIMERGY BX960 S1. Features include large memory expandability up to 512GB, four onboard 10 Gigabit Ethernet ports, and four additional slots for mezzanine cards. Previously, such applications required larger formfactors and so more space-, energy-, and cooling resources, and with reduced opportunities for homogenous management of all operating scenarios.

The PRIMERGY BX924 S2 is a new dualsocket server blade designed primarily for virtualized environments, and supporting a broad range of uses. Key features include highly extended support for virtual machines through its onboard large memory capacity with 18 DIMM slots and with 2x 10 Gigabit Ethernet ports onboard, based on the latest highspeed Intel LAN technology.

An allrounder blade, the PRIMERGY BX920 S2 is designed for operation in physical as well as virtualized environments. Disk-I/Ointensive applications, such as terminal servers, benefit from the secure performance of RAID controller technology with integrated cache memory and a battery backup unit that avoids data loss.

PRIMERGYBX600 S3 - Advanced Blade Ecosystem

Also launched today is the refreshed PRIMERGY BX620 S6, for use with the PRIMERGY BX600 S3, ideally suited for the corporate midmarket for small business applications, in virtualization scenarios, as well as for web- and terminal services. The refreshed BX620 S6 provides stateoftheart Intel Processor Technology in a reliable and proven blade enclosure, plus maximized energy efficiency and performance.

Says Jens-Peter Seick: «Fujitsu continues to offer the PRIMERGY BX600 S3 which provides huge advantage for branch offices and midmarket companies. The BX600 is the ideal choice for infrastructure solutions in which a reliable and proven platform with stateoftheart server blade technology is needed and is particularly suited for customers who want to reduce their operational costs for power and cooling, as well as to consolidate the IT infrastructure and thus reduce network and cable complexity.»
Fujitsu Technology Solutions GmbH
Fujitsu is a leading provider of ICTbased business solutions for the global marketplace. With approximately 170,000 employees supporting customers in 70 countries, Fujitsu combines a worldwide corps of systems and services experts with highly reliable computing and communications products and advanced microelectronics to deliver added value to customers. Headquartered in Tokyo, Fujitsu Limited (TSE:6702) reported consolidated revenues of 4.6 trillion yen (US$50 billion) for the fiscal year ended March 31, 2010. For more information, please see: www.fujitsu.com.

About Fujitsu Technology Solutions

Fujitsu Technology Solutions is the leading European IT infrastructure provider with a presence in all key markets in Europe, the Middle East and Africa, plus India, serving large-, medium- and smallsized companies as well as consumers. With its Dynamic Infrastructures approach, the company offers a full portfolio of IT products, solutions and services, ranging from clients to datacenter solutions, Managed Infrastructure and Infrastructureasa-Service. Fujitsu Technology Solutions employs more than 13,000 people and is part of the global Fujitsu Group. For more information, please see: ts.fujitsu.com/aboutus.
Press releases you might also be interested in
Weitere Informationen zum Thema "Hardware":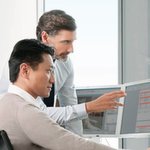 Trainingsprogramm für angehende Mainframe-Ingenieure
Auf den dro­hen­den IT-Fach­kräf­te­man­gel für rea­giert Fu­jit­su mit ei­nem um­fas­sen­den Bil­dung­s­an­ge­bot: Die För­de­rung der Aus- und Wei­ter­bil­dung von IT-Fach­kräf­ten und Nach­wuchs in den Be­rei­chen Main­fra­me- und Da­ta­cen­ter-Tech­nik.
Weiterlesen