Freescale licenses ARM Cortex-A7 and Cortex-A15 processor cores for future generations of i.MX products
Freescale among first to license both cores together, balancing performance and energy efficiency for embedded, automotive and smart mobile device applications
Austin, Texas

, (PresseBox) -
Freescale Semiconductor (NYSE: FSL) has licensed the new, ultra-efficient ARM® Cortex(TM) -A7 MPCore(TM) processor in conjunction with the previously licensed Cortex-A15 processor. Freescale will leverage the energy efficiency and performance of the two ARM cores to develop future generations of its rapidly expanding portfolio of i.MX applications processors.

Freescale plans to incorporate ARM Cortex-A7 and Cortex-A15 processors in single-core and multicore i.MX devices that feature software and pin compatibility and target embedded, automotive infotainment and smart mobile device applications. For less performance-hungry tasks, the high-performance Cortex-A15 processor can power down, while the Cortex-A7 processor handles lighter-duty processing. By employing this approach, which ARM calls "Big.LITTLE processing," a system-on-chip (SoC) leverages two different, but compatible, processing engines within the same device, allowing the power management software to seamlessly select the right processor for the task. This approach helps reduce overall system power consumption and extends battery life for mobile devices.

"The high-performance Cortex-A15 processor and ultra-efficient Cortex-A7 processor will play a key role in offering our customers the 'just-right' blend of performance, power consumption and price they've come to expect from our i.MX portfolio," said Bernd Lienhard, vice president and general manager of Freescale's Multimedia Applications Division. "We see great opportunities ahead with these ARM technologies and look forward to using them to create highly scalable, innovative i.MX solutions for a wide range of exciting markets."

Freescale products based on ARM technology have established industry-leading positions in a broad range of markets and geographic regions. Freescale is the world's No. 3 provider of ARM architecture-based applications processors, as well as the No. 1 supplier of applications processors to the growing eReader market. Freescale products built on ARM technology also have established a strong presence in growing markets such as healthcare/patient monitoring, factory automation and automotive infotainment.

"ARM and Freescale have enjoyed a close relationship for many years and this agreement is the latest development," said Lance Howarth, executive vice president of marketing for ARM. "Working with partners across the industry, ARM continues to develop advanced, energy-efficient processors for a range of markets and applications. Our technology, combined with Freescale's expertise in deploying and optimizing advanced SoCs, represents an exciting prospect for consumers and our mutual customers."

Future i.MX offerings based on the ARM cores will be designed to feature the same compatibility and power management benefits that are the hallmark of Freescale's i.MX portfolio. Common SoC IP building blocks enable portfolio-wide software and development tool compatibility, while integrated power management capabilities, a broad range of integrated I/Os and pin compatibility within package families reduce complexity and development costs. These benefits help customers rapidly create comprehensive product portfolios that can adjust and scale to meet evolving market demands and requirements.

For more information about i.MX applications processors, visit www.freescale.com/imx
For more information about companion power management ICs for the i.MX portfolio, visit www.freescale.com/analog

About the ARM Cortex-A7 and Cortex-A15 processors
The newly announced Cortex-A7 processor is the most energy-efficient applications processor ARM has ever developed. Occupying less than 0.5 mm2, it provides compelling performance in both single-core and multicore configurations. The Cortex-A15 processor is ARM's highest-performance offering, running at up to 2.5 GHz. It delivers a 5x performance improvement over today's advanced smart phone processors, within a comparable energy footprint.
Freescale Halbleiter Deutschland GmbH
Freescale Semiconductor (NYSE:FSL) is a global leader in the design and manufacture of embedded semiconductors for the automotive, consumer, industrial and networking markets. The company is based in Austin, Texas, and has design, research and development, manufacturing and sales operations around the world. www.freescale.com




Press releases you might also be interested in
Weitere Informationen zum Thema "Hardware":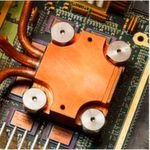 Die Thermodynamik des Rechnens
In­for­ma­ti­ons­ver­ar­bei­tung braucht viel En­er­gie. Spar­sa­me­re Com­pu­ter­sys­te­me sol­len das Rech­nen ef­fi­zi­en­ter ma­chen. Doch die Ef­fi­zi­enz die­ser Sys­te­me lässt sich nicht be­lie­big stei­gern, wie ETH-Phy­si­ker nun zei­gen.
Weiterlesen