Freescale, Adobe and Movial collaborate to enable Flash Player 10.1 on Freescale i.MX platforms
Smart mobile devices based on i.MX processors to support Flash Platform for optimal Internet video experience
Austin, Texas

, (PresseBox) -
Manufacturers of smart mobile devices built with i.MX processors from Freescale Semiconductor can soon enable Adobe® Flash® Player 10.1 software for engaging experiences including video playback, animation, gaming and the enjoyment of other rich web content. Through close work with Adobe and Movial, Freescale is bringing Adobe Flash Player 10.1 to its i.MX platforms, enabling the creation of consumer products running either the Linux® or Android(TM) operating systems and delivering superior video and graphics capabilities.

Starting with the Freescale i.MX51 family of processors, the companies are collaborating to accelerate Flash Player 10.1, which is scheduled to be released in the first half of 2010. Smartbooks, smartphones, netbooks and other Internetcentric consumer products based on the i.MX51 family of processors will be able to enjoy full H.264 video playback when accessing rich content built with the Flash Platform, including HD and SD video from popular sites like YouTube.

"Freescale, Movial and Adobe have optimized Flash Player 10.1 on Freescale's popular i.MX processors," said Ken Obuszewski, director of product management for Freescale's Multimedia Applications Division. "With this announcement, we are enabling our customers to deliver worldclass video and web experiences for a growing number of smart mobile devices."

Freescale plans to support a fully optimized and hardwareaccelerated version of Flash Player 10.1 that leverages i.MX51 processors' integrated, highperformance graphics (OpenGL/ES) and video (H.264) cores to deliver outstanding video experiences while conserving battery life and minimizing resource utilization. As a result, products using i.MX51 processors can be designed to deliver compelling enduser experiences including uncompromised web browsing and HD video playback with substantially decreased power consumption.

"Seventyfive percent of online videos viewed worldwide are delivered with the Adobe Flash Platform, making it the No.1 format for video on the web," said Tom Barclay, senior product marketing manager, Flash Player at Adobe. "Freescale's highperformance i.MX processors with dedicated graphics and video engines are ideal for running videos and other rich, Flashbased web content."

Movial is a key porting partner for Freescale and Adobe for Flash Player 10.1, and the company enables Flash technology on a wide variety of Linux and Android operating system environments. Movial has been integrating and testing Flash Player 10.1 on the i.MX51 family of processors. "We are proud to be working with industry leaders like Freescale and Adobe to provide consumers with the next evolution in video experience," said Wade Vesey, president of Movial North America. "Working together, we are able to ensure customers a consistent web experience across a multitude of computing environments."

Freescale sells a full platform solution that includes an i.MX systemonchip, accessory chips, BSP and middleware software. The first consumer devices ready to support Flash Player 10.1 and based on Freescale's i.MX chipsets are expected to be smartbooks.

Adobe Flash Platform

The Adobe Flash Platform is the leading web design and development platform for creating expressive applications, content and video that run consistently across operating systems and devices and reach over 98 percent of Internetenabled desktops. Flash Player 10 was installed on more than 93 percent of computers in just the first ten months since its release. According to comScore Media Metrix, approximately 75 percent of online videos viewed worldwide are delivered using Adobe Flash technology, making it the No.1 format for video on the web. Major broadcasters and media companies including Disney.com, MLB.com and DIRECTV rely on the Adobe Flash Platform for delivering video on the web, and the platform powers social network sites such as YouTube and MySpace.

About Movial

Movial inspires rich, intuitive Internet experiences for companies embracing transformational technologies. Leveraging its deep expertise in Internet, Linux and mobile devices, Movial seamlessly enables its customers to deliver richer user experiences to millions of people on PCs and on mobile devices. Movial's device creation, Internet communications applications and design for digital services are generating revenue for industry leaders like ARM, Ericsson, Nokia, Orange, and Telefónica. By delivering highly intuitive and compelling user experiences, Movial has become the trusted source for enriching the way people interact every day. For more information, visit http://www.movial.com
Freescale Halbleiter Deutschland GmbH
Freescale Semiconductor is a global leader in the design and manufacture of embedded semiconductors for the automotive, consumer, industrial and networking markets. The privately held company is based in Austin, Texas, and has design, research and development, manufacturing or sales operations around the world. www.freescale.com

Freescale and the Freescale logo are trademarks of Freescale Semiconductor, Inc., Reg. U.S. Pat. & Tm. Off. Adobe® and Adobe Flash® are trademarks of Adobe Systems Incorporated. All other product or service names are the property of their respective owners. © Freescale Semiconductor Inc. 2010.


Press releases you might also be interested in
Weitere Informationen zum Thema "Hardware":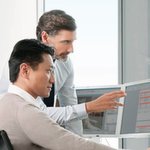 Trainingsprogramm für angehende Mainframe-Ingenieure
Auf den dro­hen­den IT-Fach­kräf­te­man­gel für rea­giert Fu­jit­su mit ei­nem um­fas­sen­den Bil­dung­s­an­ge­bot: Die För­de­rung der Aus- und Wei­ter­bil­dung von IT-Fach­kräf­ten und Nach­wuchs in den Be­rei­chen Main­fra­me- und Da­ta­cen­ter-Tech­nik.
Weiterlesen