Finjan Welcomes Initiatives for Public Disclosure of Cybercrime Incidents Information
San-Jose

, (PresseBox) -
Finjan Inc., a leader in secure web gateway products and the provider of a unified web security solution for the enterprise market, responded today to the latest initiative for public disclosure of cybercrime incidents.

Corporate bank accounts are a popular target for cybercriminals. The soaring growth in cybercrime and attacks on businesses has dire implications. Dealing with the damage of a data breach is costly and time-consuming, and could even affect the survival of companies.

To face the current wave of cybercrime, a lawsuit has been filed by Unspam Technologies, in Virginia under the CAN SPAM Act to obtain forensic information about bank breaches that will help tracing the perpetrators and bring them to justice.

"Finjan supports more public disclosure of data breaches. We believe such disclosure will help to minimize cybercrime and to keep institution as well as their customers safe.", said Yuval Ben-Itzhak, CTO at Finjan.

"As explained in the lawsuit, one of the techniques for corporate bank account robbery involves the use of Trojan malware programs such as Zeus," he continued. "The Zeus Trojan has been around for some time and remains popular. Our Malicious Code Research Center (MCRC) has detected and reported on various cases of data breaches using Zeus and similar malware. Cybercrime targeting businesses keeps on rising," Ben-Itzhak concluded.

To keep abreast of the latest news on cybercrime trends, please visit: http://www.finjan.com/MCRCblog.aspx

To read more on the lawsuit: http://www.nytimes.com/2009/08/20/technology/20hacker.html

About MCRC

Finjan's MCRC specializes in the detection, analysis and research of web threats, including Crimeware, Web 2.0 attacks, Trojans and other forms of malware. Our goal is to be steps ahead of hackers and cybercriminals, who are attempting to exploit flaws in computer platforms and applications for their profit. In order to protect our customers from the next Crimeware wave and emerging malware and attack vectors, Finjan MCRC is a driving force behind the development of Finjan's next generation of security technologies used in our unified Secure Web Gateway solutions. For more information please also visit our info center and blog.
Finjan Software GmbH
Finjan is a leading provider of secure web gateway solutions for the enterprise market. Finjan Secure Web Gateway provides organizations with a unified web security solution combining productivity, liability and bandwidth control via URL categorization, content caching and applications control technologies. Crimeware, malware and data leakage are proactively prevented via patented active real-time content inspection technologies and optional anti-virus modules. Powerful central management enables intuitive task-based policy management, excellent drill-down reporting capabilities and easy directory integration for all network implementation options. By integrating several security engines in a single dedicated appliance, Finjan's comprehensive and integrated web security solution enables quick deployment, simplified management and reduction of costs. Business benefits include real-time web security (no patches or updates needed), lower total cost of ownership (TCO), cost savings in administration efforts, lower maintenance costs, and reduction in loss of productivity. Finjan's security solutions have received industry awards and recognition from leading analyst houses and publications, including Gartner, IDC, Butler Group, SC Magazine, eWEEK, CRN, ITPro, PCPro, ITWeek, Network Computing, and Information Security. With Finjan's award-winning and widely used solutions, businesses can focus on implementing web strategies to realize their full organizational and commercial potential.

For more information about Finjan, please visit: www.finjan.com


Press releases you might also be interested in
Weitere Informationen zum Thema "Sicherheit":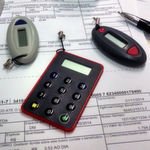 5 Tipps für die Wahl einer Authentifizierungslösung
Die Kom­bi­na­ti­on aus Be­nut­zer­na­me und Pass­wort ist längst nicht mehr aus­rei­chend, wenn es um die si­che­re An­mel­dung im IT-Netz­werk geht. Um das Si­cher­heits­ni­veau zu er­höhen und An­g­rei­fern die Nut­zung ge­stoh­le­ner Zu­gangs­da­ten zu er­schwe­ren, ra­ten Ex­per­ten zur Mul­ti-Fak­tor-Au­then­ti­fi­zie­rung. Doch wor­auf soll­ten Un­ter­neh­men vor der An­schaf­fung ei­ner sol­chen Lö­sung ach­ten?
Weiterlesen