Finjan: German claims on catastrophic state of Web security correct
Farnborough, United Kingdom

, (PresseBox) -
Reports from the giant CeBIT Computer Fair, taking place in Hannover all this week, that the German government is calling security levels on the Internet 'catastrophically poor' have been confirmed by Finjan, a leader in secure web gateway products.

"Research from the BSI, the German Federal Office for Information Security, claims to show that Internet crime and sabotage are rising very rapidly, despite increasing levels of IT security understanding amongst Web users," said Yuval Ben-Itzhak, Finjan chief technology officer.

"BSI chief Hartmut Isselhorst told show attendees that the situation is now very serious and is far worse than anyone could have predicted. This analysis is confirmed by observations and research from Finjan's Malicious Code Research Centre," he added.

According to Ben-Itzhak, Isselhorst's claim that as soon a user goes online they become a target is quite valid.

If anything, he said, the BSI chief's observations on the state of cybercrime are quite restrained.

Our research, says the Finjan chief technology officer, has shown that there has recently been a significant increase in hybrid attack vectors, with hackers using a multi-pronged methodology to extract revenue from hapless Internet users.

It is also worrying, says Ben-Itzhak, to hear that Germany's Bitkom lobbying group has revealed that 19 per cent of German Internet users do not have any anti-virus software installed on their PCs, and 45 per cent are without a firewall to protect them.

The fact that one third of German Internet users have reported suffering some of financial loss due to cybercrime does not surprise me at all, he added, noting that Bitkom's prediction that social networking sites pose the most serious threat of all are also valid. Finjan's reports provide many examples of such cases.

"This is exactly why we recently upgraded our Secure Web Gateway product to include Web 2.0 security and control alongside multi-layered Web security, data loss prevention, content acceleration and application control, all in one appliance," he said.

"Our unified Secure Web Gateway v9.2 can protect against the latest threats, as it is clear than cybercriminals are using legitimate Web sites to both evade URL filtering systems, signature-based solutions and evade reputation-based services. Unified security is now the preferred solution that can protect against these problems," he added.

For more on the CeBIT security research: http://tinyurl.com/aoqumz

For more on Finjan: http://www.finjan.com
For more on Finjan's research reports: http://www.finjan.com/mpom

About MCRC

Malicious Code Research Center (MCRC) is the leading research department at Finjan, dedicated to the research and detection of security vulnerabilities in Internet applications, as well as other popular programs. MCRC's goal is to stay steps ahead of hackers attempting to exploit open platforms and technologies to develop malicious code such as Spyware, Trojans, Phishing attacks, worms and viruses. MCRC shares its research efforts with many of the world's leading software vendors to help patch their security holes. MCRC is a driving force behind the development of next generation security technologies used in Finjan's proactive web security solutions. For more information, visit our MCRC subsite.
Finjan Software GmbH
Finjan is a global provider of web security solutions for the enterprise market. Our real-time, appliance-based web security solutions deliver the most effective shield against web-borne threats, freeing enterprises to harness the web for maximum commercial results. Finjan's active real-time web security solutions utilize patented behavior-based technology to repel all types of threats arriving via the web, such as spyware, phishing, Trojans and obfuscated malicious code, securing businesses against unknown and emerging threats, as well as known malware. Finjan's security solutions have received industry awards and recognition from leading analyst houses and publications, including Gartner, IDC, Butler Group, SC Magazine, CRN, ITPro, PCPro, ITWeek, Network Computing, and Information Security. With Finjan's award-winning and widely used solutions, businesses can focus on implementing web strategies to realize their full organizational and commercial potential. For more information about Finjan, please visit: www.finjan.com.




Press releases you might also be interested in
Weitere Informationen zum Thema "Security":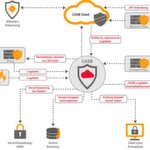 Cloud Security als Herausforderung
Die Her­aus­for­de­run­gen der Cloud stel­len ganz neue An­sprüche an die IT-Se­cu­ri­ty. Das Auf­kom­men der Cloud be­deu­tet schluss­end­lich, dass Tei­le der Ar­beit­s­pro­zes­se und der sen­si­ti­ven Da­ten ei­nes Un­ter­neh­mens auf der In­fra­struk­tur von Cloud Ser­vice Pro­vi­dern ablau­fen bzw. ab­ge­spei­chert wer­den.
Weiterlesen