Exanet takes clustered NAS to new heights with release of ExaSearch
Exanet becomes first clustered NAS vendor to offer enterprise-class search solutions
Dortmund

, (PresseBox) -
Exanet, the leader in software-based, clustered enterprise Network Attached Storage (NAS), has announced the availability of ExaSearch, an enterprise-class search engine, which integrates with the company's scalable, high-performance ExaStore software, allowing customers to turn massive amounts of stored data into easily accessible information.

"Exanet currently manages close to three petabytes of data globally. Based on feedback from our customers, who have expressed an urgent need to be able to easily locate specific files and information, we have developed an enterprise search solution, further enhancing our value proposition to the enterprise market," says Exanet CEO Rami Schwartz. "For our customers, locating files with required information among the billions of files within their storage pool presents a real challenge. It's like looking for a needle in a haystack. Most search applications lack the capabilities of simple integration with storage systems and do not deliver results over multiple applications and multiple protocols in a fast and accurate manner."

Tony Asaro, Senior Analyst, Enterprise Strategy Group agrees: "The name of the game is accessing the information you need quickly and precisely. Otherwise, you can easily be drowned by a sea of content. Or, conversely, you may not find the essential information you need. Federated search enables leaps in efficiency since it creates commonality where none otherwise exists. It enables you to leverage all of your content independent of the various applications. The value of accessing information quickly and precisely should be self-evident. In the case of compliance, it can make the difference in saving you from a hefty fine. It could provide evidence to support your case during litigation proceedings. During a project, it could save you hours, days and perhaps weeks by providing you with the information you require. And search can also be used proactively to help you to research new product or service ideas."

ExaSearch is an enhanced search engine capable of searching multiple sources: file servers, email systems, groupware, databases and employee directories. It can process unstructured data and queries, and allow immediate access to newly generated content through real-time indexing, ensuring users receive the most relevant and current results. The product is designed to integrate with Exanet's flagship ExaStore software resulting in the first scalable, high-performance clustered NAS solution combined with enterprise-class search capabilities.

"By incorporating an intuitive and simple yet powerful search engine into our ExaStore software, we are providing our customers with a full solution for data management and complete access to information across the enterprise," concludes Schwartz.

ExaSearch is available now. Pricing is based on storage capacity purchased.
EXANET IT & Communications GmbH
Exanet's clustered NAS solution delivers a new data storage paradigm to address the trends that are driving the future of data centers: virtualisation, standardised hardware and applications demanding the most extreme standards of performance, availability and scalability. Exanet's software-based open architecture delivers the best price/performance in the industry, dramatically increased utilisation and, for the first time offer, a no end-of-life storage solution.

Exanet has been adopted by customers ranging from traditional enterprises such as manufacturing and graphic arts to next generation ventures including telecom, active archiving, digital broadcasting, video surveillance and storage service providers, with well over 2.3 PB of content managed by Exanet software. With headquarters in Israel, US headquarters in New York and offices in Europe and the Pacific Rim, Exanet sells its flagship ExaStore – ICM (Intelligent Cluster Management) solution through its channel partners worldwide. For more information visit: www.exanet.com
Press releases you might also be interested in
Weitere Informationen zum Thema "Software":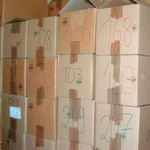 Migration zu Exchange Online: Spaziergang oder Kraftakt?
Die Cloud ist ver­lo­ckend, und der Um­s­tieg auf Ex­chan­ge On­li­ne scheint ein­fach zu sein. Doch in der Pra­xis lau­ern zahl­rei­che Stol­per­stei­ne. Wie sich die ver­mei­den las­sen, be­sch­reibt Ju­li­an Wendt*.
Weiterlesen