Kinaxo Biotechnologies Awarded Grant to Expand Applications for its Chemical Proteomics Platform
Martinsried

, (PresseBox) -
Kinaxo Biotechnologies GmbH announced today that it was awarded a 575,000 Euro grant by the Bavarian Ministry of Economic Affairs, Infrastructure, Transport and Technology to help expand the applications for its chemical proteomics platform. Chemical proteomics enables a comprehensive assessment of the native cellular proteome interactions and selectivity of small molecule drug candidates. Kinaxo will use the funding to demonstrate how its platform can be employed to identify the native protein targets of compounds found in cell-based ('phenotypic') drug discovery screens.

Over the past decade, many biopharmaceutical companies have built their drug research and development programs around a high throughput screening approach, testing large libraries of chemical entities over a few validated protein targets. In oncology programs, the ability of human cancers to 'mutate' and consequently overcome single target inhibition strategies means many drug development companies are taking a 'phenotypic' approach by first screening compounds for a particular desired cellular response prior to honing in on the specific target(s).

Once a promising cellular response is observed, the targets or proteins that interact with the compound must then be identified. Defining the native cellular environment mode of action of promising new compounds is invaluable towards the further development of a therapeutic strategy. However to date this has proved to be a very challenging task.

Kinaxo's Cellular Target Profiling technology will help support phenotypic-based drug discovery not only through the identification of the compound target(s) but also by defining the affinities of these interactions. This is achieved by direct interrogation of the entire cellular proteome representing a particular disease model. Kinaxo's Cellular Target Profiling technology was originally developed at the Max Planck Institute of Biochemistry in Martinsried, Germany.

Dr. Andreas Jenne, Kinaxo's CEO commented: "This funding will allow us to significantly expand the scope and utility of our chemical proteomics capability, helping to demonstrate further valuable applications for broad adoption in the field of small molecule drug development."
Evotec AG
KINAXO Biotechnologies is a privately-held biotechnology company based in Munich/Martinsried, Germany. As a spin-off of the Max Planck Institute of Biochemistry in Martinsried, KINAXO offers extensive experience in cellular target profiling with several ongoing pharmaceutical and biotechnology company collaborations, e.g. with Boehringer Ingelheim, Johnson & Johnson and Takeda. KINAXO is financed by European investors BioM, High-Tech Gründerfonds, KfW, Max Planck Society, and Mountain Partners.

KINAXO's Cellular Target Profiling(TM) Service delivers direct insight into a small molecule's quantitative binding properties (KD values) across the proteome of a given cell line or tissue sample. This interaction profile provides critical guidance within applications such as lead compound selection for clinical trials, drug repositioning, target deconvolution, and off-target toxicity investigations.

Press releases you might also be interested in
Weitere Informationen zum Thema "Biotechnik":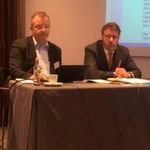 Bundesverband Künstliche Intelligenz will KI-Einsatz voranbringen
Sprach­rohr der KI-Bran­che soll der neue Bun­des­ver­band Künst­li­che In­tel­li­genz sein, der am Mit­te März von 24 Un­ter­neh­men ge­grün­det wur­de. Zu den Zie­len ge­hört För­de­rung ei­nes Men­schen-zen­trier­ten und Men­schen-di­en­li­chen Ein­sat­zes von KI-Tech­no­lo­gi­en.
Weiterlesen