EV Group Launches ZoneBOND(TM) Capable Equipment and Open Platform for Temporary Bonding Materials
EVG's EZR® (Edge Zone Release) and EZD® (Edge Zone Debond) Modules Enable Flexible Choice of Adhesives
ST. FLORIAN, Austria

, (PresseBox) -
EV Group (EVG), a leading supplier of wafer bonding and lithography equipment for the MEMS, nanotechnology and semiconductor markets, today announced that it has launched a suite of groundbreaking temporary bonding and debonding (TB/DB) equipment modules that support ZoneBOND(TM) technology. In parallel, EVG has opened its TB/DB equipment platform to enable the use of a wide range of adhesives from various suppliers to give customers the most flexible choice of bonding materials. Today's announcement comes on the heels of last week's agreement between EV Group and Brewer Science, which allows both companies to commercialize ZoneBOND(TM) technology.

EVG's new EZR® and EZD® modules can be easily integrated in EVG's high-volume manufacturing equipment platforms such as the EVG®850 Series automated temporary bonding and debonding systems. The new EVG EZR® (Edge Zone Release) and EZD® (Edge Zone Debond) modules will begin shipping to industrial customers before the end of 2011. Fraunhofer IZM ASSID (All Silicon System Integration Dresden), a world leader in advanced semiconductor R&D, already received EZR® and EZD® modules earlier this year for ZoneBOND(TM) processes and materials qualification as part of a joint development agreement with EVG.

In an equally important move, EVG will, through an open materials platform approach, establish a stronger supply chain for its market leading TB/DB technologies. EVG plans to qualify a wide range of adhesives from various materials suppliers for the ZoneBOND(TM) process. In support of this effort, EVG has defined standard test procedures that allow for fast and reliable qualification of additional adhesives. EVG will disclose the initial, new materials suppliers supporting the ZoneBOND(TM) process shortly.

"Integrating ZoneBOND(TM) technology into our field-proven, high-volume temporary bonding/debonding platform is an important part of EVG's efforts to not only ensure our customers have access to the most advanced technology available, but also to continue driving the commercialization of 3D ICs," stated Markus Wimplinger, corporate technology development and IP director for EVG. "A key advantage of our EZR® and EZD® modules is their ability to support a variety of adhesive materials, which in turn, provides our customers with increased flexibility during thin wafer processing."

About ZoneBOND(TM) Technology

ZoneBOND(TM) technology provides a breakthrough approach for temporary wafer bonding, thin wafer processing, and debonding applications-overcoming the last remaining limitations associated with thin wafer processing. Benefits of ZoneBOND(TM) technology include: the use of silicon, glass and other carriers; compatibility with existing, field-proven adhesive platforms; and the ability to debond at room temperature with virtually no vertical force being applied to the device wafer. To support grinding and backside processing at high temperatures and to allow for low-force carrier separation, ZoneBOND(TM) defines two distinctive zones on the carrier wafer surface with strong adhesion in the perimeter (edge zone) and minimal adhesion in the center zone. As a result, low separation force is only required for carrier separation once the polymeric edge adhesive has been removed by solvent dissolution or other means.

Thorsten Matthias, director of business development for EV Group, will provide further insight into the ZoneBOND(TM) approach during the upcoming webcast, "3D is a Reality in High-volume Manufacturing," to be held Thursday, October 27, at 10:00 a.m. Central European Time (CET). For more information and to register, visit: http://www.i-micronews.com/consult_webcast.asp?uid=63
EV Group - E. Thallner GmbH
EV Group (EVG) is a world leader in wafer-processing solutions for semiconductor, MEMS and nanotechnology applications. Through close collaboration with its global customers, the company implements its flexible manufacturing model to develop reliable, high-quality, low-cost-of-ownership systems that are easily integrated into customers' fab lines. Key products include wafer bonding, lithography/nanoimprint lithography (NIL) and metrology equipment, as well as photoresist coaters, cleaners and inspection systems.

In addition to its dominant share of the market for wafer bonders, EVG holds a leading position in NIL and lithography for advanced packaging and MEMS. Along these lines, the company co-founded the EMC-3D consortium in 2006 to create and help drive implementation of a cost-effective through-silicon via (TSV) process for major ICs and MEMS/sensors. Other target semiconductor-related markets include silicon-on-insulator (SOI), compound semiconductor and silicon-based power-device solutions.

Founded in 1980, EVG is headquartered in St. Florian, Austria, and operates via a global customer support network, with subsidiaries in Tempe, Ariz.; Albany, N.Y.; Yokohama and Fukuoka, Japan; Seoul, Korea and Chung-Li, Taiwan. More information is available at www.EVGroup.com.


Press releases you might also be interested in
Weitere Informationen zum Thema "Industrial Engineering":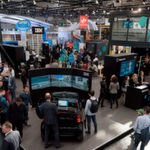 22 IIoT-Plattformen, die Sie kennen sollten
Platt­formö­ko­no­mie ist ein zen­tra­les The­ma der Han­no­ver Mes­se 2018 – ge­nau­er der Di­gi­tal Facto­ry. Von AXOOM und Ama­zon Web Ser­vices über Mi­cro­soft und Goog­le bis Sie­mens: Fast al­le Big Play­er in Sa­chen IIoT-Platt­for­men sind am Start. 20 in­ter­es­san­te Lö­sun­gen ha­ben wir für Sie zu­sam­men­ge­s­tellt.
Weiterlesen