Solar Photovoltaics: 2010 a record year in all respects
Highest ever capacity addition in Europe and in the world / Strongest growth among all renewable energy technologies in Europe
Brussels

, (PresseBox) -
In 2010 solar photovoltaic power (PV) was the leading renewable energy technology in terms of new capacity growth by almost 13,000 MW in Europe. The energy output of these new PV installations corresponds to the electricity production of two large coal-fired power plants. At the end of 2010, the cumulative installed capacity of PV in the EU amounted to more than 28,000 MW, with an energy output that equals the electricity consumption of around 10 million households in Europe.

"The growth of PV has simply been impressive in 2010. Decreasing cost, new applications, strong investor interest and continued political support have contributed to this development, making PV the number one green technology in terms of capacity addition in Europe", said Ingmar Wilhelm, EPIA President. "PV has become an established technology, which is contributing to the progressive decarbonisation of our energy mix and which should be further exploited by Member States to reach their 2020 renewable targets", he continued. "More than 70 percent of all new installations come from small and medium-sized PV systems. PV is in fact the people's choice in renewable technologies as they can participate directly and contribute personally to a better environment", he added.

For the second year in a row, Germany has been the global PV market leader, adding over 6,500 MW of new installations to the already existing 9,800 MW of PV systems. For the first time, the yearly installations in Italy and Czech Republic surpassed 1,000 MW. These countries were followed by Belgium, France and Spain, all of which saw very significant volumes in 2010. More detailed market analysis and the industry's forecasts for the next 4 years will be elaborated at the upcoming EPIA Market Workshop to take place in March. The results will then be included in the EPIA Global Market Outlook until 2015.

"Supportive policy measures for the further roll-out of PV should continue to play their important roles in the years to come. It will therefore be crucial to design coherent national roadmaps for the development of PV on the way to achieving full competitiveness as soon as possible. Regular, necessary adjustments to the regulatory framework should be announced in due advance and administrative procedures should be simple and transparent", said Eleni Despotou, EPIA's acting Secretary General. "These would benefit the predictability of any investment decision and bring substantial cost savings at the same time", she concluded.

According to the latest EPIA estimates, over 3,000 MW of new PV installations were outside Europe in the year 2010. The main contributors come from Japan, where almost 1,000 MW were installed, followed by the US and China. The data also show that, despite the huge PV potential especially in the Sunbelt countries, lack of political support still hampers the growth of these markets.

For more information about the solar PV markets of 2010, please refer to the latest EPIA Market Overview: http://r20.rs6.net/tn.jsp?llr=rkd8f6bab&et=1104619238754&s=16654&e=001iHD8guKv8p7oMJtCZyu5r8Vk10LcfLXDU-q01PkKbhdRxEk8fXVnFb8DKUxN6iIrwUMD3LTEkLyAKSQbOB02OKnvlWHF551nIywyHGuWkTr1LO_SGSBza9emQ2DkDYWD4kuOkXa-wODg7lTL_Wrb6-Z3qgUEh2rEUqwYPE9cnBDWUfVaWqWVlcx6YFCtemHXlz8PM-qz-hs=
European Photovoltaic Industry Association
With over 240 Members drawn from across the entire solar photovoltaic (PV) sector, the European Photovoltaic Industry Association is the world's largest photovoltaic industry association. EPIA Members are present throughout the whole value-chain: from silicon, cells and module production to systems development and PV electricity generation as well as marketing and sales. EPIA's mission is to deliver a distinct and valuable service driven from the strength of a single photovoltaic voice.
Press releases you might also be interested in
Weitere Informationen zum Thema "Energie- / Umwelttechnik":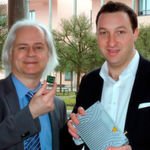 Sigfox und TH Deggendorf forschen am "1 Euro IoT"
Der IoT-Ser­vice­pro­vi­der Sig­fox wird künf­tig ge­mein­sam mit der Tech­ni­schen Hoch­schu­le Deg­gen­dorf am "1 Eu­ro Io­T" for­schen. Als Grund­la­ge di­ent da­bei das Low-Po­wer-Wi­de-Area-Netz­werk von Sig­fox.
Weiterlesen