Jason-3 delivers first data and products four days after launch
Darmstadt

, (PresseBox) -
Four days after its launch on 17 January, the Jason-3 high-precision ocean altimetry satellite is delivering its first sea surface height measurement data in near-real time for evaluation by engineers from the Centre National d'Etudes Spatiales (CNES), EUMETSAT, the US National Aeronautics and Space Administration (NASA) and the National Oceanic and Atmospheric Administration (NOAA) and scientists from the international Ocean Surface Topography Science Team.

The data started to be acquired, processed in real time by CNES and products started to be delivered shortly after the successful completion of the Launch and Early Orbit Phase (LEOP) carried out by CNES. This performance is owed to the experience gained through the sustained partnership between CNES, EUMETSAT, NASA and NOAA.

During the ongoing calibration and validation of the satellite, carried out by CNES with the support of the other partners, EUMETSAT will conduct processing trials of the data received at the Usingen ground station.

To ensure consistency of the measurements and climate data records from the Jason orbit, Jason-3 will be cross-calibrated with Jason-2 before routine operations. As of the beginning of February, the two satellites will therefore be flying in a tandem configuration, one minute apart of each other.

Jason-3 will secure the continuity of the unique climate data record of the mean sea level initiated by Topex-Poseidon in 1992 and continued by Jason-1 and Jason-2.

Also, the Jason-3 measurements of ocean waves and ocean surface topography will be essential inputs to numerical forecasts of sea state and ocean currents and to other applications in the areas of marine meteorology and operational oceanography.

Jason-3 measurements will also be ingested by Numerical prediction models coupling the atmosphere and the oceans used for seasonal forecasting. 

About Jason-3

Jason-3 is the result of an international partnership between EUMETSAT, the French Space Agency (CNES), the US National Oceanic and Atmospheric Administration (NOAA), the US National Aeronautics and Space Administration (NASA), and the European Union, which funds European contributions to Jason-3 operations as part of the European Commission's Copernicus Programme.

Within Copernicus, Jason-3 is the reference mission for cross-calibrating Sentinel-3 observations of sea surface height and the precursor to the future cooperative Sentinel-6/Jason-CS mission also implemented in partnership between Europe and the United States.

EUMETSAT, CNES and NOAA will process data from Jason-3, with EUMETSAT being responsible for data services to users of the EUMETSAT and EU Member States, on behalf of the EU Copernicus Programme. Data access in Europe will be secured via the multi-mission infrastructure available at EUMETSAT and CNES, including EUMETSAT's EUMETCast real-time data dissemination system, Earth Observation Portal and archives, as well as CNES's AVISO data system.

Related links:

Jason-3 microsite
http://www.eumetsat.int/website/home/Jason3/Status/index.html

EUMETSAT Jason-3 web page
http://bit.ly/1IB4Fx1

EUMETSAT oceanography brochure
http://bit.ly/1Jpzxkm

EUMETSAT Copernicus brochure
http://bit.ly/1P0CRdc
EUMETSAT
The European Organisation for the Exploitation of Meteorological Satellites is an intergovernmental organisation based in Darmstadt, Germany, currently with 30 Member States (Austria, Belgium, Bulgaria, Croatia, Czech Republic, Denmark, Estonia, Finland, France, Germany, Greece, Hungary, Iceland, Ireland, Italy, Latvia, Lithuania, Luxembourg, the Netherlands, Norway, Poland, Portugal, Romania, Slovakia, Slovenia, Spain, Sweden, Switzerland, Turkey and the United Kingdom) and one Cooperating State (Serbia).

EUMETSAT operates the geostationary satellites Meteosat-8, -9, -10 and -11 over Europe and Africa, and Meteosat-7 over the Indian Ocean.

EUMETSAT also operates two Metop polar-orbiting satellites as part of the Initial Joint Polar System (IJPS) shared with the US National Oceanic and Atmospheric Administration (NOAA).

EUMETSAT is also a partner in the cooperative high precision ocean altimetry Jason missions involving Europe and the United States (Jason-2, Jason-3 and Jason-CS/Sentinel-6).

The data and products from EUMETSAT's satellites are vital to weather forecasting and make a significant contribution to the monitoring of environment and climate change.

From 2016 onwards, EUMETSAT will exploit the Copernicus Sentinel-3 marine mission in cooperation with ESA and on behalf of the EU, and deliver data services to the Copernicus Marine Environment Monitoring Service.

Press releases you might also be interested in
Weitere Informationen zum Thema "Forschung und Entwicklung":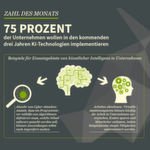 75 Prozent der Unternehmen wollen KI-Technologien implementieren
Künst­li­che In­tel­li­genz (KI) zählt zu den Top-The­men bei Un­ter­neh­men. Laut des "Top IT-Trends 2018"-Re­ports von Di­men­si­on Da­ta ge­hen rund drei Vier­tel der Füh­rungs­kräf­te da­von aus, dass ent­sp­re­chen­de KI-Tech­no­lo­gi­en in den kom­men­den drei Jah­ren in ih­rem Un­ter­neh­men ein­ge­führt wer­den.
Weiterlesen