Telecommunications' entry regulation discourages investment by entrants
Berlin

, (PresseBox) -
The policy of entry regulation of eCommunications hampers facilities-based competition, especially in the fixed-line segment. While the promotion of market entry by means of regulated access in eCommunications might have the desired short-term effect of lower prices and more consumer surplus, it undermines the incentives of entrants to invest in their own infrastructure, thereby compromising on the long-term goal to establish facilities-based competition. This is the main result of a recent study entitled "Analyzing the Relationship Between Regulation and Investment in the Telecom Sector" carried out by Hans W. Friederiszick (ESMT Competition Analysis), Michał Grajek (ESMT) and Lars-Hendrik Röller (ESMT) supported by Deutsche Telekom AG. The empirical analysis was presented at a lunchtime seminar in Brussels on Thursday, December 13, 2007.

In comparison to former studies on this topic, this analysis takes a richer, statistically more appropriate approach and is built upon a unique data set covering 180 fixed-line and mobile operators in 25 European countries over 10 years. The study controls for the problem of endogeneity by including political variables—most importantly attitude of the government toward European integration, and regulation in general—and levels of regulation in other European countries. The analysis also allows for the disentanglement of short-term and long-term effects of regulation.

Main conclusions of the study:
- Regulatory changes have long-lasting effects.
- In terms of the total telecommunication investment in Europe, the lost investment is equivalent to the amount of 18.1 billion Euro.
- Entry regulation significant discourages investment in fixed-lines by entrants.

Lars-Hendrik Röller concludes, "Policy makers and regulators in the fixed-line sector are faced with the important trade-off between the short-term advantage of lower prices and consumer surplus and the importance of long-term investment."
ESMT European School of Management and Technology
Die ESMT European School of Management and Technology ist eine internationale Business School, die im Oktober 2002 von 25 führenden globalen Unternehmen und Verbänden gegründet wurde. Sie bietet englischsprachige Vollzeit- und berufsbegleitende Executive-MBA-Studiengänge, einen Master's-in-Management-Studiengang sowie Managementweiterbildung auf Englisch und Deutsch an. Die ESMT konzentriert sich auf drei Schwerpunkte: Leadership und gesellschaftliche Verantwortung, europäische Wettbewerbsfähigkeit und Technologiemanagement. Die Faculty der ESMT veröffentlicht in führenden wissenschaftlichen Zeitschriften. Zusätzlich bietet sie eine interdisziplinäre Plattform für Politik, Wirtschaft und Wissenschaft. Der Hauptsitz der ESMT befindet sich in Berlin, ein zweiter Standort ist Schloss Gracht bei Köln. Die ESMT ist eine staatlich anerkannte private wissenschaftliche Hochschule, deren Angebot von AACSB, AMBA und FIBAA akkreditiert worden ist. Seit 2013 hat die ESMT das Promotionsrecht. www.esmt.org
Press releases you might also be interested in
Weitere Informationen zum Thema "Communication":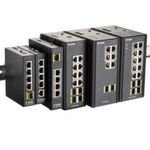 Lösungen für Industrienetzwerke und Mobile Connectivity
D-Link prä­sen­tiert Gi­ga­bit-Swit­ches für Smart Ci­ties, In­du­s­trie 4.0 und Au­to­ma­ti­sie­rung so­wie Mo­bi­li­ty-Lö­sun­gen für Ed­ge-as-a-Ser­vice, Connec­ted Trans­por­ta­ti­on, Smart Par­king, Smart Re­tail, Blue­tooth Low-En­er­gy IoT, Fi­xed Mo­bi­le Con­ver­gen­ce und Smart-Ci­ty-Vi­deo­über­wa­chung.
Weiterlesen