Esmertec to penetrate home multimedia market further with release of Jbed Multimedia engine
Jbed(TM) - Fastest, smallest Java Virtual Machine dedicated to power interactive applications and services on multimedia devices
DUEBENDORF-ZURICH

, (PresseBox) -
Esmertec(TM) (SWX: ESMN), a leading edge provider of software platforms, applications and services to communication device manufacturers and mobile operators, today announced the release of its Jbed Multimedia engine (Jbed Advanced CDC). Targeted for the next generation of home multimedia devices, the Jbed Multimedia engine is designed to deliver the best interactive applications and services experience on digital set-top boxes, digital televisions and Blu-ray disc players. Thanks to Jbed, consumers can now enjoy new dimensions of their television and DVD programs: interactive program guides, news tickers, enriched multimedia applications like games and online chats with friends.

With the Jbed Multimedia engine, Esmertec has engineered a very robust Java-based platform, leveraging the flexibility and openness of Java while delivering unmatched performance and fastest start-up time in a tiny memory footprint. It is the result of Esmertec's proven expertise in engineering performance for resource constrained devices. Running on a broad variety of processors and operating systems, Jbed Multimedia is designed to reduce multimedia device manufacturers' development costs and risks while accelerating time-to-market of their new devices.

"We are excited to further penetrate the home multimedia devices market where our strong Java engine expertise is ideally suited to answer the increasing demand for interactive digital services" said Joe Burke, EVP Mobile and Multimedia Devices Unit. "The impressive performance of Jbed Multimedia will undoubtedly meet the challenging flexibility and time-to-market demands from multimedia device makers and provide the ultimate digital experience for their consumers."

The Jbed Multimedia engine has already been adopted on leading processors and by major Blu-ray and Set-top Box manufacturers, demonstrating that the technology is making significant inroads into the multimedia device market. According to Jack Browne, Vice President of Marketing, Processor Business Group, MIPS Technologies, a leading provider of industry-standard processors, "The new Jbed Multimedia engine is a perfect match for our high-performance processors like the MIPS32® 74K(TM) and MIPS32® 24K® cores. As multimedia device manufacturers increasingly turn to Java technology to meet consumers demand for interactive devices and functionality, Jbed Multimedia is enabling our customers to achieve the highest Java performance available on the market today."

About the Jbed Multimedia engine

The Jbed Multimedia engine is the new generation of Esmertec's leading Jbed CDC solution for consumer electronics devices. Fully compliant with the Java ME CDC standard, it is optimized for maximizing performance in home multimedia device environments.

- Java ME compliant CDC Virtual Machine, with Foundation and Personal Basis profiles and Optional Security packages
- Multimode Compiler: up to 2.5x better performance than previous versions. Measured performance was higher on all processors against all competitors tested
- Up to 10x faster graphical performance compared to previous versions
- Fastest start up time. For example on one customer's middleware a Blu-ray player started up a commercial title a full 40 seconds faster than a competitive VM on identical hardware
- Esmertec "ASBO" technology enabling tiniest software footprint, requiring less ROM/Flash, through Aggressive Spatial Bytecode Optimization (ASBO).
esmertec ag
Esmertec is a leading provider of Java(TM) in-device engines and mobile services platforms. The company's high-performance solutions enable consumers to easily discover and access content and services on any mobile phone. Esmertec's customer database has grown to more than 90 customers, including mobile operators and manufacturers of mobile handsets, set-top boxes and interactive televisions. Its in-device engines power 1 out of 10 new phones (shipped in more than 233 million devices) and its USSD mobile services platforms serves more than 138 million mobile subscribers world-wide.

Esmertec is a founding member of the Open Handset Alliance, delivering customized solutions for Android, the mobile platform initiated by Google.

Founded in 1999, Esmertec is headquartered in Zurich-Switzerland with subsidiaries in China, France, South Korea, and the USA, and offices in Taiwan and the UK. Since 2005, Esmertec is listed on the SWX Swiss Exchange (ESMN). www.esmertec.com
Press releases you might also be interested in
Weitere Informationen zum Thema "Software":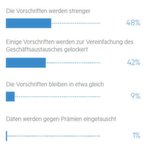 Die DSGVO-Verantwortung sollen am liebsten andere tragen
In Deut­sch­land le­gen die Un­ter­neh­mens­len­ker und die Ver­brau­cher gro­ßen Wert auf Da­ten­schutz und Si­cher­heit. Doch die An­sich­ten be­züg­lich der nächs­ten Stu­fe des Da­ten­schut­zes und der Pri­vat­sphä­re – und da­zu lässt sich die Eu­ro­päi­sche Da­ten­schutz­grund­ver­ord­nung, kurz DSV­GO, rech­nen, sind sehr ge­spal­ten. Hilft sie der Di­gi­ta­li­sie­rung?
Weiterlesen