EnviTec Biogas scores in Italy with EnviFarm Compact
Two more contracts for compact plants signed
Lohne

, (PresseBox) -
With the recently signed contracts for the construction of two new EnviFarm compact plants, the Lower Saxon biogas all-rounder EnviTec Biogas is once again demonstrating its success in the Italian biogas plant market.

Agricooper, a tobacco producer association in Pistrino, Perugia uses the renewable decree that came into force on 1 January 2013 in Italy and plans the construction of an EnviFarm Compact300 plant, which is optimally adapted to the new legal guideline according to which the maize percentage in the input is reduced to 30%. The cooperative known across Umbria is a flagship company that cultivates 2000 hectares of tobacco annually for Japan Tobacco. "In addition, the agricultural cooperative works together with maize and dairy farmers - Agricooper's decision to now start operating compact plants together with EnviTec thus has a signalling effect," says Zeno Marani, Managing Director for Sales and Marketing, EnviTec Biogas Italia srl.

The plant, whose construction is set to start in 2014, impresses above all with its vertical mixer with a storage capacity encompassing 40 cubic metres and the use of the Kreis-Biogas-Dissolver. With this mixing technology, biogas plant operators can considerably increase their gas yield. "In crushing input materials, the technology we use is far superior to conventional systems and offers customers like Agricooper immense advantages", said Jürgen Tenbrink, Chief Technical Officer of EnviTec Biogas. For example, the gas production output of a biogas plant is to a large extent dependent on the most complete possible conversion of the substrates used to biogas. "Especially when using renewable raw materials like maize silage in this case or other energy crops, however, the gas yield is heavily limited as a result of the incomplete digestion of the components containing cellulose and lignin", explains Tenbrink. For this reason, the most thorough possible digestion of the materials must be strived for in the mashing process.

This is what the Kreis-Biogas-Dissolver is for: Like a food processor, in which the substances are homogenised by means of the cutting and shearing forces of the fast-spinning cutting blade, the Dissolver breaks down the input materials into a mash that can be perfectly processed. The process considerably accelerates gas production in the fermenter of a biogas plant, optimising the gas yield.

The German biogas pioneering company was able to record the second successful contract conclusion at the recent 68th International Dairy Cattle Show "Bovino da Latte" in Cremona: The customer is Gianluigi Antonelli from Bedizolle in the Brescia province that has more than 1,250 t of poultry manure and 8,000 t of beef cattle slurry from its own livestock annually for operating the plant. The plant will thus be fully integrated into its operation and will not require any supplements such as maize or energy crops. The digester has a volume of 1,490 cubic meters. The heat remaining after heating is used for heating a part of the calf breeding.

This is the third deal as regards a 100 kW plant in the recent weeks. Until now, a total of seven small plants with an output between 100 and 300 kW and a total of about 1.4 MW have been sold to customers in Bologna, Udine, Brescia, Bergamo and Pescara, four of which were in the container format.

With a clearly reduced maize percentage in the input materials of biogas plants and the highest feed-in tariff for small plants up to 300 kW, the Italian government has drastically changed the market situation. "We are reacting to this trend and offer intelligent plant engineering tried-andtested by EnviTec, although in the small format of 75 to 300 kW", explains Marani. Thanks to their flexible container design, planned plants can be installed and put into operation in a short time - one reason why EnviTec Biogas is registered as one of the top five providers in the Italian market. Since its market entry in Italy, the listed company has connected a total of 43 plants with a capacity of 39.4 MW to the grid - an increasing tendency!
EnviTec Biogas AG
EnviTec Biogas AG covers the entire value chain for the production of biogas: including the planning and turnkey construction of biogas plants and biogas upgrading plants as well as their commissioning. The company takes charge of biological and technical services on demand and also offers full plant and operational management. In addition, EnviTec also operates its own biogas plants. In 2011 EnviTec Biogas established EnviTec Energy GmbH & Co. KG and its 100% subsidiary EnviTec Stromkontor GmbH & Co. KG, expanding its business operations into the direct marketing of upgraded biomethane as well as the marketing of green electricity and balancing energy. EnviTec Biogas AG currently has a presence in 20 countries. In 2012 EnviTec generated revenues of € 190.5 million and an EBIT of € 1.3 million. The EnviTec Group currently has 359 employees. EnviTec Biogas has been listed on the Frankfurt stock exchange since July 2007.
Press releases you might also be interested in
Weitere Informationen zum Thema "Energie- / Umwelttechnik":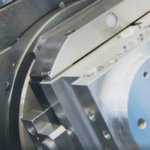 Eine offene Brücke für Big Data
Es klingt ganz ein­fach: In­du­s­trie 4.0 be­nö­t­igt Tech­no­lo­gie 4.0. Doch was ge­nau zeich­net ei­ne mo­der­ne Shop-Floor-Lö­sung aus? Auf wel­che Punk­te müs­sen Un­ter­neh­men ach­ten, wenn sie den Sprung ins IIoT wa­gen wol­len? In­du­s­trie-4.0-Spe­zia­list FOR­CAM stellt in ei­ner Ar­ti­kel­se­rie die wich­tigs­ten Mo­du­le vor.
Weiterlesen