Study Shows Emulex 8Gb/s HBAs Are More Robust, Have Broader Interoperability and Are Easier to Manage Than Brocade 8Gb/s HBAs
Costa Mesa/CA

, (PresseBox) -
.
- Emulex Corporation (NYSE:ELX) today announced that its LightPulse® 8Gb/s Fibre Channel Host Bus Adapters (HBAs) have been found to be more robust, have broader interoperability and be easier to manage than Brocade 8Gb/s Fibre Channel HBAs in an evaluation report from Demartek, a firm specializing in independent analysis and lab validation testing of server, storage and security technologies.

- The HBAs tested in the report were the dual-channel Brocade 825 and the Emulex dual-channel LPe12002 and single-channel LPe12000.

- President of Demartek, Dennis Martin said, "We found that the Emulex LightPulse HBA product family is more feature rich and provides a wider breadth of support for server hardware, operating systems, path management and storage hardware than the Brocade HBA. Overall, the installation process for both the HBA and the management software was easier with the Emulex HBAs and Emulex's HBAnyware management software appears to be geared for efficient deployment and use in large environments. In addition, the Emulex HBA performance was generally better than the Brocade HBA performance, especially for write operations, response time and overall CPU effectiveness."

- Streamlined installation and management, unrivaled scalability, and industry-leading virtualization support make Emulex's LightPulse 8Gb/s Fibre Channel HBAs ideal for enterprise, mixed-OS and virtualized server environments. With powerful management capabilities and broad platform support, they deliver maximum performance in the broadest range of applications and environments.

- The complete evaluation report can be found at http://www.demartek.com/Demartek_Emulex_HBA_Brocade_Comparison_8Gig_2009-06.html.

To learn more about Emulex 8Gb/s HBAs, please visit:
http://www.emulex.com/products/host-bus-adapters/emulex-branded/lightpulse-lpe12002/overview.html

To learn more about Emulex, please visit:
http://www.emulex.com
Emulex
Emulex is the leader in converged networking solutions for the data center. Our Connectivity Continuum architecture provides intelligent networking services that transition today's infrastructure into tomorrow's unified network ecosystem. Emulex provides a single framework that intelligently connects every server, network and storage device within the data center. Through strategic collaboration and integrated partner solutions, Emulex provides its customers with industry leading business value, operational flexibility and strategic advantage. Emulex is listed on the New York Stock Exchange (NYSE:ELX) and has corporate headquarters in Costa Mesa, California. News releases and other information about Emulex Corporation are available at http://www.emulex.com.

Emulex Safe Harbor Statement

"Safe Harbor" Statement under the Private Securities Litigation Reform Act of 1995: With the exception of historical information, the statements set forth above include forward-looking statements that involve risk and uncertainties. The company wishes to caution readers that a number of important factors could cause actual results to differ materially from those in the forward-looking statements. Those factors include the effect of Broadcom's unsolicited tender offer to acquire all of Emulex's outstanding common stock; the related consent solicitation of Broadcom and any related litigation on the company's business; changes in economic conditions or changes in end user demand for technology solutions; Emulex's dependence on a limited number of customers and the effects of the loss of, or decrease or delays in orders by, any such customers, or the failure of such customers to make payments; the rapidly changing nature of technology, evolving industry standards and frequent introductions of new products and enhancements by competitors; the effect of rapid migration of customers towards newer, lower cost product platforms; slower than expected growth of the storage networking market or the failure of the company's Original Equipment Manufacturer ("OEM") customers to successfully incorporate Emulex products into their systems; delays in product development; the highly competitive nature of the markets for Emulex's products; Emulex's ability to gain market acceptance for its products; any inadequacy of the company's intellectual property protection or the potential for third-party claims of infringement; the company's ability to attract and retain skilled personnel; and the company's reliance on third-party suppliers. These and other factors which could cause actual results to differ materially from those in the forward-looking statements are also discussed in the company's filings with the Securities and Exchange Commission, including its recent filings on Forms 8-K, 10-K and 10-Q. All trademarks, trade names, service marks, and logos referenced herein belong to their respective companies.


Press releases you might also be interested in
Weitere Informationen zum Thema "Hardware":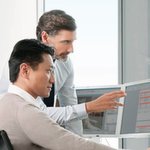 Trainingsprogramm für angehende Mainframe-Ingenieure
Auf den dro­hen­den IT-Fach­kräf­te­man­gel für rea­giert Fu­jit­su mit ei­nem um­fas­sen­den Bil­dung­s­an­ge­bot: Die För­de­rung der Aus- und Wei­ter­bil­dung von IT-Fach­kräf­ten und Nach­wuchs in den Be­rei­chen Main­fra­me- und Da­ta­cen­ter-Tech­nik.
Weiterlesen