Emulex Previews New HBAnyware Features within a Virtualised and Converged Networking Environment at VMworld Europe 2009
VMworld Europe - CANNES, France

, (PresseBox) -
.
What:
- At VMworld Europe, 24-26 February 2009, Emulex will be demonstrating the new virtual port (Vport) mapping and CIM-based management capabilities for VMware ESXi in its upcoming release of HBAnyware® 4.1, a centralised adapter management application.

- The demonstration, in Emulex booth #145, highlights the benefits of Emulex connectivity solutions operating in a virtualised and converged networking environment running VMware ESX and ESXi. Emulex is showcasing the seamless management and migration of virtual machines over 8Gb/s Fibre Channel and Fibre Channel over Ethernet (FCoE) storage networking topologies using VMware VMotionTM running on a combination of blade and rack mount servers.

- Emulex HBAnyware provides comprehensive control of Emulex LightPulse® Fibre Channel Host Bus Adapters (HBAs) and FCoE Converged Network Adapters (CNAs) within a centralised, cross-platform framework.

- The new release adds Vport mapping, offering IT managers end-to-end relationship mapping between Vports and virtual machines (VMs) within a single management window. The new Vport mapping capability saves IT managers' time by allowing them to more rapidly track performance bottlenecks and reprovision virtualised resources within a dynamic business environment.

- The upcoming HBAnyware release also includes complete CIM-based management capabilities for VMware ESXi environments, which streamlines data centre administrative operations by providing comprehensive adapter discovery and management capabilities for the VMware platform.

- HBAnyware is the foundation for Emulex's newly announced OneCommand(TM) Convergence Framework, which enables centralised enterprise management for I/O services, connectivity, virtualisation, security, QoS and other foundational elements within converged networks.

- On Wednesday 25 February, Emulex is presenting "Optimising Your Data Centre for the Coming Cloud," session #1571, at 16:30 in the Ver Californie room.

- VMware and Emulex have developed a new best practices guide, "Network Convergence with Emulex LP21000 CNAs and VMware ESX," targeted at server, storage and network administrators, which provides information about network convergence using FCoE technology and an overview about how to extract the maximum benefits from network convergence using FCoE technology in a VMware ESX environment.

- Emulex is a gold sponsor of VMworld Europe 2009, the only connectivity partner in the VMware Alliance Affiliate Initiative, a VMware Technology Alliance Partner (TAP) Program member and participant in the VMware I/O Vendor Program.

When: 24-26 February 2009

Where:
VMworld Europe 2009
Palais des Festivals
Congrès de Cannes
Cannes Cedex - France
Emulex Booth #145

Learn more about Emulex HBAnyware: http://www.emulex.com/products/management-software/hbanyware/list/overview.html
Learn more about Emulex: http://www.emulex.com

Emulex Safe Harbor Statement

"Safe Harbor" Statement under the Private Securities Litigation Reform Act of 1995: With the exception of historical information, the statements set forth above include forward-looking statements that involve risk and uncertainties. The company wishes to caution readers that a number of important factors could cause actual results to differ materially from those in the forward-looking statements. Those factors include the rapidly changing nature of technology, evolving industry standards and frequent introductions of new products and enhancements by competitors; fluctuation in the growth of Fibre Channel and IP markets; changes in economic conditions or changes in end user demand for technology solutions; fluctuations or delays in customer orders; the highly competitive nature of the markets for Emulex's products; Emulex's ability to gain market acceptance for its products; the company's ability to attract and retain skilled personnel; the company's reliance on third-party suppliers. These and other factors which could cause actual results to differ materially from those in the forward-looking statements are also discussed in the company's filings with the Securities and Exchange Commission, including its recent filings on Forms 8-K, 10-K and 10-Q. All trademarks, trade names, service marks, and logos referenced herein belong to their respective companies
Emulex
Emulex is the leader in converged networking solutions for the data center. Our Connectivity Continuum architecture provides intelligent networking services that transition today's infrastructure into tomorrow's unified network ecosystem. Emulex provides a single framework that intelligently connects every server, network and storage device within the data center. Through strategic collaboration and integrated partner solutions, Emulex provides its customers with industry leading business value, operational flexibility and strategic advantage. Emulex is listed on the New York Stock Exchange (NYSE:ELX) and has corporate headquarters in Costa Mesa, California. News releases and other information about Emulex Corporation are available at http://www.emulex.com.
Press releases you might also be interested in
Weitere Informationen zum Thema "Hardware":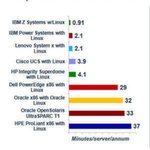 Höchste Zuverlässigkeit bei IBM und Lenovo, schlechteste Werte bei Oracle und HPE
All­jähr­lich be­fragt In­for­ma­ti­on Tech­no­lo­gy In­tel­li­gen­ce Con­sul­ting Corp. (ITIC) 800 Or­ga­ni­sa­tio­nen welt­weit zur Zu­ver­läs­sig­keit ih­rer Ser­ver und Ser­ver-Be­triebs­sys­te­me. Um mög­lichst un­vor­ein­ge­nom­me­ne Er­geb­nis­se zu prä­sen­tie­ren zu kön­nen, ak­zep­tiert das Un­ter­neh­men kein Spon­so­ring von An­bie­tern. Auch im Re­port 2017/2018 lie­gen IBM und Le­no­vo vor­ne – zum zehn­ten Mal hin­te­r­ein­an­der – Or­a­c­le und "HPE Pro­li­an­t" nicht.
Weiterlesen