Collaboration between ElringKlinger and Gebrüder Kufferath AG in the field of exhaust gas purification technology
Dettingen/Erms/Düren

, (PresseBox) -
Automotive supplier ElringKlinger AG, Dettingen/Erms, has teamed up with technical weaving specialist Gebrüder Kufferath AG (GKD), Düren, to work on integrated sealing and filtration solutions in the field of exhaust gas recirculation. The two companies have already concluded a strategic cooperation agreement to pursue this project.

While GKD, as a manufacturer of industrial mesh products, will be applying its expertise in the field of filtration media and sieving devices made of metal mesh, ElringKlinger will be contributing its specialist knowledge in the manufacture of sealing solutions and their integration within complex exhaust gas recirculation (EGR) systems. Customers will benefit from the collaborative efforts of both companies through end-to-end access to their know-how, fully harmonized processes and large-scale serial production. As a development partner to the majority of international engine and vehicle manufacturers, ElringKlinger will be responsible for the overall module and will incorporate the high-performance low-pressure EGR filters made of 3D metal wire mesh within its own specialty exhaust gas sealing systems. This will pave the way for efficient integration of filtration sieves, with integral gaskets/seals, within the exhaust flow system.

Exhaust gas recirculation: core technology for lower emissions

In response to stricter emission standards in Europe, the automobile industry has been forced to press ahead with innovative solutions aimed at further reducing CO2 emissions and fuel consumption without impairing engine performance. By 2021, the fleet average has to be reduced from 130 g/km to 95 g/km. Increasingly, manufacturers are introducing downsized engines with turbochargers to achieve this goal. The use of turbochargers and exhaust gas recirculation is of central importance to these downsizing concepts. At a global level, around 40% of new vehicles are to be equipped with turbochargers by 2018.

At the same time, the Euro 6 standard sets out even stricter requirements for the reduction of nitrogen oxides (NOx) in the exhaust tract. In order to meet the more stringent limits prescribed for passenger cars as from 2014, high-performance systems comprising exhaust gas recirculation technologies, diesel oxidation catalysts (DOC), selective catalytic reduction (SCR) units and diesel particulate filters (DPF) will be required. Low-pressure exhaust gas recirculation in conjunction with high engine loads will play a pivotal role when it comes to achieving future NOx limits.

EGR filters prevent particles produced during the combustion process or originating from upstream ceramic exhaust gas filters from entering the turbocharger and damaging components. In combination with the specialty gaskets and seals supplied by ElringKlinger, they protect the engine and turbocharger, in addition to scaling back CO2 emissions as a result of the reduced loss of pressure in the exhaust gas recirculation system. As regards sales potential, the integrated assemblies are also expected to be particularly interesting for petrol engines featuring low-pressure exhaust gas recirculation.

Customers have already been supplied with the first prototypes. Viability testing for serial production readiness is currently underway. Production of the first jointly developed components is expected to commence in 2015. ElringKlinger has thus further extended its product range centered around turbocharger technology. Initially, the Group is expecting to see a revenue contribution of EUR 2 to 3 million per annum. Owing to the increasing technical importance of exhaust gas recirculation worldwide and the significant rise in the number of turbochargers being installed, the company believes that its revenue potential in the medium term could be at the higher end of the single-digit million range.

GKD - GEBR. KUFFERATH AG

The owner-run technical weaving enterprise GKD - GEBR. KUFFERATH AG is the global market leader for metal and plastic woven solutions. Under the umbrella of GKD - WORLD WIDE WEAVE, the company has brought together four independent business divisions: SOLID WEAVE (industrial mesh), WEAVE IN MOTION (process belt mesh), CREATIVE WEAVE (architectural mesh) and COMPACT FILTRATION (compact filtration systems). With its eight plants - including the headquarters in Germany and other facilities in the US, the United Kingdom, France, South Africa, China, India and Chile - as well as its branches in Spain, Dubai, Qatar and worldwide representatives, GKD is never far from its customers.
ElringKlinger AG
ElringKlinger AG is a development partner and supplier to the international automotive industry. Operating at an international level, the Group's core competence is centered around cylinder-head and specialty gaskets for cars and commercial vehicles. In addition, it produces plastic housing modules and shielding components for engine, transmission and exhaust system applications as well as supplying industries beyond the automotive sector with products made of high-performance plastics. Alongside components for conventional combustion engines, the Group also supplies innovative parts for electric drive systems. The portfolio is complemented by exhaust gas purification technology as well as battery and fuel cell components. The Group is acknowledged as the global leader in the field of cylinder-head gaskets and is ranked among the top three suppliers worldwide in the area of specialty gaskets, shielding technology and plastic housing modules/elastomer technology. The company's success is a tribute to some 6,700 employees based at 42 sites around the globe. ElringKlinger supplies automobile manufacturers in Europe, the Americas and Asia. In fiscal 2012, the Group generated sales of approx. EUR 1.13 billion.

Press releases you might also be interested in
Weitere Informationen zum Thema "Fahrzeugbau / Automotive":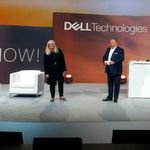 Digitalisierung erfordert nahtlose Kommunikation
Dells Ta­ges­ver­an­stal­tung The Next Now! In Mün­chen woll­te Hil­fe­stel­lung leis­ten auf dem Weg zur Di­gi­ta­li­sie­rung der Un­ter­neh­men in Deut­sch­land. Wel­che St­ra­te­gi­en und Rah­men­be­din­gun­gen er­wei­sen sich als güns­tig, was soll ver­mie­den wer­den?
Weiterlesen